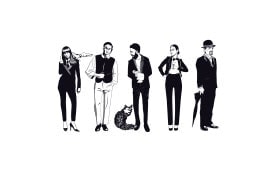 Andrei Dovgal – Winner "Best Insta Story" INSTA CONTEST week 1
Andrei has created a special Spirits Hunters edition of a highlight in his Instagram profile and dedicated it to «the tips how to become a good bartender»!
Here are his 10 easy steps to become a bartender:
1. Fall in love with
alcohol cocktails!
Find your favourite bar to which you'll become a regular guest
Make contact with the bartender in the same bar
Feel the romance of bartender craft through the bartender's stories
Light up the dream of learning this wonderful craft — bartending
Ask the bartender how to get into «the club»
Start to learn the craft from the very bottom. Finally become a Barback!
Realise that beside the romance this craft has its own pitfalls
Think about wether you need all of this or maybe you should send it all to hell

All professions are important, all professions are in need. Become the best bartender for your guests. You will succeed! 
Here are the videos from his highlights:
Visit his profile to appreciate the original approach to the job of an ambassador by Andrei Dovgal —
@yung.dovgal.7bar
Присоединиться к сообществу на Reddit
Spirits Hunters - это сообщество, посвященное алкоголю и миру миксологии. Не стесняйтесь говорить о мире алкогольных напитков и барменского дела здесь!
Join
Возможно, вам также понравится