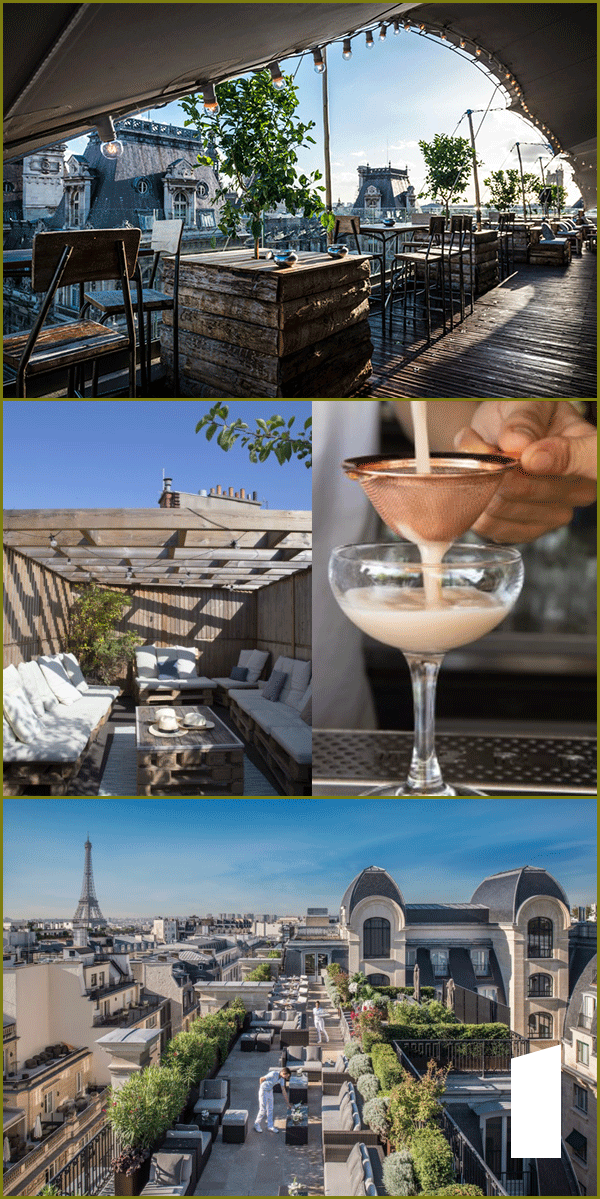 Cinco Rooftops parisinos donde degustar un cóctel
Aunque llueva, truene o relampaguee París siempre será la ciudad de las luces. Cinco rooftops parisinos donde degustar un cóctel todo el año. Via Paris Match.
Un lugar ideal si queremos apreciar una vista hacia la Torre Eiffel, el río Sena o el Hôtel de Ville. Le Perchoir Marais propone un bar con pasapalos y platos gourmet y una carta de cócteles especiados. Eventos también tienen lugar, exposiciones…
37, Rue de la Verrerie, 75004, Paris. En el 7mo piso del BHV. 
El hotel de los artistas, le llaman. La azotea del hotel alberga el Terrass Bar, donde Emeric Aguilar, barman jefe que ha dejado su huella en el Royal Monceau o en la Plaza Athénée, ofrece sus creaciones: 16 nuevos cócteles para una pausa suspendida y degustar con tapas.
12-14 Rue Joseph de Maistre, 75018, Paris
Una bella atmósfera y un bellísima vista sobre París es de lo que podrás disfrutar en Perruche, además de excelentes vinos y platos gastronómicos originales.
2 Rue du Havre, 75009, Paris. En el 9no piso del Printemps de l'Homme. 
Para escapar del bullicio de la ciudad The Shed, es un refugio con plantas aromáticas. En este rooftop situado en el hotel Grands Boulevards podrás degustar cócteles signature, a base de sherry o si prefieres sin alcohol, la casa te propone un café cold brew casero. El nuevo spot parisino es ideal para relajarse un poco. Abierto todos los días si la lluvia o la nieve lo permiten.
17 Boulevard Poissonière, 75002. 4to piso del Hôtel Grands Boulevards
El National On The Top te recibe en el último piso de este elegante hotel situado en el distrito II de París. Solo deberemos esperar hasta la primavera para que reabra sus puertas y disfrutar de sus cócteles confeccionados por expertos del bar y deliciosos entremeses.
243, rue Saint-Martin, 75002, Paris. Hôtel National des Arts et Métiers