Cóctel
Discoteca de los 70 🎶 para el final de la semana laboral! Shake Your Groove Thing de Peaches & Herb!
70's disco music🎶 for the end of the work week! Shake Your Groove Thing by Peaches & Herb! Remix.
Aquí está el cóctel del viernes para ti:
Remix.
Here is the Friday cocktail for you:
Clover Club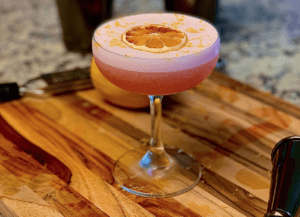 Ingredientes:
1 clara de huevo
3/4 oz de zumo de limón
3/4 oz de jarabe de frambuesa
1/2 oz de vermut seco
1 1/2 onzas London dry gin
Cómo hacerlo:
Agitar en seco todos los ingredientes durante 30 segundos (agitar en seco significa agitar sin hielo). Queremos batir ese huevo y hacer una hermosa espuma aireada. Luego agregar hielo y agitar de nuevo para enfriar. Colar dos veces en un vaso coupé. Adornar con cáscara de limón y una rodaja de limón deshidratado si lo tiene.
No conduzca bajo los efectos del alcohol. Consuma con moderación.