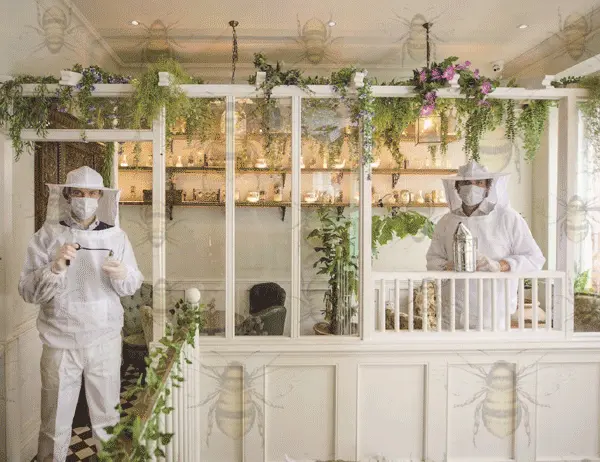 En este bar de Londres los apicultores son los nuevos bartenders ante el covid-19
El bar de Londres Mr Fogg's House of Botanicals promueve de forma original la protección ante el covid-19 con vestimenta de apicultor.
Vestidos como apicultores los bartenders de este bar reafirma su interés por mantener su clientela a salvo del covid-19. Además del traje, el personal del bar utilizará máscara. Pero para volverlo más divertido y agradable se agregan su vestimenta de bartender.
Mr Fogg's tiene un concepto de bar botánico, colorido y floral, que refuerza la idea imaginada por sus co fundadores Charlie Gikes y Duncan Stirling. El menú del bar también reposa sobre la idea de cócteles botánicos y tropicales.
En Londres los bares y restaurantes se prepararon para la reapertura tras el aislamiento impuesto el 20 de marzo. Los establecimientos pudieron reabrir como más temprano el 4 de julio.
Además de utilizar este tipo de vestimenta, el bar tomará la temperatura regularmente, habrán estaciones de gel antibacterial y las rutinas de limpieza son más rigurosas.
Mr Fogg's House of Botanicals
48 Newman St, Fitzrovia, London W1T 1QQ, Reino Unido
No conduzca bajo los efectos del alcohol. Consuma con moderación.
Únete a la Comunidad SH en Reddit
Spirits Hunters es una comunidad dedicada a los espirituosos y al mundo de la mixología. ¡Siéntete libre de hablar del mundo de la mixología y de la profesión de bartender aquí!
Join