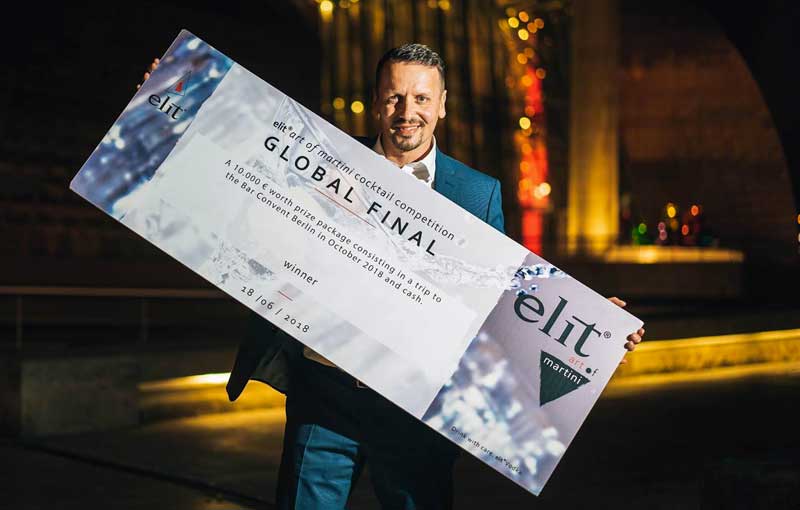 Bilbao. El bertender Tom Sipos ganador de al competencia elit® Art of Martini 2018
El multipremiado vodka elit® de la casa Stolichnaya anunció que el barman Tom Sipos ganó el concurso elit® Art of Martini 2018, que tuvo lugar durante el Día del Martini, en Bilbao, España el 19 de junio, antes de celebrarse los 50 Mejores Restaurantes del Mundo 2018.
El concurso da la oportunidad de crear un Martini exclusivo y enfrentar el desafío contra los mejores bartenders del mundo. Según Itespresso, el barman austriaco ganó por su receta de cóctel, el cóctel de Martini más vanguardista de la competición.
Según BusinessInsider Los jueces del concurso de este año fueron Alessandro Palazzi, barman jefe y maestro de Martini en Dukes en Londres, Juan Valls del Lost Child Cocktail bar en España y Simone Bodini, embajador de la marca internacional elit Vodka.
Sin duda un paso adelante en el mundo de la mixología, ya que este concurso recrea el clásico Martini, elaborado con vodka, con toques vanguardistas para crear la receta más original.
Foto: elit® Facebook
No conduzca bajo los efectos del alcohol. Consuma con moderación.
Únete a la Comunidad SH en Reddit
Spirits Hunters es una comunidad dedicada a los espirituosos y al mundo de la mixología. ¡Siéntete libre de hablar del mundo de la mixología y de la profesión de bartender aquí!
Join