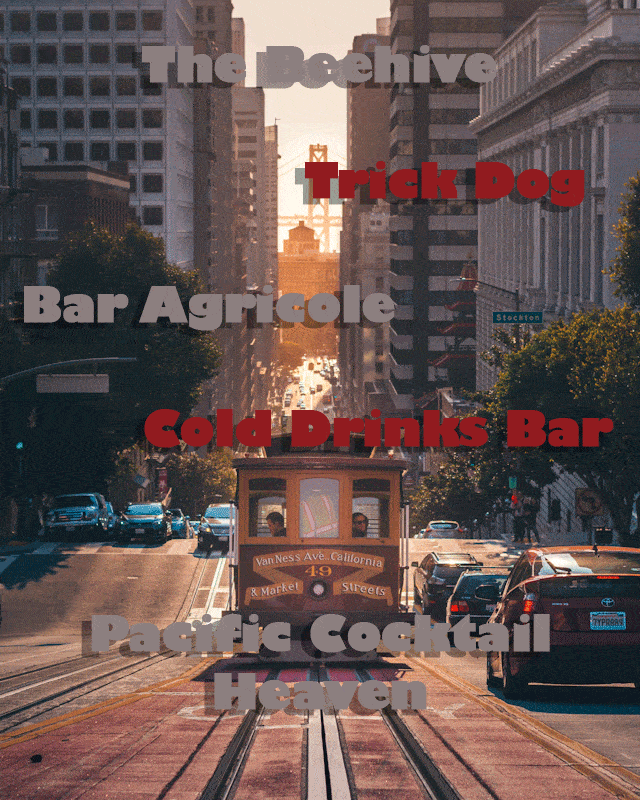 Los cinco mejores bares para un cóctel en San Francisco
Photo by Amogh Manjunath on Unsplash
¿Un paseo por San Francisco? La ciudad de la bahía te presenta estos bares que han destacado por su calidad y deliciosos cócteles. Además, recompensados o nominados por importantes premios de la industria del bar como los Spirited Awards.
No podemos empezar esta selección sin Trick Dog. El bar fue recientemente premiado en la ceremonia Spirited Awards de Tales of the Cocktail por su menú. Así es. Trick Dog recibió la recompensa de Mejor Menú de Cócteles en el mundo. Un bar de vecindario con calidad, buena música, comida y por supuesto buenos cócteles.
¿Dónde? 3010 20th St, San Francisco, CA 94110, USA
Un bar de restaurante nominado en la edición 2019 de los Spirited Awards por mejor bar de restaurante americano. Bar Agricole es una taverna contemporánea dónde destacan cócteles realizados a base de espirituosos que honran la rica tradición de la destilación granjera. Además, proponen vinos naturales y comida típica del Norte de California preparada con ingredientes de granjas locales orgánicas y biodinámicas.
¿Dónde? 355 11th Street, San Francisco, Ca 94103
El bartender y fundador del Pacific Cocktail Heaven, Kevin Diedrich, fue nominado en la categoría American Bartender of the Year. Representando a San Francisco en una categoría predominada por Nueva York y en la que sin embargo ganó el bartender de Miami, Julio Cabrera. Pero en el Pacific Cocktail Heaven, el concepto real de hotelería y de bar de vecindario está muy vivo, y con creaciones sofisticadas de cócteles revisitando clásicos.
¿Dónde? 580 Sutter St, San Francisco, CA 94108
Ambiente de mediados de siglo americano decoran The Beehive, con paneles de madera y sofás bajo perfil, y hasta candelabros. Los cócteles del Beehive tienen un alma retro y entre ellos destacan, por ejemplo, el Hound Dog, un homenaje a Elvis: vermut, bourbon y banana acaramelada. ¡Ven a sentirte en los años 1960!
¿Dónde? 842 Valencia Street (en el 19th), San Francisco, CA, 94110
Sofisticado y elegante, Cold Drinks Bar se encuentra en el China Live Complex y es casi un speakeasy por la forma en la que debes llegar. El bar se centra principalmente en cócteles a base de scotch. No olvides vestirte elegantemente.
¿Dónde? 644 Broadway, San Francisco CA 94133
¿Convencido? Reserva y degusta un cóctel.
No conduzca bajo los efectos del alcohol. Consuma con moderación.
Rejoignez la Communauté SH sur Reddit
Spirits Hunters est une communauté dédiée aux spiritueux et au monde de la mixologie. N'hésitez pas à parler du monde de la mixologie et du métier du bartender ici !
Join