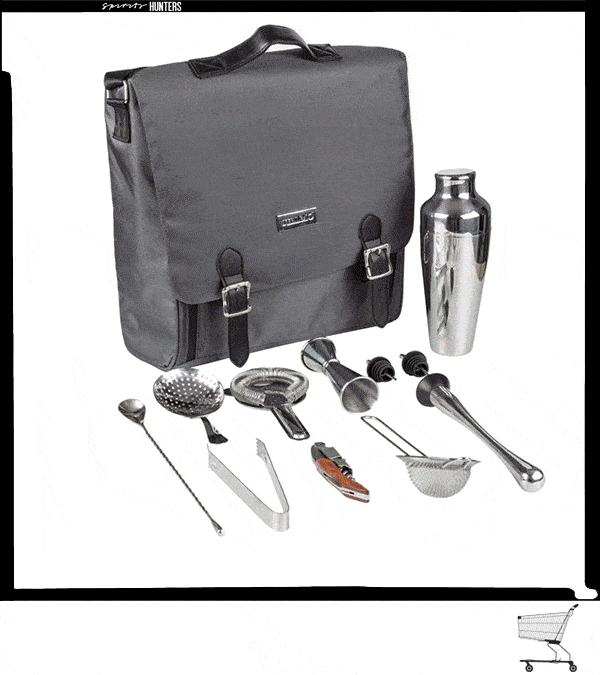 5 of the best bartender kits to create cocktails
We know how important instruments are for a bartender to create the best cocktails. Find five of the best kits here.
Cocktail shakers, strainers, muddlers. As long as they're better quality and long-lasting, you'll get better results in your drinks. These sets have a very good price and are of guaranteed quality.
Whether you want to work in the bar or create cocktails as an enthusiast, depending on your level of experience you will find a set that is right for you in terms of both price and quantity.
Set with bamboo stand and travel bag
A perfect set, the best on this list at a price of $62. With 23 pieces this kit offers all the tools needed to prepare cocktails like a professional. It includes three pouring spouts, six pouring caps, a muddler, a jigger, and much more. The kit also includes a velvet pouch for travel and transportation. The tools are stainless steel and fit into the included bamboo stand.
JILLMO Bartender Travel Kit
The JILLMO set includes 11 stainless steel pieces and is ideal for making cocktails at the bar or anywhere else outside the home. It is then perfect if you are on the move as it includes a waterproof case that also allows you to store three bottles of alcohol. Available at a price of $63.
Mixology & Craft Bartender Kit
For those looking for more style, this set comes in a stylish brown canvas bag and includes 17 stainless steel tools, from shakers to strainers and jiggers. The bag contains 27 pockets and adjustable straps to keep all the tools neatly stored. Available at a price of $139.
X-cosrack Bar Set,18-Piece Stainless Steel Cocktail Shaker Bar Tools
A perfect set to fit into the kitchen or bar without taking up space, as all tools are anchored to a 360 degree rotating base.
Priced at a very affordable $50, this set includes 18 stainless steel tools, and includes reusable straws for environmental friendliness!
Elite Cocktail Shaker Set Bartender Kit by BARILLIO
The least expensive kit on this list is the Barillio starter kit. For just under $35, this kit includes what you need if you are just starting to make cocktails. All six tools in the kit are of good quality and made of stainless steel. Also included is a velvet bag for storage and travel. It also includes a recipe book to get you started in cocktail preparation. And finally, you can choose a specific color for the material: black, gold, pink and silver.
Our recommendation of ingredients and drinks for the home bar
1. Liqueurs and Spirits
Liquors and spirits for your home bar will be your main focus. Beautiful bottles with quality content, or a limited edition bottle or two, will add a special touch to your bar. The important thing is to keep a list of the classics: vodka, rum (white and gold), tequila,whiskey,brandies -cognac, and even armagnac- and campari. Besides, amaretto, coffee liqueur, vermouth, Irish cream liqueur and orange liqueur will also perfectly complement your drinks.
2. Bitters
We already know the famous Angostura bitter, but bitters exist in so many shape and forms, tastes and colors. It is a must ingredient to create sophisticated cocktails with a few drops. Nuts, chocolate, ginger, orange, lemon… some brands are Peychauds, Fee Brothers, Angostura, Hella Bitters, Gumbo.
3. Mixers
Mixers will be your companion to create simple cocktails with sophisticated spirits or not. The variety is endless and of all kinds. Tonic water, grenadine, tea, coffee, orange juice, cranberry, pineapple, tomato, sour mix, ginger ale, cola, club soda…
Don't drink and drive. Enjoy responsibly.