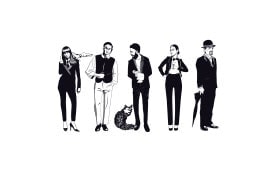 Cócteles con ron Flor de Caña le dieron la victoria a estos bartenders en « Made With Love »
La final regional de la competencia de mixología Made With Love se disputó entre 18 bartenders, de los cuales dos salieron ganadores gracias a sus cócteles a base de ron Flor de Caña.
Ambos bartenders, Camille Saracchi (Restaurant Il Teatro) y Jean-René Lebel (Restaurant Le Shaker) se coronaron ganadores en la décima edición de Made With Love en Québec. Saracchi ganó el premio selección de los jueces mientras que Lebel, el premio selección del público. Sus cócteles a base del ron nicaraguense Flor de Caña encantaron al público.
El próximo paso
Tras la conqusita de la final regional de Made With Love, el próximo paso para Saracchi y Lebel será participar en la final nacional de la competencia el próximo mes de mayo 2020. Esta ruda final se disputará entre los mejores mixólogos de Canadá.
El tercer lugar no menos importante
A Camille Saracchi le siguieron en los premios selección de los jueces, Mary-Kim Blackburn en segundo lugar (Effervescence) y Tristan Plourde (Marriott Quebec). Mientras que la selección del público escogió en segundo lugar a Julien Marcoux (Bar Chaloupe) quien además ganó el premio selección de los periodistas por su cóctel a base de whiskey americano; y en tercer lugar el bartender David Huot (L'Atelier).
Cócteles de la victoria
La bartender Camille Saracchi preparó su cóctel Another Corny Cocktail Name a base de ron Flor de Caña Gran Resera 7 Años, crema de maíz, coco, sirope de mango con pimienta de cayena y limón verde. Es un cóctel tìpicamente con notas latinas que se casa perfectamente con Ceviche al Leche de Tigre.
Por su parte, Jean-René Lebel preparó su cóctel Instafamous con ron Flor de Caña 12 años, zumo de mango fresco, sirope de fruta de la pasión y naranja sanguina, zumo de limón, amargo de jengibre, perfume floral. Lebel decidió combinar este cóctel con un tartar de salmón, salsa de mango, pepino en dados, concha y zumo de limón, jengibre.
https://mwl.enjoymadewithlove.com
No conduzca bajo los efectos del alcohol. Consuma con moderación.
Rejoignez la Communauté SH sur Reddit
Spirits Hunters est une communauté dédiée aux spiritueux et au monde de la mixologie. N'hésitez pas à parler du monde de la mixologie et du métier du bartender ici !
Join