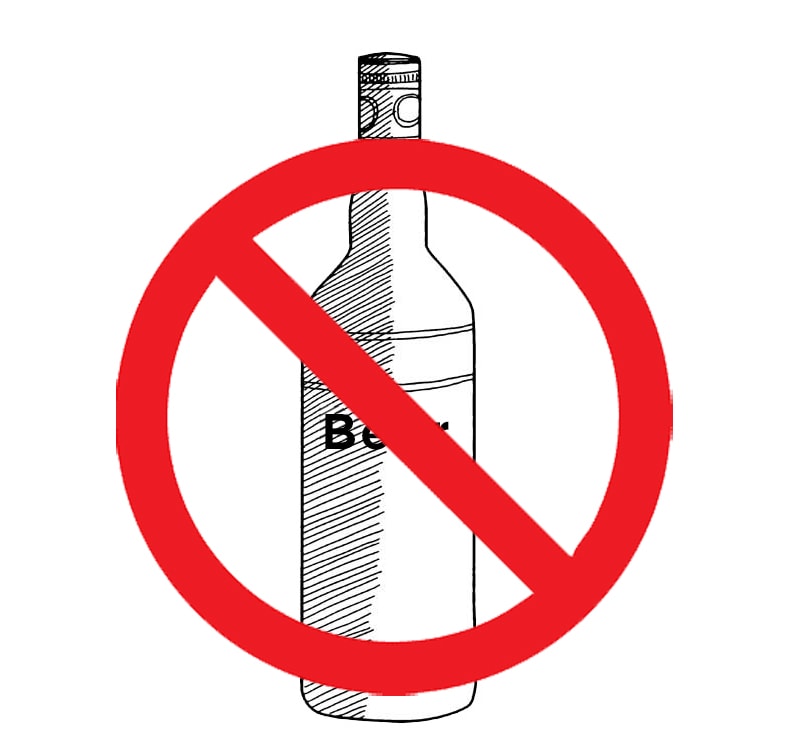 No beer during World Cup? Follow the reactions
On one hand, FIFA president says fans 'will survive' without beer during World Cup 2022…meanwhile in Germany bars are boycotting the world's most famous football championship.
FIFA President Gianni Infantino downplayed Qatar's last-minute ban on beer sales in World Cup stadiums as nothing more than a brief inconvenience for spectators.
"If this is the biggest problem we have, I will sign that (agreement)," Infantino said Saturday, a day after the conservative Muslim emirate reversed a deal it had made to secure the soccer tournament.
Infantino blamed "crowd flows" in Doha for the decision, although it appears to be a move by Qatar's autocratic government to placate its conservative Wahhabi citizens who have already been angered by some events around the tournament that they see as Western excesses.
Infantino said the ban on beer in stadiums was taken jointly by Qatari authorities and FIFA : "We tried until the end to see if it was possible," Infantino said of allowing alcohol sales.
"If for three hours a day you can't drink a beer, you will survive. Maybe there is a reason why in France, in Spain, in Scotland, alcohol is banned in stadiums. Maybe they are smarter than us and they thought maybe we should do that."
Spectators can drink alcoholic beer in the evening at the "FIFA Fan Festival," a designated party area that also offers live music and activities. Qatar places strict limits on the purchase and consumption of alcohol, although its sale has been allowed for years in hotel bars outside tournament zones.
The World Cup kicked off on Sunday with an opening match between the host country, Qatar, and when Qatar made its bid to host the tournament, the country agreed to FIFA's requirements to sell alcohol like beer during the World Cup in stadiums. Plans for alcohol sales were not released until 11 weeks before the start of the tournament and then changed on Friday.
FIFA says the non-alcoholic beer will still be sold in the eight stadiums, while champagne, wine, whiskey, and other alcoholic beverages will be served in the stadiums' luxury hospitality areas.
Previous World Cup hosts have had to make concessions. For the 2014 tournament, Brazil was forced to change a law to allow alcohol sales in stadiums, but the same cultural issues were not at stake.
AB InBev's agreement with FIFA was renewed in 2011 after Qatar was chosen as the host. However, the Belgian brewer has faced uncertainty in recent months over the exact details of where it can serve and sell beer in Qatar.
Infantino denied that the ban on beer sales has damaged FIFA's relationship with Budweiser, its official beer sponsor.
"We have been partners for some decades, and we hope to be partners in the future," he said. "This particular situation has brought us even closer."
In Germany, no matches displayed if no beer during World Cup 2022
DW informed that in many bars there won't be any soccer matches shown during the World Cup. Such is the case of the Lotta bar in Cologne.
Lotta co-owner Peter Zimmermann, a passionate football fan and season ticket holder at his beloved "Effzeh" — FC Köln for those who aren't locals — for 20 years, made a decision that many landlords and landladies in Germany are making right now: For four weeks, the TVs at Lotta won't be showing any matches of the soccer World Cup, after it kicks off in Qatar on Sunday.
"We want to set an example against this thoroughly corrupt FIFA system, where it's really all about money and human rights and the football culture don't matter at all," Zimmermann told DW. "And of course Qatar tops it all off: the oppression of women, discrimination against homosexuals, and the appalling working conditions."
In the meantime, Lotta has also removed all beer bottles with a FIFA World Cup logo from the bar. Admittedly, a handful of critical comments have recently trickled in via Instagram or by email, in which the owners have been called hypocrites for heating their pub with gas from Qatar.
The protest at Lotta has gone viral. Even a Japanese television team turned up in the southern Cologne district that is home to Lotta.
Daily Mail UK reported :
-Fans are furious after the sale of beer was banned at World Cup stadiums
-The move comes 48 hours before the World Cup kicked off in Qatar on Sunday
-One fan said it was 'madness' and that it 'will not go down well' with England fans
To be continued…
Join our newsletter for more news
Don't drink and drive. Enjoy responsibly.
Join the community on Reddit
Spirits Hunters is a community dedicated to spirits and the world of mixology. Feel free to talk about the world of mixology and bartending here!
Join