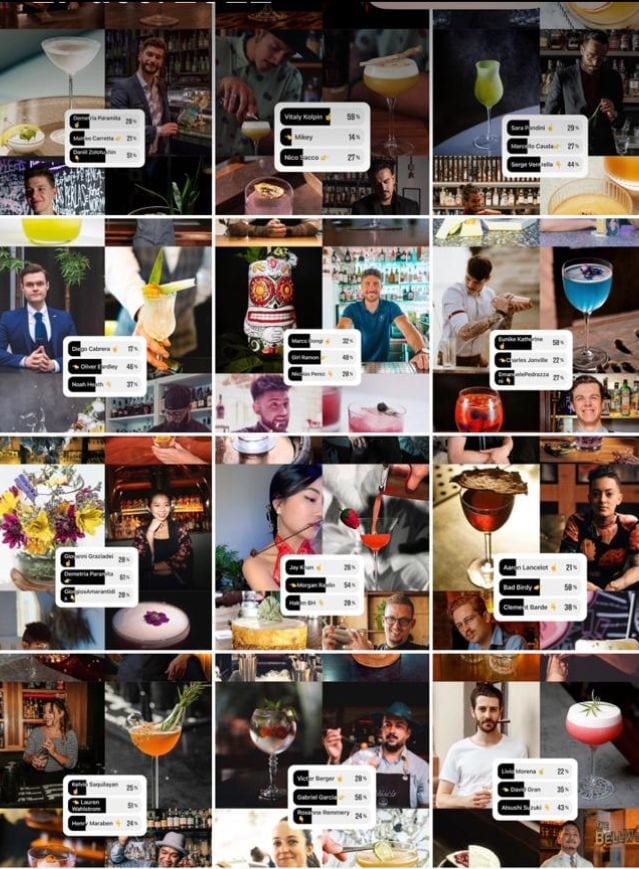 Bartender Cocktail: meet the 5 talented runner-ups
It's time to share with you the talented runner-ups of our Bartender Cocktail.
Next Edition: March 1st 2023
Bartenders have been sending us photos of their cocktail creations, their portraits, and photos of their bar so that we can share them with our community and with anyone who is interested in amazing cocktails.
During the Christmas season, we asked our followers and Instagram users to tell us which ones they preferred.
Lauren Walhstrom from Texas and bartender at The Branca Room came in first place with her cocktail Rosae Crucis, and now here are the five that followed.
Just a way to value the work of our bartender community.
They are the best 👍
You met the winner of our Bartender Cocktail, Lauren Wahlstrom, now it's time to introduce to you the runner-ups of our Bartender Cocktail!
Find them as well on our Instagram @spiritshunters_mag !
Cocktail: Leche de Jalisco
by Serge Ventrella – @serge_ventrella
Bartender at @lyanessbar
London, England

Ingredients
Mezcal
Tequila Ocho Blanco
Fermented carrot juice
Chinotto liqueur
Long & Sichuan Pepper syrup
~~~~~~~~~
Cocktail: Piña Clarificada
By Oliver Eardley – @oe_bartender
Bartender at The Savoy at the American & Beaufort Bars, The Glade, Sketch as Bar Supervisor
United Kingdom / France

Ingredients
Stir & Julep Strain
30 ml Jamaican Pineapple Rum
30 ml Pineapple Juice
15 ml Coconut Water
15 ml Lime juice
5 ml Coconut Syrup
5 ml Coconut Rum
3 Dashes of Anise infused Angostura Bitters
(25ml Whole Milk – Used only for clarification)
Pour over 2 cubes of ice
Garnish with a Trimmed Pineapple Leaf & 2 Flambeed Rum Soaked
~~~~~~~~~
Cocktail: Euphoria!
By Eunike Katherine – @eunikekatherine
Bartender at @hidden.club
Semarang city, Indonesia

Ingredients
Makgeolli peach symbolizes cheerfulness ⁠
The citrus part describes the expression⁠
The orange neroli sherbet describes pleasure, ⁠
The creme de cacao white is to add a pinch bit of happiness⁠
And choco yuzu jelly garnish that will explode in your mouth and give you an element of surprise.
~~~~~~~~~
Cocktail: New-Groni
By Atsushi Suzuki – @mr_bellwood
Founder and bartender at @the_bellwood
Tokyo, Japan

Ingredients
Gin
Gentian liqueur aperitif
Fermented Beets and Blueberries
Pear
~~~~~~~~~
Cocktail: Mexican Tiki
By Biel Ramon – @cocktailsbielramon 
⁠
Bartender at @360terraza
Mallorca, Spain

Ingredients
Tequila 4,5 cl⁠
White cocoa liqueur 2 cl⁠
Passion fruit juice 8 cl⁠
Banana puree 1,5 cl⁠
Lime juice 2,5 cl
Garnish: a touch of worm salt, mint, and passion fruit blossom⁠
~~~~~~~~~~~~~~~~~~~~~~~~~~~~~~~~~~~~~~~~~~~~~~~~
🍹We want to thank all participants for sharing your cocktails, recipes, and the bars you call home with us through our Bartender Cocktail! We wish you a year 2023 full of new exciting experiences, creations, drinks, and fun ✨
Spirits Hunters is happy to announce the next edition of Bartender Cocktail 2023:
Deadline: March 1st 2023
📲 Send in your cocktails on Instagram. Be part of our new tradition!📲
Don't drink and drive. Enjoy responsibly.
Join the community on Reddit
Spirits Hunters is a community dedicated to spirits and the world of mixology. Feel free to talk about the world of mixology and bartending here!
Join