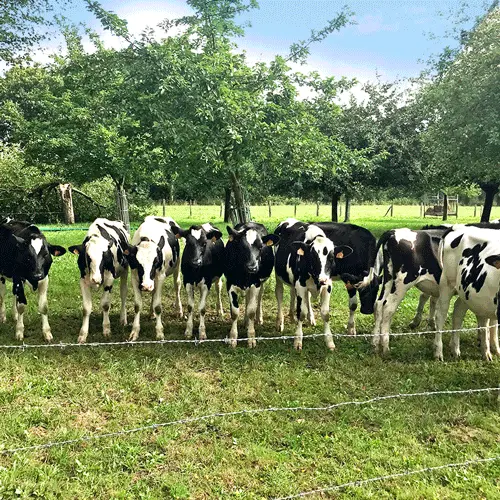 Alain Dauget, milk producer and cider and spirits producer: a happy man
Alain Dauget is a happy man, full of gratitude for what he has been given to accomplish, unlike most people. It is not so much success that motivates him as the fact that he succeeds in producing quality.
He is a man who radiates sunshine, and we would like to stay close to him for as long as possible, as a source of enthusiasm. Producer of milk but especially cider and spirits, everything he does or touches comes from the happiness he has in his heart. We rarely meet a person like him in life and that is what makes him so exceptional.
He received us in his farm, with his son-in-law Clément.
Spirit Hunters: milk, cider, spirits?
Alain Dauget : We are three partners on the farm. With me, Vincent Auguste and Emmanuel Legardinier who takes care of the milk production. That allows us to manage two productions, milk since the installation in 1992, and cider that we have gradually developed.
SH: Dairy and cider, okay. But then, where are the cows?
AD : Three kilometers away on another site
SH : And the cider production ?
AD : Here, on about 6 hectares, there are 600 high-stem apple trees. There are four main categories of cider apples: sweet, bitter, bittersweet, sour. Under these main categories, there are about 40 varieties.
SH: So there are really about forty here?
AD : Absolutely, with a marked interest in bitter and bittersweet varieties for cider making. Red binet, cartigny, I don't know if that means anything to you? We also have grassland, judor, which are tangy varieties that are mainly used to make apple juice.
SH : How many are there in your cider ?
AD : We use all forty varieties. For example, we are going to use bitter-sweet and bittersweet varieties such as binet rouge, cartigny for our Cotentin cider*. Over 4 years. We are going to replant 4 hectares of orchards, i.e. 400 apple trees. We will choose our varieties according to the products we want to elaborate. This plantation is to anticipate the arrival of Clément, my son-in-law, who will join us.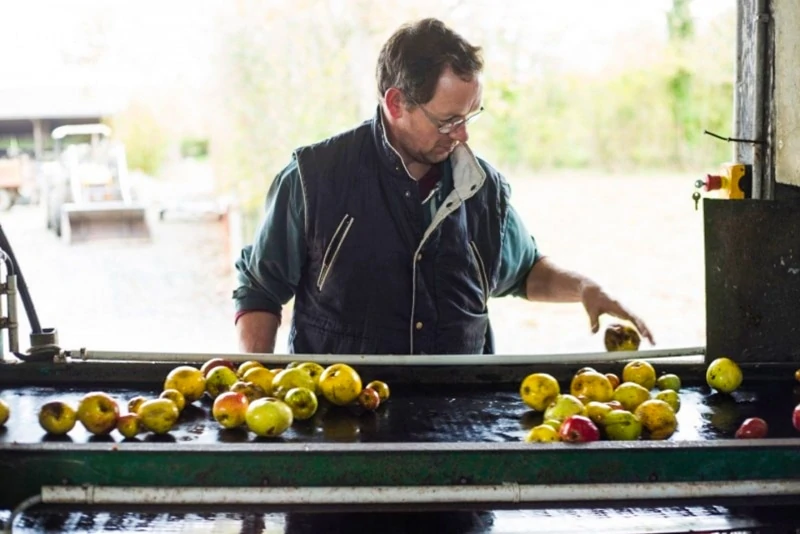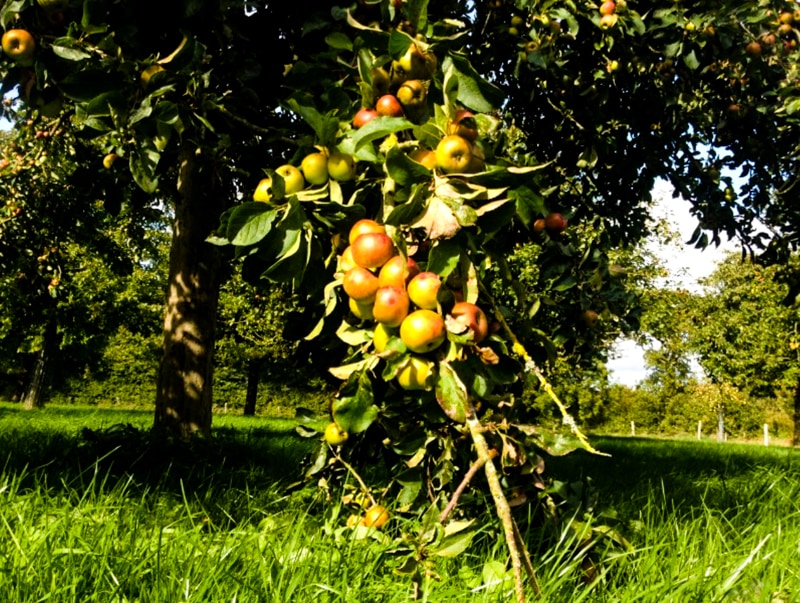 Photographs: GAEC the Claids
*100% pure juice and naturally sparkling, Cotentin Cider is made from local varieties of cider apples. It is neither carbonated nor pasteurized.
SH : What did you do before, Clément?
Clément: Fisherman !
AD : Clément followed a nine-month cider-making course at the Lycée du Robillard. He's an employee with us for a few months and we're certainly going to associate him to allow us to pass the hand quietly over 5-6 years.
SH : How did you start?
AD : Before our installation, it was my parents who worked here, for the milk. Vincent's parents also had a farm, we gathered the two herds and took all the cows that were here to the other farm. Here, there was a small orchard of 80 apple trees, where we started to make some cider. We made two to three barrels, just like our parents used to do. Then we started selling some.
SH : In short, it was your parents' drink?
AD : Yes it was their water. People then drank fermented products because the water was not healthy, they preferred to consume the cider produced from their orchards! I remember always drinking it. We went directly from "bottle to cider". We drank it all year long and see, I am in great shape!
SH : When I arrived, there were cows. Magnificent, by the way.
AD : That's because they are young animals. In fact, we put animals in the orchards that are less than a year old, they are smaller and can't reach apples and branches. The cows stay in the pastures. These young people who come to eat the grass under the apple trees, serve us as natural mowers, we avoid the gyro shredder. It feeds the animal which, in turn, feeds the soil with its droppings. As a result, we don't need chemical nitrogen in our orchards and we don't apply any treatment on our apple trees. It's also a question of space: we practice the extensive orchard, the traditional Norman orchard, the famous high-stem apple trees. No more than 100 apple trees per hectare, whereas for the low-stem apple tree, we put 600 apple trees per hectare.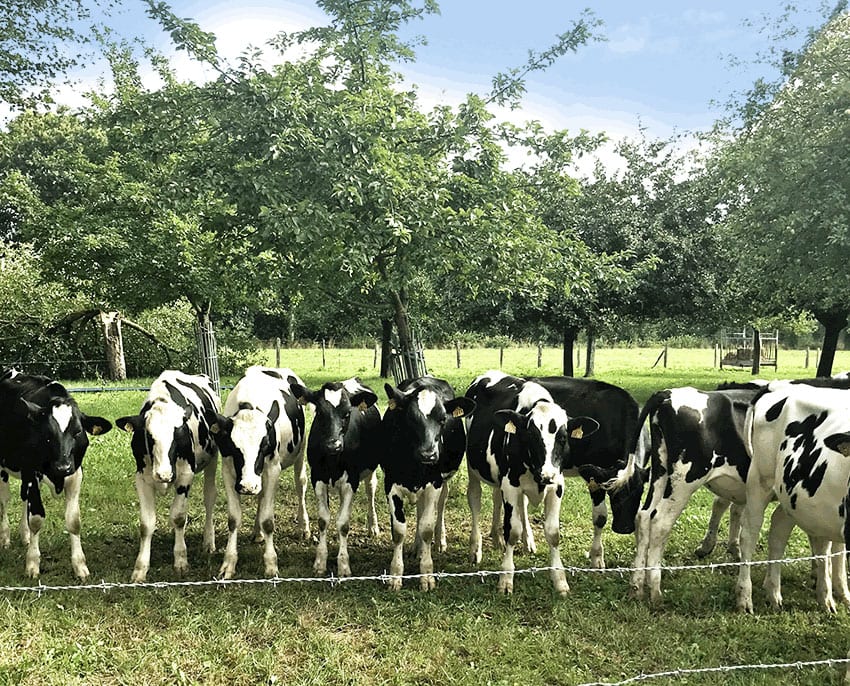 SH : Yes, it does change a lot.
AD: Only, we are only going to produce 15 to 20 tons of apples per hectare, when the low stems can go up to 40 tons, so there is a difference.
SH : Why does the reduction in the number of trees per hectare mean that you don't have to use insecticides?
AD : Originally, in Normandy, there were only high-stem apple trees. The objective was to have grass under the apple trees. Two in one: grass for the animals, apple for the farmers. No need to use insecticides or chemicals. That said, it is not the presence of cows that prevents the spread of disease, it is the space between the trees.
SH : Because the trees are not grouped together?
AD : As a result, there are fewer diseases. There are a few aphids in our apple trees, but we are not going to treat for that.
SH : Not even Bordeaux mixture ?
AD : No, nothing at all. In the apple tree there may be aphids or stains but, well, they are not staple apples that we put on the table.
SH : So it was your parents who started making cider ?
AD : Yes, for their personal consumption.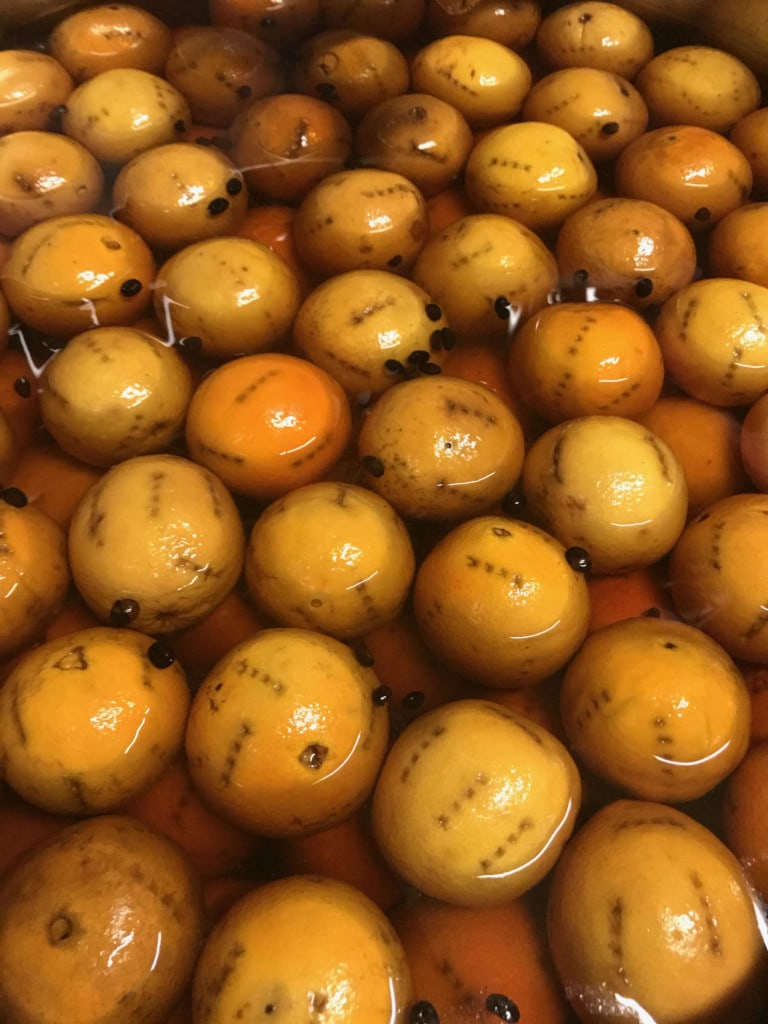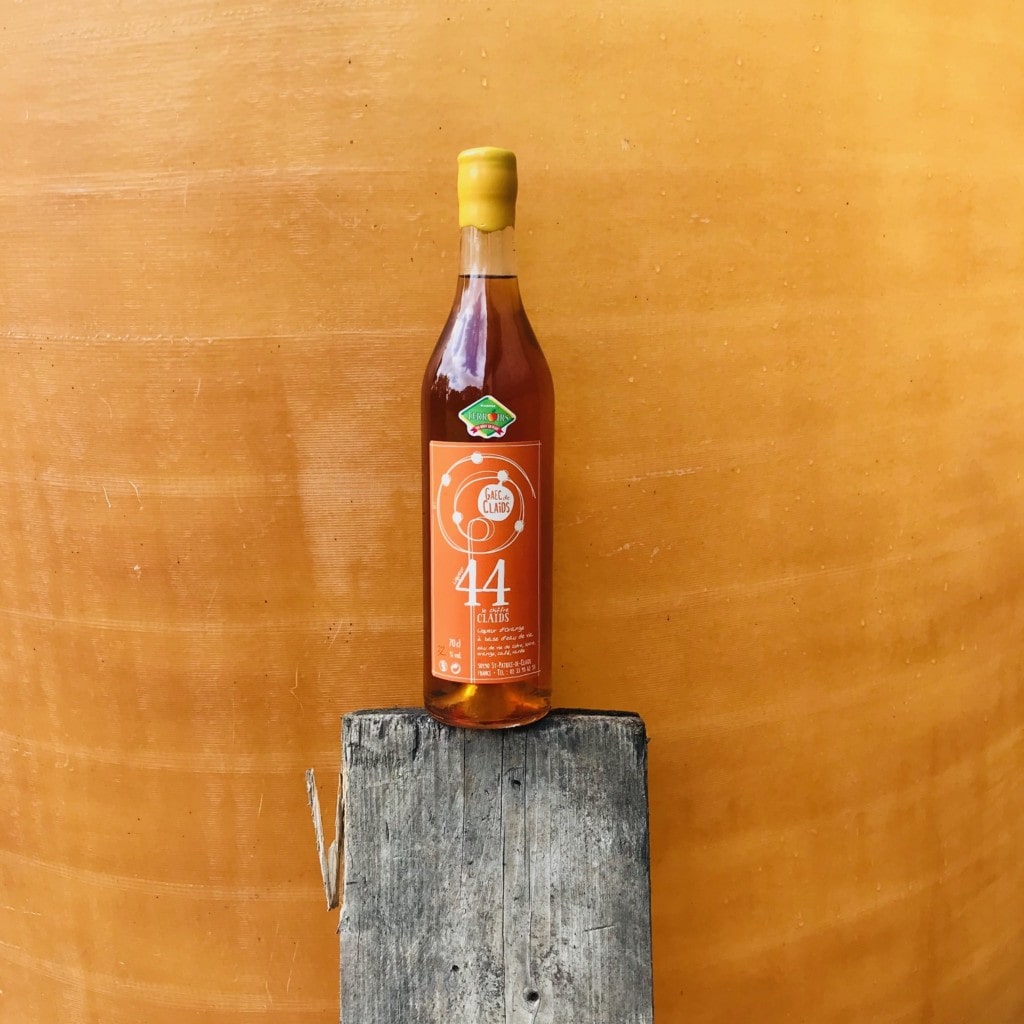 SH : And then you started marketing ?
AD : In 1992.
SH : It hasn't been that long…
AD: 28 years old all the same!
SH : And you've grown a lot?
AD : It's simple, we started with 2,000 bottles and today we've come out with about 50,000 bottles.
SH : How many different ciders do you make ?
AD : Four. We press, like everyone else, in October and November. The first apples picked are reserved for a cider which will then be distilled: they are not the best ones that fall first and they ferment too quickly because of the heat at the beginning of October. We leave our cider on the lees so that all the sugar turns into alcohol during fermentation and we distil from April onwards. On the other hand, it is the apples from the second and third picking that will be used to make our bouché cider*, our apple juice or the juice that will be used to make our famous pommeau de Normandie.
*This appellation is given to a cider in which a certain amount of residual sugar is left when it is bottled. Its sparkle is then superior to that of other ciders and imposes the muzzled cork).
SH : So we are on something sweeter?
AD : Here we are, something sweeter, and better quality apples. At the end of October, it's already starting to get a little colder, the fermentations are a little calmer. As the fermentation goes on, which lasts between three and five months, we will bottle it in order to have a sweet, semi-dry, brut and Extra brut cider. Namely that the brut and extra brut are in AOP Cotentin. The Cotentin is the only cider in France to have a PDO in extra brut. There are two other PDOs in cider, Pays d'Auge and Cornish.
Le GAEC de Claids 
Where? Ferme de Claids 50190 ST PATRICE DE CLAIDS
Don't drink and drive. Enjoy responsibly.
Join the community on Reddit
Spirits Hunters is a community dedicated to spirits and the world of mixology. Feel free to talk about the world of mixology and bartending here!
Join