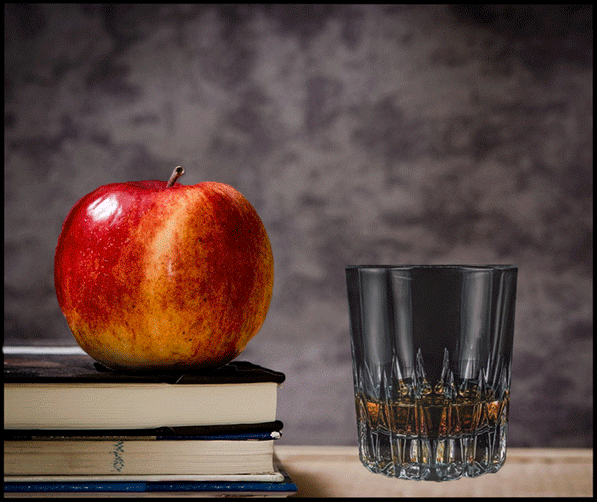 Calvados in 4 lessons (for dummies) 
We know how confusing it can be to understand everything about french eaux-de-vie. Calvados, is one of them. We have gathered four tips to keep in mind.
The cider
Cider is a low alcoholic drink (4 to 5° of alcohol) that comes from the fermentation of apple cider juice. Having become very popular in France, Brittany and Normandy are champions in the making of this spirit.
Its history
Calvados is a brandy that we obtain from the exclusive distillation of ciders and pears. Its story is not new. In fact, in his diary dated 1553, Gilles de Gouberville, a gentleman from Mesnil-en-Val, already mentions that he distills cider in order to obtain an eau-de-vie de bouche.  It was not until the end of the 18th century, when the French departments were created, that the eaux-de-vie produced in Normandy took the name of the Calvados department.
In order to protect their brandy from stock requisitions by the State during the Second World War, producers in the Pays d'Auge obtained the Appellation d'Origine Contrôlée in 1942. Since 1984, all Calvados produced outside the Pays d'Auge in Normandy and in some neighbouring departments are recognised as AOC and presented under a single name: Calvados. Finally in 1997, Calvados Domfrontais obtained an Appellation d'Origine Contrôlée and by the same token a recognition of its specificity brought by the perry pear.
Its manufacture
230 varieties of cider apples and 130 varieties of perry pears have been selected for the production of calvados. At least 70% of cider apples are bitter and bitter-sweet varieties. The mature apples are washed, crushed and pressed. They are fermented naturally for about a month, to obtain a cider reaching at least 4.5°. The cider is then distilled using an ironing still (double distillation mandatory for Pays d'Auge calvados) or a column still (continuous distillation mandatory for Domfrontais calvados). At the end of the still, the brandy is colourless, very floral and fruity. It is in oak barrels that Calvados will age and gain its characteristic golden colour. At least two years for Calvados and Calvados Pays d'Auge, three years for Calvados Domfrontais.
As it ages, its colour increases and its aromas will evolve from fresh apples to more complex aromas of baked apples, tart tatin, vanilla, walnuts, spicy and woody notes. Finally, before bottling, the alcohol content is lowered by adding distilled water to reach the permitted marketing content.
Its quality
The age of the brandy corresponds to the number of years of ageing in oak barrels. The cellar master regularly aerates his Calvados by changing their barrels to make them more supple. This way it obtains the desired character as well. It also blends eaux-de-vie of different ages from different harvests or terroirs in order to combine the complementary qualities of each of them. Young calvados can be drunk on ice, as a long drink with tonic or in cocktails. Exceptional calvados (10 years old, 20 years in barrel…) are best served plain at the end of a meal. And, during a special moment in order to fully enjoy the richness of their flavours.
Don't drink and drive. Enjoy responsibly.
Join the community on Reddit
Spirits Hunters is a community dedicated to spirits and the world of mixology. Feel free to talk about the world of mixology and bartending here!
Join