10 Valentine's Day gifts for liquor and spirits enthusiasts
Valentine's Day is coming and your soulmate is waiting for that perfect gift. We suggest 10 gift ideas for liquor and spirits enthusiasts.
Valentine's Day is a week away, and you still don't know what you're going to give? Whether it's your sweetheart, or a very good friend, because come on, this day you can also give a friend, these original gifts revolve around a good tasting: a good cocktail, pairings, champagne, accessories for storing liquor? Check out our selection and get the ideal gift that will go hand in hand with the taste of your favorite person.
1. Give him/her a monthly online liquor subscription delivered at home
There are fun ways to get select liquors without leaving home and that will stock the home bar. With a monthly home liquor subscription service, your sweetheart will receive a box of specific liquors every month (or depending on the plan you choose). It could be a box of gin, rum or beer varieties. Or a box with different alcohol samples. And even more fun, boxes ready to prepare cocktails! There are also boxes with wine pairings and gourmet products, or a box with included accessories such as spherical ices to serve the perfect whisky.
Some examples:
Prices vary and start at €25 – €30 per month.
2. An elegant gift to take everywhere
An elegant flask with a quality spirit is definitely worth the money. The cognac Rome de Bellegarde in collaboration with the luxury leather manufacturer Ettinger, released a flask lined with high quality leather from the British house. Along with the flask, a bottle of cognac Rome de Bellgarde XO. The box includes a 100ml bottle of Rome de Bellgarde XO aged for more than 25 years and a unique 4oz flask lined in leather. Price: €570.
3. A French-style box: vodka, macaron and cocktails
Cocktail Porter offers craft cocktail kits delivered to your door. For this occasion, they offer a beautiful and delicate box with flavors from France. The Valentine's Day Cocktail Kit French Valentini brings for an attractive price of €35 (£32), three 50ml bottles of Cîroc Snap Frost Vodka, Chambord raspberry liqueur (200ml), pineapple juice (200ml) and vanilla and rose macarons. The box includes a gift card and the cute pink bow.
4. Five cocktails boxes to taste or the special Valentine's Day box
The Muff Liquor Company offers five different boxes to suit any palate. From classic cocktails, such as the Cosmopolitan or the Bramble, to more original recipes. But for this special occasion, Muff has prepared a Valentine's box to create the Gra Potion, that cocktail specially designed for this day by Muff: gin, aperol, strawberry syrup and chocolates. Price: €38.95.
5. A Champagne box personalized with your name
The prestigious champagne house Moët & Chandon offers a personalized gift that consists of adding the name of your love on the box.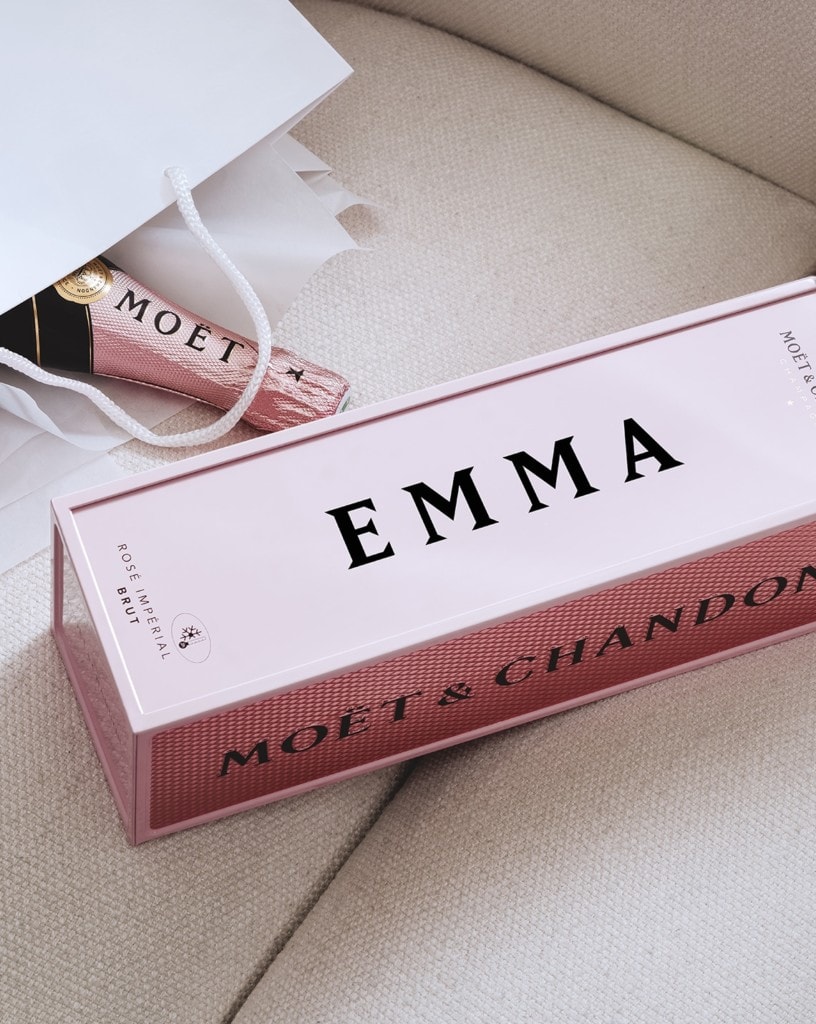 Photo: https://www.moet.com
Specially Yours is a unique and personalized gift. For a truly original gift, inscribe the name of your favorite person on the package of the Moët & Chandon Specially Yours gift box. You can choose between Moët Impérial and Rosé Impérial champagne. The price is from €60 per 75 cl bottle with customizable metal box.
6. A rum for Lovers
The Lovers Rum is a rum brand created by David Córdoba, alias "Mr Daiquiri", and Arijit Bose. The former is from Argentina, the latter from India. Both are internationally recognized in the world of spirits and cocktails. The Lovers Rum is a traditional amber rum, made from a unique recipe, specially designed for Daïquiri lovers. A blend from Barbados, Guatemala, Nicaragua, Panama and the Dominican Republic. It is column distilled rum and aged in a tropical environment. Price of €45 for a bottle of 70cl at 43% ABV.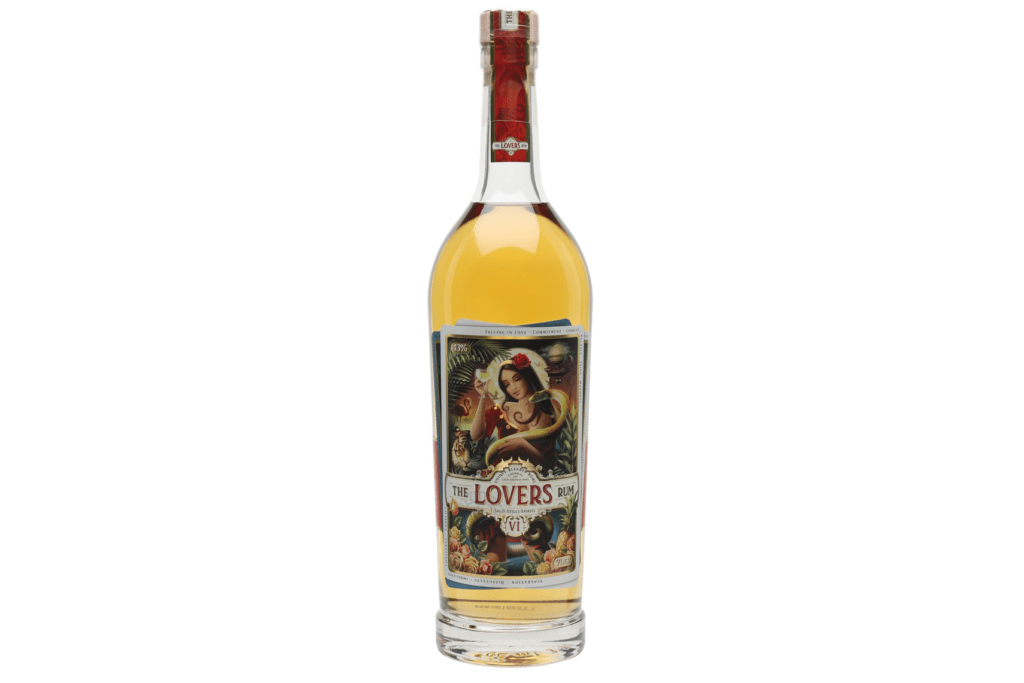 7. For the whisky fan
Scotch whisky brand Glenfiddich created Grand Cru 23 year old whisky for "the non-conformist." Uniquely created for a pleasure full of surprises with every sip. If your favorite person is a whisky lover, this bottle is an edition they will keep close to their heart. Grand Cru wraps the luxury and craftsmanship of Glenfiddich, a Single Malt perfect for celebrations through a new and extraordinary tasting experience.
This whisky is rich and intense in taste thanks to its long maturation in both American and European oak casks. Its touch of finesse comes from influences of French casks. Very particular, the only Glenfiddich Single Malt achieved with this process. Price: €270 for a 700ml bottle.
8. Simple and Classic: chocolate
The prestigious online store Harvey Nichols offers the classic gift for every Valentine's Day: chocolate. But they are not chocolates like any other. Marc de Champagne Pink Chocolate Truffles are smooth chocolate truffles, with a creamy ganache and a crunchy pink chocolate wrapper with powdered sugar. They are called Marc de Champagne because they are made with eau de vie liquor obtained by distilling the residue of the grapes to extract the juice (marc de Bourgogne). Price: €18 a box of 125g.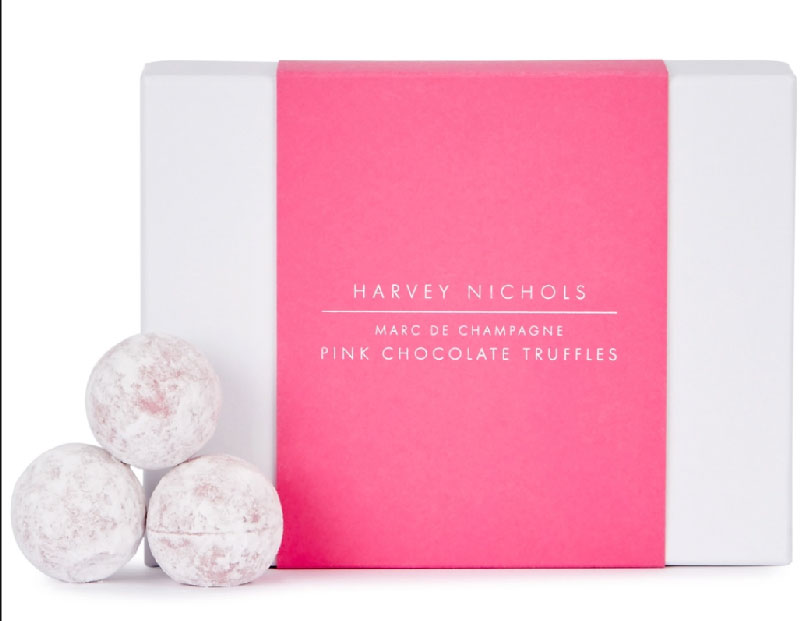 9. A pink gin
Pink gin has been making a potential comeback in the last few years in the cupboards. For that gin lover, Scottish brand Edinburgh Gin has prepared an exclusive batch of pink gin distilled with, as they always do, Scotland's finest botanicals. Edinburgh Gin Valentines Limited Edition is readily available on Amazon for a price of +/- 35 euros. Floral aroma and delicate notes of citrus and infused with hibiscus and rose flowers that create its unique pink hue.
10. Sake and flowers
For many, flowers cannot be overlooked. If the gift you are looking for is out of the ordinary, when it comes to beverages, sake can be an original gift to try something new. That's why the store specializing in Japanese products Umami Mart, proposes the Koibito Set. Although the physical store exists only in Oakland, United States, and to purchase the sake package with the flowers you need to go to the store. So if you are in the vicinity, the Enter.Sake Sooku Junmai sake will please the palate in search of limpid, Japanese flavors, Asian pear, umami and acidity. Koibito means sweetheart or lover in Japanese, a gift full of love with flavors from the land of the rising sun! Price: $120.
Don't drink and drive. Enjoy responsibly.
Join the community on Reddit
Spirits Hunters is a community dedicated to spirits and the world of mixology. Feel free to talk about the world of mixology and bartending here!
Join