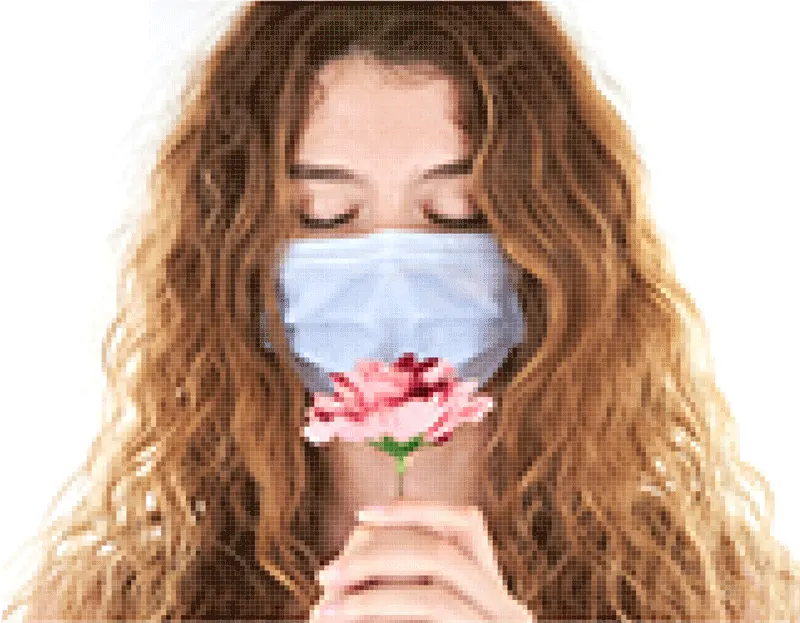 Anosmia: Recovering the sense of smell through olfactory shows
In France, olfactory shows, created by Violaine de Carné, are now a way for Covid-19 patients to recover their sense of smell.
For 15 years, Violaine de Carné has been conducting olfactory shows. Spectators can question their relationship with odors. Thousands of people affected by the covid-19 virus have lost their ability to smell, better known as anosmia. From these events, the workshops to recover the sense of smell were born.
Violaine de Carné, creator of the multisensory tours, an experience in which "Sight, colors and shapes could be translated through smells, just as in music by transcribing them into notes," states Le Monde newspaper in its article Des ateliers de " réveil olfactif " pour les patients Covid-19 qui ont perdu l'odorat.
The New Caledonian-born actress admits to not being such a visual person, she explains having a "very olfactory" perception of the world. "I'm not a nose," warns Violaine de Carné, "but I approach the world through smells. One travels through smells, one is spiritually elevated by smells, one is brought back to the animal state by smells," she specifies.
Violaine's olfactory shows have existed for 15 years, such as La Belle et la Bête, L'Encens et le Goudron, in places for traditional theater or even in the streets, in hospitals, gardens, prisons or cultural institutes.
One of his latest events takes place at the Labanque museum in Béthune. Here, during the visit, visitors are invited to listen to comments and questionnaires on the headphones used during the tour. In addition, he distributes here and there wipes, scented by Laurence Fanuel, as a way of inviting the public to mentally visit his personal "library of smells".
"Is this smell pleasant or unpleasant? Is it attractive or repulsive?" "Does it evoke a place, a person?". The voice in the headphones asks between two narrative episodes recited by Violaine de Carné, aka Iris Dupistil, and her sound engineer Baptiste Marty, stage name Romarin Leblase.
One of their upcoming events is L'argent n'a pas d'odeur, initially scheduled for April 2021, will now take place on October 17, 2021 at La Banque.
To learn more and to keep up with the events visit www.tiretlalyre.com.
What is Anosmia?
Since the beginning of Covid-19, specialists have been revealing over time the health consequences of the SARS-CoV-2 virus. One of the consequences known but little mediatized is the alteration or partial or total loss of the sense of smell called Anosmia. This is the sudden and total loss of the sense of smell.
As we all know, smell is an indispensable sense for the tasting of spirits and wines, our day to day, eating… Our sense of smell allows us to better taste and detect the aromas that build the flavors of a spirit on its palette. Fortunately, there are methods that will allow us to recover our sense of smell beyond creative workshops, such as olfactory training.
According to Dr. Jérôme Lechien of the otorhinolaryngology department of the Foch hospital in France, olfactory training is "the best treatment". Thanks to this training, 85 % of the treated patients who had contracted Covid-19 recovered their sense of smell within two months. The olfactory reeducation technique is however not new, it has been practiced for about ten years.
"We ask our patients to smell odors, at home, at least twice a day, for five minutes, and for two to three months."
One method developed by Jean Michel Maillard consists of smelling essential oils. A dosage of 2% (20 drops in 50 ml of water) is recommended twice a day blindly for 12 weeks. Of course, the results will depend on the severity of the olfactory problem.
Don't drink and drive. Enjoy responsibly.
Join the community on Reddit
Spirits Hunters is a community dedicated to spirits and the world of mixology. Feel free to talk about the world of mixology and bartending here!
Join