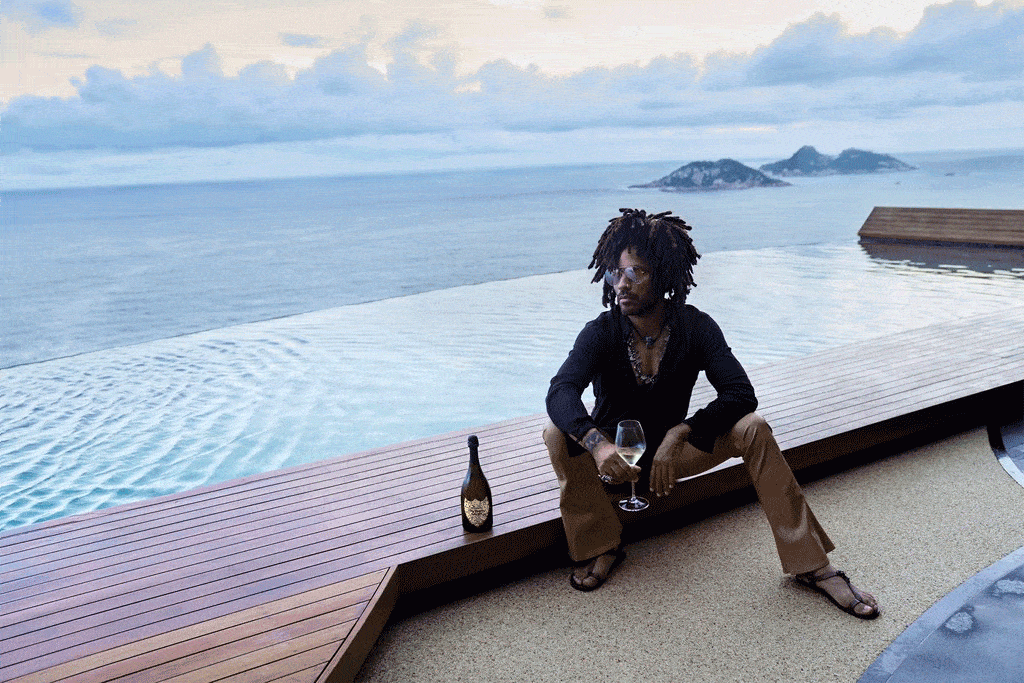 Lenny Kravitz talks on being Dom Pérignon's new creative director
In a recent interview with GQ Magazine, musician and artist Lenny Kravitz shares about his new role as appointed creative director for Dom Pérignon. The Q&A also focuses on life, deep thoughts and interesting questions.
Where were you born?

Brooklyn, New York.

What did you want to be when you were younger?

A musician. Always.

What's the best piece of advice you've ever received?

To be authentic, to be yourself and no one else.

And the worst?

People that try to make you do what other people do, to chase a certain thing, to have success or say, "This is what's happening now so do that." Just be yourself.

Who's the one person dead or alive that you'd like to have dinner with? And why?

Wow. My mother, to have one more anything with her.

Where's your favourite place on the planet?

The Bahamas. It's where my mum and my grandmother are from. I live between there and Paris.

What's on your phone screensaver?

My dad.

What's currently on your playlist?

I mean, a lot of stuff! Well, my favourite song – my god – that I've been listening to is a song by T-Rex called "Planet Queen".

What are the last three things that you googled?

Oh, I have no idea. I haven't googled in some days so I don't know.

What gives you inspiration?

Life.

What does being the creative director of Dom Pérignon involve?

It involves photography. I shot the campaign. Design. I designed the bottle and the box it comes in that turns into a candle holder. There's film involved. There's music involved. So creativity. The things that I love doing.

What's your favourite art gallery in the world and why?

My favourite art gallery? Hmmm, my favourite gallery right now is not an "art gallery", but a shop in LA called Church. It's a boutique that sells everything from paintings to jewellery to clothes to accessories. That's my favourite shop.

If you could collaborate with anyone, who would it be and why? Someone you haven't collaborated with before?

Stevie Wonder. We've played together. We've jammed together, but we've never written a song together.

What was it like working with Michael Jackson?

Amazing. He was Michael Jackson for a reason. Incredible. The talent is just beyond.

If you had unlimited Dom Pérignon, how would you celebrate?

When there's a moment that you feel could be elevated by it. But choose your moments.

If you could visit any artist's studio, who's would it be and why?

Got to be Basquiat.

I think mine would be Andy Warhol, to see if he really was as wacko as everyone says. What was the last thing you bought?

The last thing I bought… What was the last thing I bought? Oh! I just bought two chairs in Paris. Vintage.

What's your favourite piece of clothing you own?

I've got these vintage Yves Saint Laurent jeans that are like my favourite jeans. I live in them.

What's hanging on your walls at home?

Photography by different photographers that I love. Art, I got some Warhols, Basquiat and a bunch of other artists but seeing as we just mentioned those…

What Warhol pieces have you got?

I had four "Muhammed Ali"s and I got a "Mick Jagger" that's beautiful.

What's one staple item you think all men should own as a man?

I'm not good at what people "should" have: everybody can have what they want. But I couldn't live without my jeans.

Who or what is your favourite fictional character?

Fictional? Wow. Oh, when I was a kid… I'll go back to when I was a kid because I don't think about that now. It was Batman.

That's probably the New York in you.

But the "old" Batman. The Sixties one that was on TV. More of a comedy actually.

So what's next for Lenny Kravitz?

My next big project… an album and a film that go together. A film and a soundtrack.

Based in Paris?

Actually it was! It may get moved to the States, but I'm not sure yet. It was originally set in Paris. How did you know that?

Just wondering because you seem to love Paris, understandably. Well that's it, cheers Lenny!

You're welcome. Great outift! [Lenny was in white snakeskin cowboy boots and mine in pale pink.]
Don't drink and drive. Enjoy responsibly.
Join the community on Reddit
Spirits Hunters is a community dedicated to spirits and the world of mixology. Feel free to talk about the world of mixology and bartending here!

Join