Three Questions to Louise Hagger, still life, food and cocktail photographer
A conversation with Louise Hagger on her cocktail and food photography, for our section "Three Questions To".
"Astonishing" is how we described Louise Hagger's work. Her vivid and colorful cocktail photographs invite us to blend seamlessly into the image, as though to find out if it's possible, to appreciate such libations in a more realistic way – than they already are – from what our eyes see. We would literally want to reach them.
Refreshing, creative and colorful
Admirer of William Eggleston and Stephen Shore, Hagger's work is a splash of refreshing, creative and colorful imagery. Thoroughly, she performs several tests to develop ideas. Indeed, since the result is the translation of a thoughtful mise en place.
Her works are often brought to life in collaboration with creative thinkers, stylists and set designers, to finally portray them into brands, restaurants, books and publications. And not only photographs. Furthermore, the artist creates motion projects with food often representing these movements.
Three Questions to Louise Hagger
We finally had the opportunity to exchange a few words with the award winning London-based food, drinks and still life photographer. Our latest character for the "Three Questions To…" shared with us her approach, a little history and inspirations.
Spirits Hunters:
What do you think about when you photograph cocktails? What message are you conveying with the lighting, the reflections of the glasses, the colors?
Louise Hagger: I think about how to use light to make the drinks look as fresh and alive as possible. I use shadows, colors and textures to create a dynamic and memorable image that captures the style of work.
SH:
How and when did you start to photograph cocktails?
LH: Around 5 years ago. My use of color and strong shadows made photographing drinks flow naturally as a food photographer. Strong, sunny shadows are my favorite way to shoot drinks so they always look refreshing and appetizing.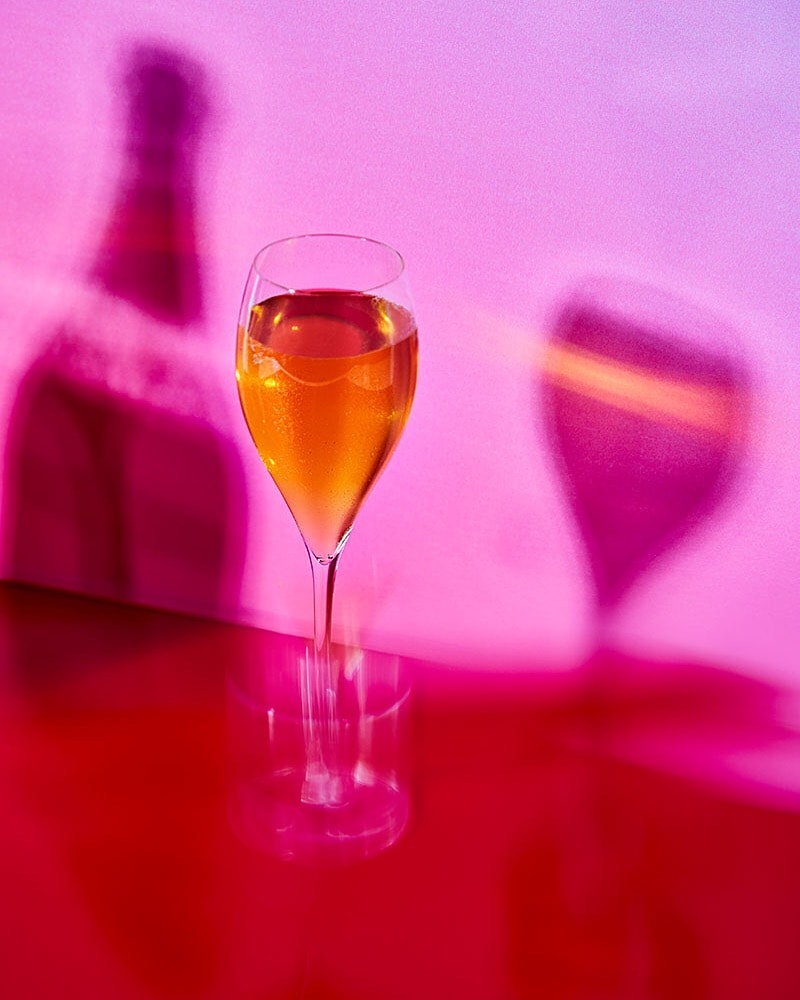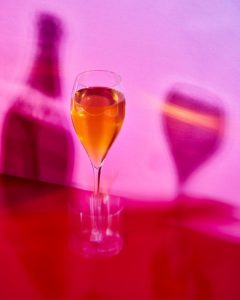 Hakkasan
I get inspiration from lots of places, sometimes its everyday scenes, or photographers like William Eggleston
SH:
Your work is astonishing. What are your inspirations?
LH: Thank you. I look for creative projects that stretch the boundaries of how people see food and drinks. Both concept led scenes and depicting recipes looking interesting as well as delicious. Furthermore, I like working with a wide range of creative thinkers, stylists and set designers to capture images that are impactful visually.
I get inspiration from lots of places, sometimes its everyday scenes, or photographers like William Eggleston and Stephen Shore and their use of color and composition. Also, I love Gather Journal, old paintings and TV/films, and looking on Instagram. I do a lot of test shoots to develop ideas. Working to combine playful presentation with artistic intent on test shoots is something that's evolved over time, and it's carried through into the editorial and commercial work I do on cookbooks, magazines and advertising. For these projects I always think about how we can use colors, textures and shapes to put food and drinks in a context that makes an image appetizing and something that draws the viewer in to a scene.
More recently I've produced work that tells stories with photos. Besides, I'm also experimenting with stills as stop motion and kaleidoscopes. This way I show my drinks photography in a more conceptual and fun way.
Kaleidoscopes
Credits:
Feastival Cocktails, The Sunday Times Magazine
Photo @LouiseHagger
Drinks Styling by @taragarnell
Prop Styling by @louiewaller
Art Direction by @emily_mcbean
Photo Assisting by @heckfaowd 
Hakkasan – The Orchard List
Photo: @louisehagger
Styling: @oliviabennett_studio
Retouching: @darkroomdigital_uk
Cocktails – A personal series
Photo: @louisehagger
Styling: @oliviabennett_studio
Kaleidoscopes – A personal series
Animation: @monday___club
Photography: @louisehagger
Art Direction & Set Design – @rachelvere
Food & drink styling: @oliviabennett_studio 
Sound design: @daleberningsawa
Props: @momosanshop and @jochn.holz  
https://www.louisehagger.co.uk
Don't drink and drive. Enjoy responsibly.
Join the community on Reddit
Spirits Hunters is a community dedicated to spirits and the world of mixology. Feel free to talk about the world of mixology and bartending here!
Join