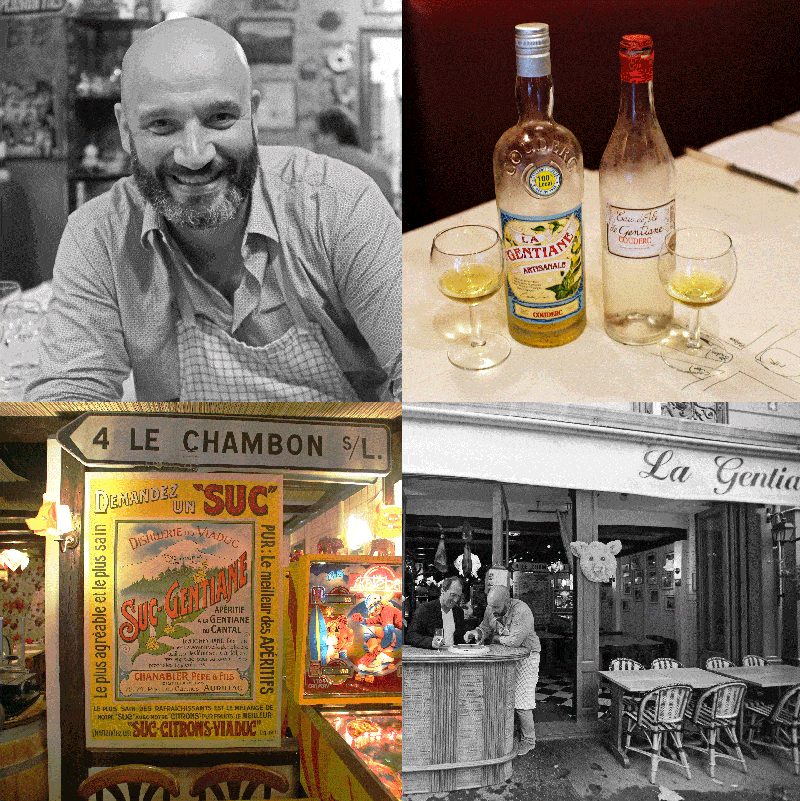 At the bistrot La Gentiane, Pierre Cheucle greets you with joy and warm smile
In Paris, on rue Stanislas, there are two restaurants: Chez Marcel, and La Gentiane. That sounds like a cliché opening for a movie or a song. You can easily see the scene: a wide shot of rue Stanislas, with a man running back and forth between the two restaurants. That man is Pierre Cheucle. He greets you with joy and a warm smile.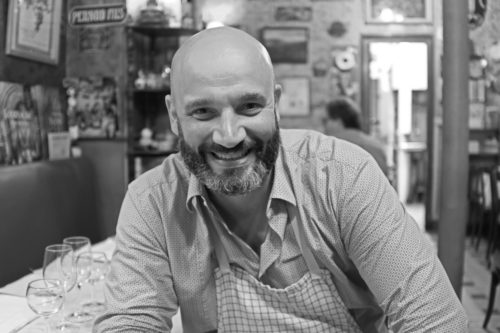 Pierre Cheucle
More often than not, running a bistrot is destiny. Who would have thought this business school student would fall in love with cuisine? No one, except his lucky star. With a cuisine diploma he got as an independent candidate, he started learning from the best at Lyon, Paul Bocuse, Jean Fleury, La Brasserie de L'Est, Le Bristol in Paris with Éric Fréchon… From commis chef to chef de cuisine, he was taught discipline, fellowship and righteousness. He has always loved this clever blend of mechanical accuracy and substantial magic.
His biggest culinary emotion was conveyed by chef Pierre Gagnaire's pigeon au chocolat. "I swear my tastebuds will remember it forever!", he says.
The Childhood
When he was a kid, his parents would take him to a famous "bouchon"[1], called Le Garet. "A wonderful bistrot, member of the Académie du Coq en Pâte[2]. They would serve an apron of sapeur (tripe) with a potato cake, and a scrumptious chocolate peppermint cake," he says with stars in his eyes.
He fulfilled his childhood dream when he took on Chez Marcel, a old bistrot he loved, and in which he met "le bonhomme". He did not alter the bistrot's spirit one bit. It is still based on a trust relationship with both his customers and his suppliers. He felt at home right from the start.
La Gentiane, the second restaurant on rue Stanislas, also displays high standards regarding quality products. However, unlike Chez Marcel, it is a brand-new universe that was built around an unknown drink. La Gentiane is a yellow flowering plant, growing between 800 and 1500 meters in altitude, in Auvergne, Jura, and the Alps. You have to pull the root from the ground with a tool called fourche du diable (devil's pitchfork). After a quick cleaning, drying and cutting, it is ready to be grated. It can then macerate in alcohol. During the Antiquity, La Gentiane's liquor was well known for its medicinal and energizing virtues.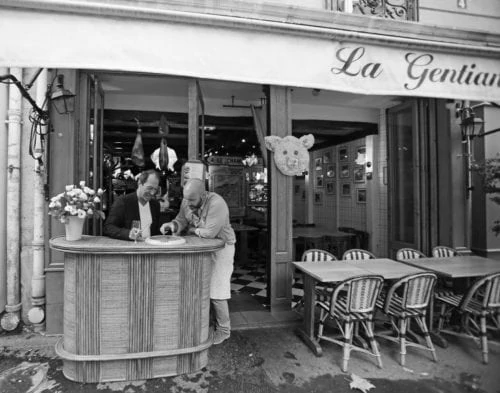 Bistrot La Gentiane
Everyone knows the Marques Suze, Salers and Avèze, but the restaurant can offer many more liquors from 15 different breweries. Sometimes, they add sugar, lemon or grapefruit to sweeten the drink. You have to try the Maison Couderc's products, such as La Fourche du Diable and the Intense or the Gentiane D'Auvergne, from Sancy.
The most courageous may find the Gentiane eau-de-vie to their taste
Bartenders, brewers; get your shakers! The Gentiane liquor goes well with Gin and Vermouth. Some mix it with strawberry and coco syrup to make It less sour, while some others try to transcend it. You still have a continent to discover, and many cocktails to create.
At the Bistrot de la Gentiane, at 6 PM, people gather for their "mountain-dweller time". The usual customers and the newcommers share a friendly moment, eating ham and dry sausage. It marks the beginning of a memorable evening. Sébastien Maillol, one of Pierre Cheucle's friends, often says: "Just eat swine, and you'll be fine". It did not take long for Pierre to understand that nurturing his bond with his customers was more important than just serving delicious food.
La Gentiane is an unconventional restaurant. The decoration was made through sedimentation. Right above the old-school flipper, a traffic sign for the town of Chambon sur Lignon was attached. Next to them, a record player plays its age-old tunes. And on the curb, some people play dice on a wicker bar. Everyone is having fun, and la Gentiane turns this party into a most epic feast.
Notes
[1] Bouchon Lyonnais: a friendly restaurant where you can taste pork and traditional dishes, served with Beaujolais cheese. The boss knows his or her clients and manages to create a familiar and family atmosphere.
[2] Association of Lyon gastronomes whose motto is: At work we do what we can, in bed we do what we owe, but at the table we force ourselves". A saying of Catherin BUGNARD's pleasant Lyonnaise wisdom.
Photos: Robert Ebguy
Don't drink and drive. Enjoy responsibly.
Join the community on Reddit
Spirits Hunters is a community dedicated to spirits and the world of mixology. Feel free to talk about the world of mixology and bartending here!
Join