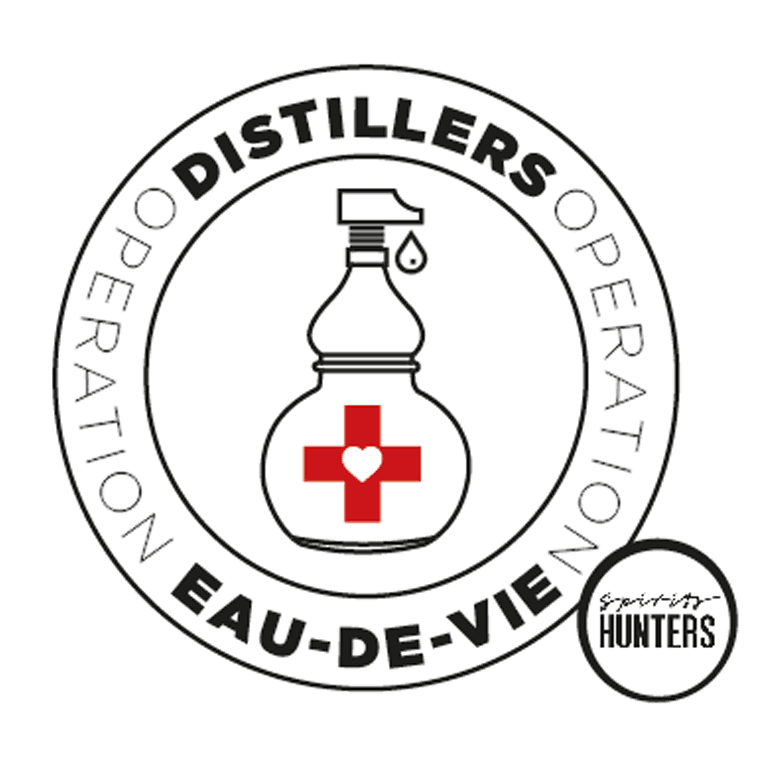 Distilleries and spirits groups fighting against coronavirus
Here are a few distilleries, companies and spirits groups, breweries, producers, winemakers who are providing support during the coronavirus crisis.

And thanks to all those we have not listed yet.
---
Spread the news
Ethanol from distillers can save lives! Forward this information to whoever is a distiller or has ethanol. Hospital and people are missing disinfectant, and the most important gesture right now is to keep clean hands and not touch our face.
All over the world, if you are a producer of spirits,know that you can save lives by giving or selling your ethanol!
Contact your nearest hospital or call the government sanitary offices of your country, they will guide you to do this.
Please be careful to whom you give your ethanol to. People are taking advantage of the situation by selling very high price hand sanitizer and disinfectant.
Ethanol is a virucide in a 65-80% ethanol hydroalcoholic solution. 1 litre of pure ethanol is equivalent to 500 hand washes. The objective is to inform about local initiatives such as large mobilizations. Modes of mobilization: ethanol production, hydroalcoholic solutions for cutaneous and surface use, partnerships, etc.
The crystal group announces a temporary shutdown to produce bioethanol.
A Moroccan plant for the manufacture of hydroalcoholic gels will open its doors tomorrow, Sunday 22 March, said Moulay Hafid Elalamy, Minister of Industry and the Economy.
Distell to provide sanitizers to vulnerable communities
Diageo will donate up to two million liters of alcohol to the manufacturers
The Beaujolais distillery provides alcohol for gels
The Rémy Cointreau group mobilizes for solidarity actions against the Coronavirus
Faced with high demand and shortages, a distillery in Le Mans sold its entire stock of 96-degree alcohol to help a pharmacist make hydroalcoholic gel.
In Chambéry, teachers from the Lycée Louis Armand took the initiative to make a hydro-alcoholic solution.
To fight against the coronavirus, Hennessy, Martell and Rémy Martin donated alcohol to make hydroalcoholic gel, or various masks and materials. The hospital in Cognac welcomed this gesture with gratitude.
From the United States to France and from the United Kingdom to Mexico, Bacardi is diverting global production to increase the supply of hand sanitizer to local communities.
UGVC Organizes Mask and Coverall Collection
The chemical company Ineos intends to build two hydroalcoholic gel plants in England and Germany within ten days.
Mascarin through its distillery la Rivière du Mât and Isautier are among the industrialists who propose to manufacture hydroalcoholic gel.
Sète: the ship Odeep wants to produce 1 million bottles of hydroalcoholic solution per week.
Yves Rocher will make masks and hydroalcoholic gel.
In Ille-et-Vilaine, the Awen Nature distillery manufactures and offers hydroalcoholic gel
The Evian water plant manufactures 100,000 bottles for hydroalcoholic gel.
The Listoke distillery has developed a recipe for a disinfectant with 64% alcohol and with the same genevas as for its craft gin.
In France, a platform called StopCovid19 has been set up (thanks to Mirakl) to put gel manufacturers and customers in touch with each other. More information: https://stopcovid19.fr
Guillaume Ferroni and Father Blaize join forces to make antiseptic gel.
Martinique: local rum distilleries have undertaken to supply pure alcohol to structures with the capacity to produce hydroalcoholic gel, reports Martinique 1ère (formerly RFO).
The alcohol from the Waterloo distillery will be used to make disinfectant.
Maison Drouin donates 100 litres of alcohol to make hydroalcoholic solutions
Bergerac: 600 litres of hydroalcoholic gel already produced by Bouchillou.
In Aÿ, France, the Goyard distillery will give alcohol to prepare hydroalcoholic gel.
The Distillerie Fils du Roy transforms its alcohol into an antiseptic for the hands.
Distilleries in Pontarlier and Fougerolles help to produce hydroalcoholic gel.
Donald Trump thanks the Distillers of the Nation for producing and donating hand sanitizer in the context of the coronavirus pandemic, and Twitter has some ideas.
The distillers need our help for their business. In the interest of public health and safety, distilleries across the country have closed tasting rooms, suspended tours and cancelled major events to limit exposure to COVID-19.
Dispensary pharmacies can now prepare hydro-alcoholic solutions. This authorisation was granted until 31 May by a decree published in the Official Journal on Saturday 7 March.
Sagamore will produce 100,000 litres per month of hydroalcoholic gel.
In Venezuela, Destilerías Unidas S.A. (Diplomático Rum, Wellington Gin…) donated 10,000 litres of alcohol to the Ministry of Health, Corposalud Lara (where the DUSA plant is located) and Simón Planas Town Hall.
The Carúpano distillery has decided to give an important part of its ethyl alcohol.
Licorera Cihuatán in Mexico, indicated that it produces an antibacterial alcoholic solution for hands and surfaces.
State health departments across India have been supported by Pernod Ricard India with over 1.1 lakh (110,000 litres kilo hecto) of alcohol-based (70% v/v) hand sanitizers.
The Loch Lomond group set to donate thousands of bottles of hand sanitizer.
Santa Teresa Rum is now dedicating most of their production to the manufacture of antiseptic alcohol.
Sazerac Starts Producing Hand Sanitizer On an Industrial Scale.
Eau-de-vie saves lives! a special cheer to Alexandre Vingtier who works day and night to ensure the transmission of information.
Don't drink and drive. Enjoy responsibly.
Join the community on Reddit
Spirits Hunters is a community dedicated to spirits and the world of mixology. Feel free to talk about the world of mixology and bartending here!
Join