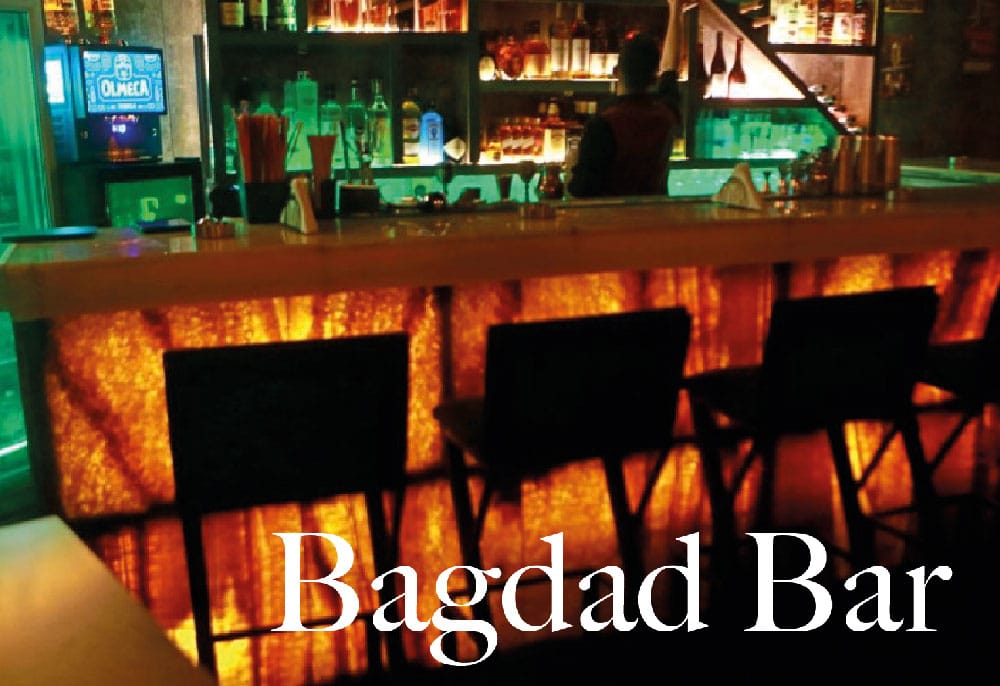 Solving wars with cocktails is exactly what this bar in Baghdad does
A bar that from the outside reflects the reality of certain buildings in Baghdad: silent, decayed… Cocktails are served here to resolve war conflicts.
BAGHDAD (AP) – It is 6 p.m. in Baghdad. From this hour, if you knock on the steel door of this bar, you will enter a completely strange world, difficult to find in the capital of Iraq. To enter, bodyguards will check any bag for weapons and check names on a list.
It is on the top floor of this building that you will find the bar run by a Syrian bartender. Only a year into his stay in Iraq, Alaa's bar manager has a precise vision of his place. It is a clandestine establishment that can serve as a refuge for its varied clientele who wish to escape the stigma of alcohol consumption in a conservative society, mostly Muslim. Not to mention, being a bartender in Iraq is dangerous. Alcohol stores are often targeted by disapproving militias.
"This place is not for everyone," he said. "We live in fear, especially in this place … but I have to tolerate it. It's my job. The workers here, I have to protect them. My customers, too."
The opening of the bar came at a crucial time. Open for a few weeks at a time when bombings in stores that sell alcohol continue to increase. Among those affected are Alaa's suppliers. On Tuesday alone, two bombs exploded in the vicinity of two different stores, causing material damage. This is the fourth such attack in a week.
Survival
Because of the conflicts linked to alcohol consumption, Alaa explains that the survival of his bar depends on keeping his bar open to a minimum public. In fact, word of mouth is the only form of promotion he accepts. Every person who wants to become a customer has to send him a message to make a reservation, and they must not be too rowdy inside the bar. Alaa knows each of his customers by name. If anyone breaks the rules or "brings trouble," they are added to a blacklist.
"There are a lot of people here who have money. Legal or illegal, it doesn't matter. It doesn't matter to me," Alaa says.
Gripped by fear, he watches the comings and goings on surveillance cameras day and night. He asked The Associated Press to refer to him only by his first name and not to say the name or location of the bar to avoid reprisals from armed groups.
Baghdad: growing hospitality business
In 2019 Alaa had to make a choice: leave for Europe as a refugee or make a living in Baghdad. "I could never accept being a refugee," he says.
A cousin advised him to invest in the hospitality business, a sector in which many Syrians have managed to find work.
After offering the previous owner of the building to revamp it and share the profits, Alaa was able to open the bar. The bar begins to show signs of success with full weekends. News about the opening spread through social media, especially among groups of lawyers, doctors and engineers in private Facebook groups. And that's just the kind of clients Alaa is looking for.
The success of his business is inextricably linked to the well-being of his family at home.
His mother and sister still live in Sweida, where most residents take home a salary of just $30 a month. The bar serves a dual purpose. On the one hand, it satisfies the growing demand in Iraq's underground drinking scene.
"On the other hand, it serves to bring food home," he says.
Don't drink and drive. Enjoy responsibly.
Join the community on Reddit
Spirits Hunters is a community dedicated to spirits and the world of mixology. Feel free to talk about the world of mixology and bartending here!
Join