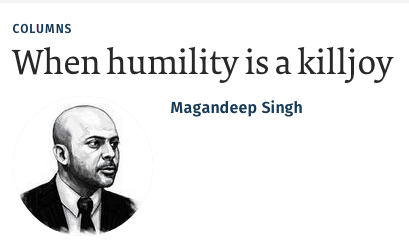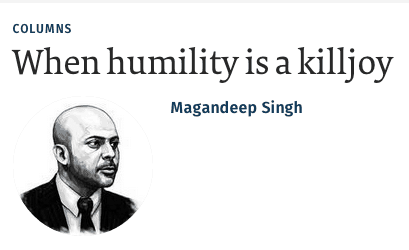 Thank you Magandeep Singh, for you insight!
We thought it would be important to share the perspective of Magandeep Singh -columnist for The Hindu- expressed on his article When humility is a killjoy. But beware, as Singh says, "This column is for anyone who gives an existential toss."
Why you need to let go, let loose, and shamelessly give in to indulgence

There is a small problem that I have with humility, it takes all the fun out of decadence. The very tenets of being humble are perched upon the idea of not allowing privilege to show or affect any aspect of our lives. In fact, humility requires us to nearly detach ourselves from the notions of pain and pleasure, accepting both alike, and soldiering on nevertheless. Which is all fine on a day when I am feeling spiritual and 'one with the universe' like, but terribly hard to digest if foie gras is on the menu.

My recent jaunt through France saw me break my vows of measured indulgence as I combed my way through the region of Champagne, following it up with a brief Parisian sojourn, which is, frankly, the best way to absorb Paris nowadays.

In Champagne, I had chosen to make Hostellerie la Briqueterie my abode, while I made my way to some very precious vineyards, the same ones that were the entrenched battleground for WWI and provided plenty of "ammunition" during WWII for the stationed soldiers. The only thing that makes a bottle of Champagne better is to have it with a gourmet meal, which is precisely what we did; the chef at L'Hostellerie cooked up an absolute storm of emotions, crackling canard and all. The sommelier was only too happy to march to the tune, and lined up bubbly to go with each pair. Did you know they make some amazing red wine, too, by the way? I never once made it to the gym but I did do a deep study of their spa services and found them rather hunger-inducing.

By the end of my gastro-meal I barely had space for a nightcap, let alone humility. Everything was lavish, elaborate and ornate. To sit through a meal so baroque, where one is being regaled like a queen and feasting like a king, humility is anathema to enjoyment. Instead, the trick is to let go, let loose, and give in. Shamelessly.

The wise will advise to never embrace luxury — for once trapped in its folds, going back to normalcy can seem hard. Well, a few tastings and meals later, I left Champagne and pulled up at the majestic porch of the Saint James in Paris, where, as my personal majordomo showed me to my quarters, there was little time in-between to afford any austerity.

Here again, the Michelin-starred chef spared no effort in ensuring everything went off like a symphony. Because a grand repas, to me, is like a massive Bollywood production; every cog in the service industry wheel is merely an actor playing their part. From the chef who prepares the plates to the server who brings them, from the sommelier who suggests wines and changes glasses to the young apprentice whose only job is to come and clear the table of crumbs in-between courses. With such a grand spectacle on show, to play the part of humility is counter-intuitive. It also mars the entire exhibition.

As much as one pays for food here, one is really buying time, or rather allowing someone the time to enthral us. Sure, there is something about privilege that makes one squirm uneasily, but in a world gone blasé, anyone who can make you feel good even if for a moment is worth the investment and diversion.

So, the moral of the day is, it is okay to enjoy, to feel good about where you are in life and how you got yourself there. Life, for what it's worth, doesn't seem to serve much purpose, so sometimes it is perfectly fine to ease off the pedal, sit back and take in the view. Sure it is not samadhi or satori, whichever name you know it by, but if I meet a good meal and a comfy bed on my path to enlightenment then I, for one, am certainly going to make a well-earned pit stop right there.

This column is for anyone who gives an existential toss.
Don't drink and drive. Enjoy responsibly.
Join the community on Reddit
Spirits Hunters is a community dedicated to spirits and the world of mixology. Feel free to talk about the world of mixology and bartending here!
Join