News
These stars used to work as bartenders before making it big
Many of the artists that we see today on the big screen as well as the small one, prepared delicious cocktails behind the bar before they became stars.
Who are these bartender artists?
These TV and movie stars, and not only actors, but sportsmen as well, were bartenders in different bars around the world.
Dave Matthews
The singer-songwriter of the Dave Mattews Band worked as a bartender from 1987 to 1991 in a pub in Charllotesville, Virginia called Miller's.
Ellen Pompeo
Ellen Pomepo is the star of the famous Grey's Anatomy medical series. She said in a 2005 interview that she worked in a bar in the New York City neighborhood of SoHo. It was around this time that an agent discovered her to become an actress.
Ellen DeGeneres
Known for her show The Ellen DeGeneres show and for having participated in the animated film Looking for Nemo, the star worked as a bartender in New Orleans.
Michael Fassbender
In August 2011, the actor told The Telegraph that never having gone to university, he had doubts about his acting career. "What if this doesn't work," he asked himself. He admitted he had skills in the catering industry, so he learned how to make cocktails and run a bar. "I started running a bar and suddenly I started having auditions.
Jon Hamm
The Mad Men actor, always with an Old Fashioned in hand, worked as a bartender before acting. In fact, actress Kelly Lynch told Entertainment Weekly that she had hired him several times to bartend her parties.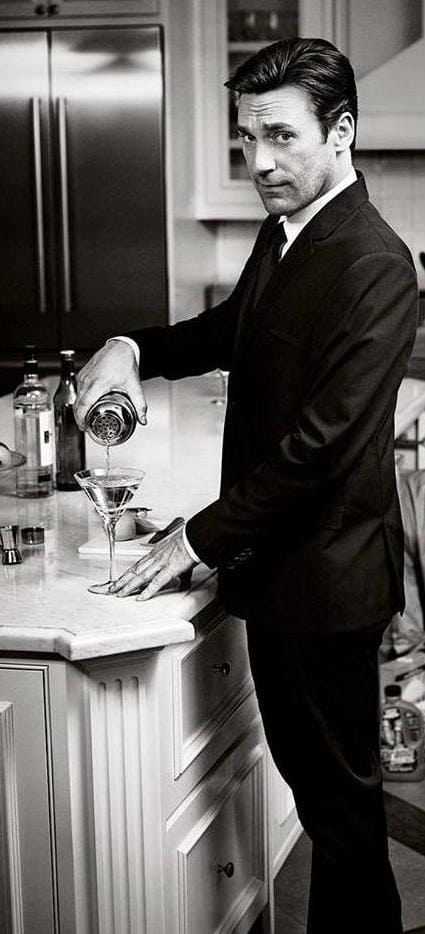 Bruce Willis
The star of Duro de Matar was a popular bartender before becoming an actor.
Mark Cuban
The Shark Tank judge used to make drinks at a bar in Dallas called Elan. "Playing bartender was not my ultimate goal. I wanted to start my own business," the entrepreneur confessed to Forbes in March 2013.
Jon Stewart
The talk show host worked as a bartender at the punk bar in New Jersey's City Gardens, "It was very, very special," he told Vulture magazine.
Ronda Rousey
Known as a UFC female wrestling star, Rousey was a bartender at the Redwood Bar Grill in Los Angeles.
Sandra Bullock
The star admits to having learned to imitate many accents when working as a bartender.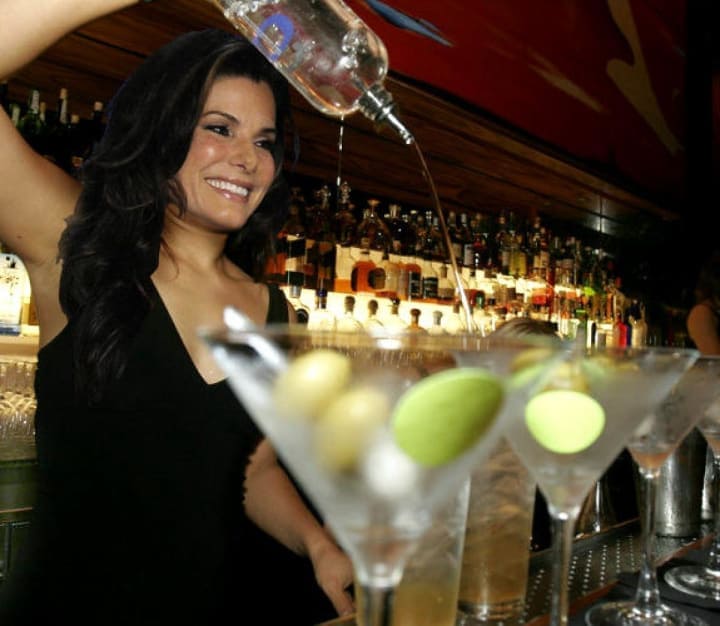 Amy Schumer
The comedian, who has a show called Amy Schumer Lears To Cook, starts it off by making a drink each time. At the premiere of her show, she explained while stirring an Old Fashioned, she worked as a bartender for almost 10 years in all kinds of places in Manhattan.
How to make the Old Fashioned Cocktail as in Mad Men?
Old Fashioned cocktail
Ingredients
2 oz. bourbon
2 dashes of bitters
Splash of water
1 tsp of superfine sugar (or a sugar cube)
Maraschino cherry
Orange wedge
Type of glass:
Old Fashioned / Rocks
Method
Dissolve sugar in water. Add bitters. Add chery and orange slice. Muddle. Add ice. Add bourbon.
Don't drink and drive. Enjoy responsibly.