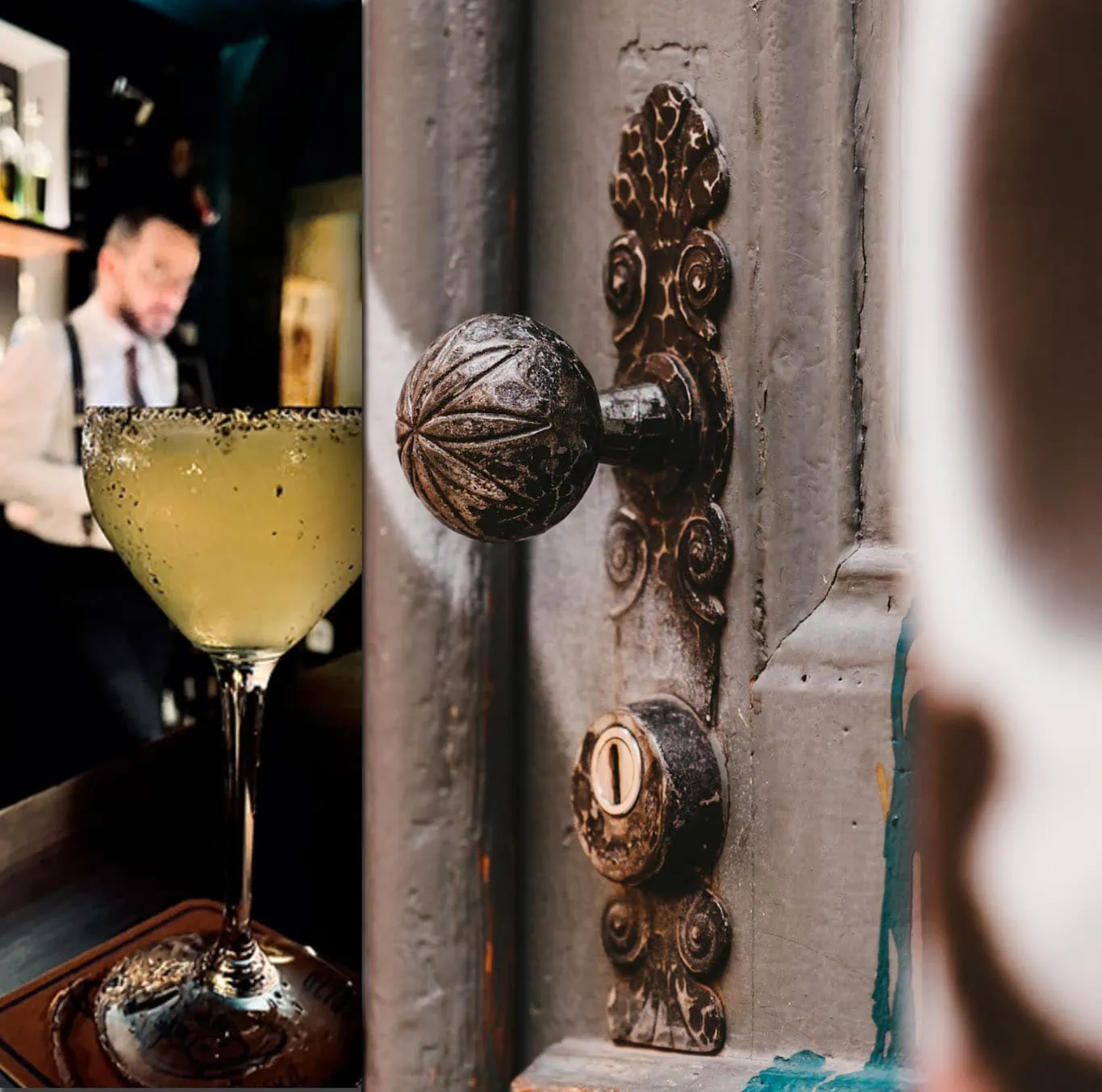 Our trip to the unexpected discovery of the Blind Pig
In May, we took a cousins' getaway to San Sebastian. We discovered the Blind Pig.
Claude and I set off for Hendaye station, where we decided to take "El Topo", a shuttle train between Hendaye and San Sebastian. But the day was littered with pitfalls.

At the station, I forgot to take my money at the ATM.
Thirty minutes before arriving in San Sebastian, I realize in Irun that I've forgotten my bag at Hendaye station. We got off the train to notify the station manager in Irun, who, to our astonishment, offered to take the bag back on the next train.
a miracle! It doesn't happen like that in France! But, as the proverb says, there's never a dull moment!
When we arrived in San Sebastian, the weather was pleasant. We walk under a blue sky for a kilometer or two before arriving at the beach where our hotel is located, facing the sea. The hotel is lovely and the receptionist very charming, but… one more snag! We've got the wrong date… Luckily, there's still a room available! Here's hoping our bad luck runs out!
In the evening, I've programmed a list of several bars to do a little report on: the bars of San Sebastian. It's 8pm and not far from the hotel, we set off in search of the first bar: The Blind Pig!
Discovering The Blind Pig
We're the only ones there… Normally you have to make an appointment," says Marco Ferreri, bartender at the Blind Pig, "but we're in luck! Yes, a small miracle, because the Blind Pig is exactly the kind of bar I'm looking for.
We enter a bar that I'd define as timeless, Prohibition-style, with a hushed '50s jazz ambience. The bartender is dressed as he was in those days: wide suspenders, white shirt, crooner's voice, velvet eye! Indeed, we're in a Spanish speakeasy with a bartender who's totally passionate about his craft.
Menu in hand, from the very first page we can read this description:
To talk about these establishments, we need to go back to the era of dry law in the United States. For over a decade, between 1920 and 1933, the trade and consumption of alcoholic beverages were banned in the United States.

Although it may seem that this was a difficult decade for bartenders and mixologists, it was ultimately one of the most beneficial for the industry.

However, what seemed to be the end of bars only ushered in a new era. The legal refusal to sell alcohol gave rise to speakeasies, hidden bars to which only a few people had access.

Today, all over the world, bars and restaurants hide away in little-known corners where they welcome their visitors in a tranquil setting, away from the hustle and bustle of the city.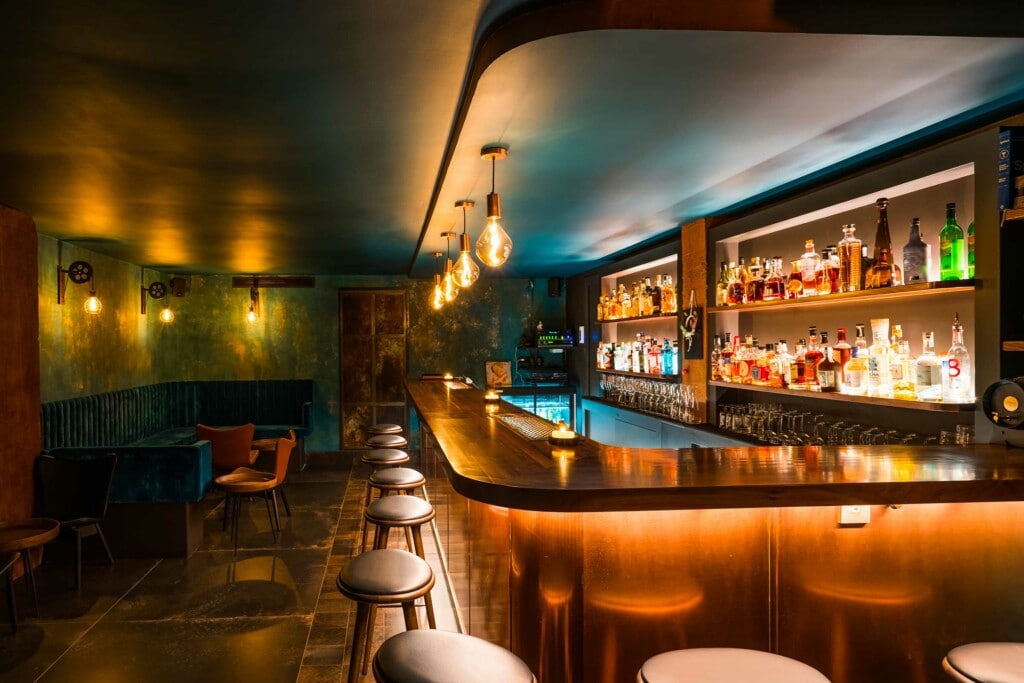 Photo: theblind-pig.com
The room isn't big enough for 10 people. We settle in at the bar. By way of welcome, Marco Ferreri offers us a 1970s vermouth, good enough to fall off the stool, as the cousin would say! In this pretty glass, 2 centimeters of happiness: an elegant and exuberant red vermouth, pleasant and sweet at the same time, with a very Mediterranean character, beautifully honed by time, giving balance to this elixir of rare roundness and aromatic persistence.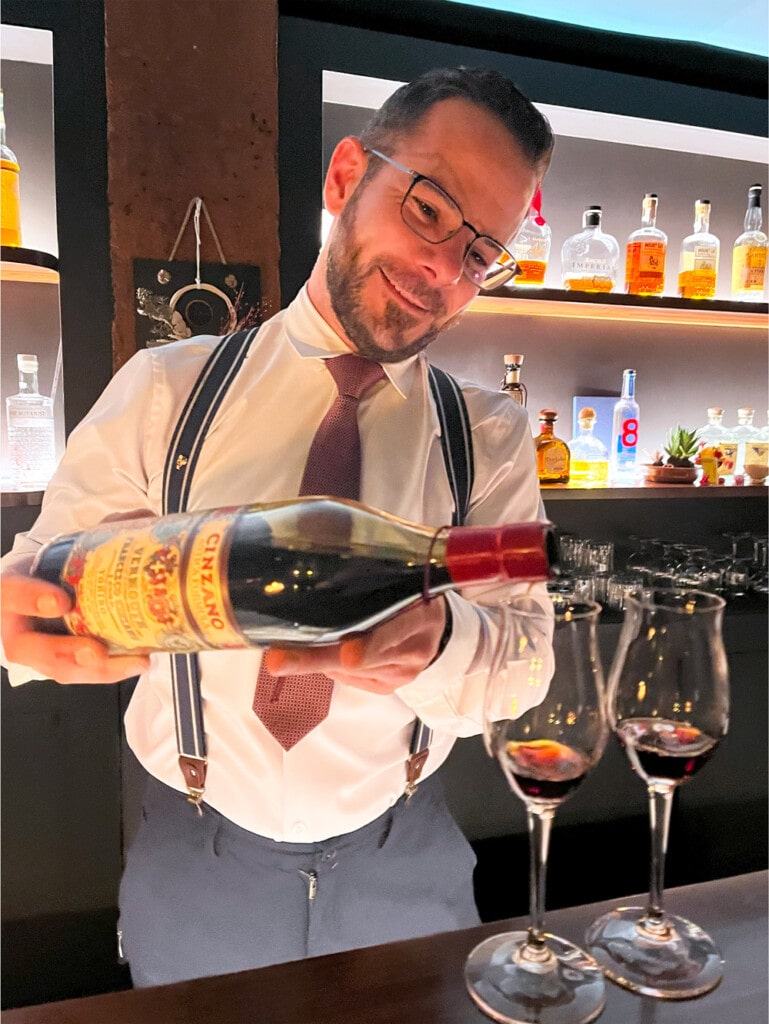 Photo: Marco Ferreri | Spirits Hunters
Our host, who speaks English to me and Spanish to my cousin Claude, introduces us to his bar, where he serves only the finest and rarest cocktails with spectacular performances to impress his customers. He's passionate about his work and is constantly on the lookout for new tastes in his cocktails.
Ferreri tells us that the bar was given to him as a thank-you when the restaurant Amelia by Paulo Airaudo was awarded its first star.
We decide to order a cocktail and go for the Old Fashioned, a classic that speaks volumes!
Here's the menu description:
OLD FASHIONED United States 1806 – A stimulating liqueur composed of spirits of all kinds, sugar, water and bitters. This is the first written reference to the word 'cocktail' in 1806, and a definition of the former. In fact, 'OLD*' was an adjective describing a whole class of cocktails that followed this simple combination with all manner of spirits, including gin and brandy. Theories on the origins of the Old Fashioned abound, but according to cocktail writer Robert Simonson, author of a book on the subject, it probably originated near Chicago.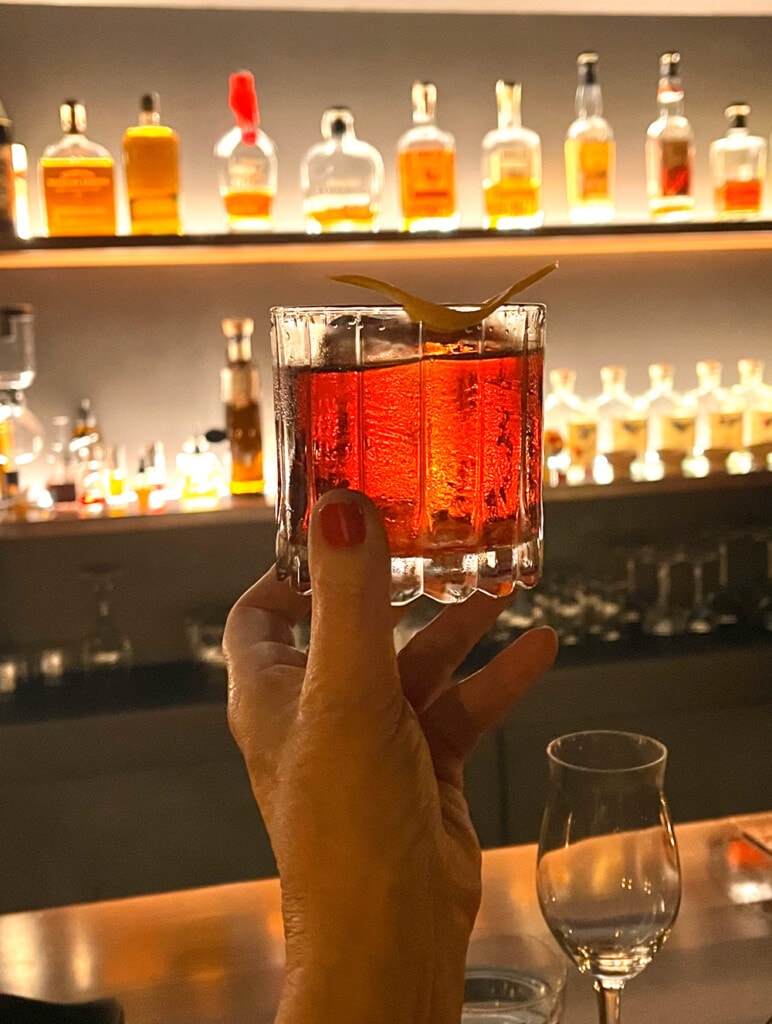 Photo: Old Fashioned | Spirits Hunters
Marco Ferreri prepares this Old Fashioned with exceptional mastery. I film him and Claude is amazed at the precision and elegance of the preparation. Well done, the simple marriage of whisky, sugar and bitters produces one of the most delicious cocktails you can enjoy.
A small glass of iced water and we taste the divine beverage… It was perfect, the best in fact. Marco Ferreri explains how he makes his own bitter and prepares his own sauces. He then gives us the name of a tapas restaurant.
Already 10.30 pm! Before we leave, our host points out a wonderful restaurant in the old streets of San Sebastian: El Ganbara. Extraordinary tapas, elegant the best of each! Jamón Jabugo of course, seafood salads, etc.! All are served with delicious wine by very cool and friendly waiters.
Best of all, it's no wonder Marco Ferreri shared this address with us. Just imagine the exquisite ham with Old Fashioned! A delicious pairing!
…Until next time!
The end of an exceptional evening
We had an exceptional, unusual and rare evening, full of laughter. We returned to the hotel tired but happy.
It's worth mentioning that on the way to the restaurant, I went into a store after 10pm to buy a dress. I still haven't worn it, but I will, thinking of that unforgettable evening.
The next morning, waking up in the rain, we headed back to El Topo in the opposite direction, not forgetting my bag and my head firmly back in its place.
It was a great trip, full of unexpected surprises and magical discoveries. Cousin Claude told me she'd never seen San Sebastian quite like it! And neither had I! I leave you with an interview with Marco Ferreri conducted during our visit.
Four questions to Marco Ferreri – Bartender The Blind Pig
Photo: theblind-pig.com
1. Can you tell us how you make your bitters (habanero extracts, etc.) and what cocktails they can be used in?
We work with a classic cocktail bar, so bitters like Angostura, for example, are enough for us. However, we also produce our own bitters for special events or cocktails. The bitters we create are inspired by gastronomy and cuisine, thanks to our collaboration with Amelia restaurant. Finally, we have integrated these special event bitters into our menu.
2. What's your favorite cocktail?
The Dry Martini.
3. How long have you been working at the Blind Pig?
Since it opened in December 2021. The Blind Pig opened its doors in December 2021 with the aim of conveying the concept of exclusivity and offering an experience beyond cocktails. To maintain an active and dynamic atmosphere, we have organized monthly events with different themes, where we prepare classic cocktails in a special way for each occasion.
4. You told us that you received this bar as a reward for obtaining a star for the restaurant. Can you tell us a little more about this experience?
Chef Paulo Airaudo decided to extend the exclusive service he offers to Villa Favorita hotel and Amelia restaurant guests when he was awarded the restaurant's second star. Thus was born The Blind Pig, a new project inspired by the origins of speakeasies, with the idea of maintaining something exceptional and offering personalized service to our guests, and wanting to pass on the speakeasy concept of the 1920s. Speakeasy was the name given to establishments that illegally sold alcoholic beverages during the historic period in the United States (and Canada) known as Prohibition or the Prohibition Act (1920-1932).
The Blind Pig
San Bartolome Kalea, 23, 20007 Donostia, Gipuzkoa, Espagne
https://theblind-pig.com
Subscribe to our newsletter to receive news from the world of spirits and mixology
Don't drink and drive. Enjoy responsibly.
Join the community on Reddit
Spirits Hunters is a community dedicated to spirits and the world of mixology. Feel free to talk about the world of mixology and bartending here!
Join