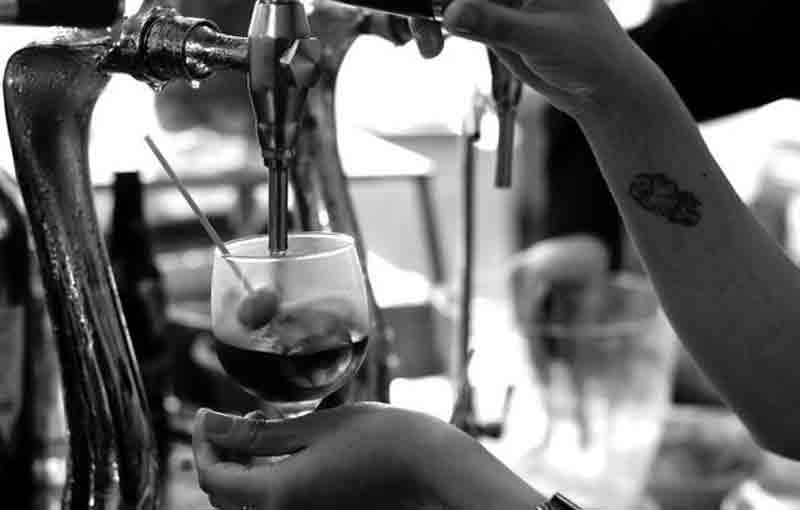 Vermouth's revival happens through Spain
It is not only Italy and France that count: Spaniards can boast of a long tradition of yesteryear that is just waking up.
Modern vermouth was born on both sides of the Alps. Between Turin, Chambéry and Lyon, the necessary conditions were met to develop the aperitif between 1750 and 1820. What were these conditions? Abundant wine and knowledge of distillation for its fortification; access to mountain medicinal herbs and exotic spices; mastery of maceration and infusion. Vermouth (German: wermut), whose origin is medicinal, is an aromatized wine concentrated in absinthe. In general, it is sweet to counterbalance the bitterness of some of its ingredients, such as gentian, quinine or rhubarb root.
Its success in the 19th century saw it become a popular aperitif in the great Parisian brasseries and in cocktails such as Manhattan in the United States. In turn, he inspired many imitators to go for the adventure. One of the places where they achieved this is in another great Mediterranean country, Spain. The political changes of the 20th century kept this reality aside for a long time, and while the French tradition of vermouth collapsed and the Italians preferred spritz, the Spanish remained firm.
Where Everything Started
The story began in Catalonia, around 1880. The vast majority of producers were concentrated in the small town of Reus (this remains the case to this day). It is, however, an hour from there in Barcelona that consumers start to enjoy vermouth. Specifically, thanks to Torino, a magnificent café decorated by Gaudí and other renowned artists of the time.
The rest of the country has followed the same path. Indeed, wine producers in the four corners of Spain will try to exploit the new route. Today, as yesterday, a large number of cooperatives offer their customers a "house" vermouth, sometimes of dubious quality.
"Spain's Yesteryear Drink"
During the eighties after Franco's death and the great advance of the brewing groups, the image of vermouth began to go out of fashion. It was the drink of the Spain of yesteryear. Paradoxically, it is the hipster generation who positioned it in the flavor of the present day during the economic crisis. Much less expensive than Gin Tonic, which is now very fashionable, and above all, considered to be the most authentic, vermouth becomes the drink of the moment, for the greatest satisfaction of historical producers and epigones who soon ventured.
The peculiarity of Spanish vermouth is defined primarily by the way it is consumed. While in Italy and other countries it is consumed in cocktails such as Negroni or Dry Martini, in Spain it is still drunk alone, with ice, sometimes with a few drops of sparkling water. It is usually served from the siphon (without gas). Served during the day, accompanied by vinegar or marinated foods. These particularities have an effect on its aromatic profile. Spanish vermouths are less intense and bitter than Italian vermouths, and sweeter than French dry vermouths.
Conquering Foreign Lands
Little by little, Spanish producers come out of their shells and start exporting. In the United States it is beginning to appear on the menu of gastronomic restaurants, whether they are of Iberian influence or not. Even though it is still a minority, it still has the wind in its sails. On the other hand, new participants drive a new wave of innovation, finding a balancing act: to remain faithful to the Spanish style while offering different sensations.
We have seen the return of sherry based vermouth with Lustau or González Byass. In Galicia, Petroni works with Albariño, a local variety, and uses Padrón pepper in his white vermouth. A limited edition in La Rioja, at Lacuesta, rests in acacia barrels. While a rare red wine vermouth -red vermouth is traditionally made with a white wine colored with caramel- is proposed by the residents of San Bernabé. Those who are passionate about discovering flavor know what they ought to do.
Don't drink and drive. Enjoy responsibly.

Join the community on Reddit
Spirits Hunters is a community dedicated to spirits and the world of mixology. Feel free to talk about the world of mixology and bartending here!
Join