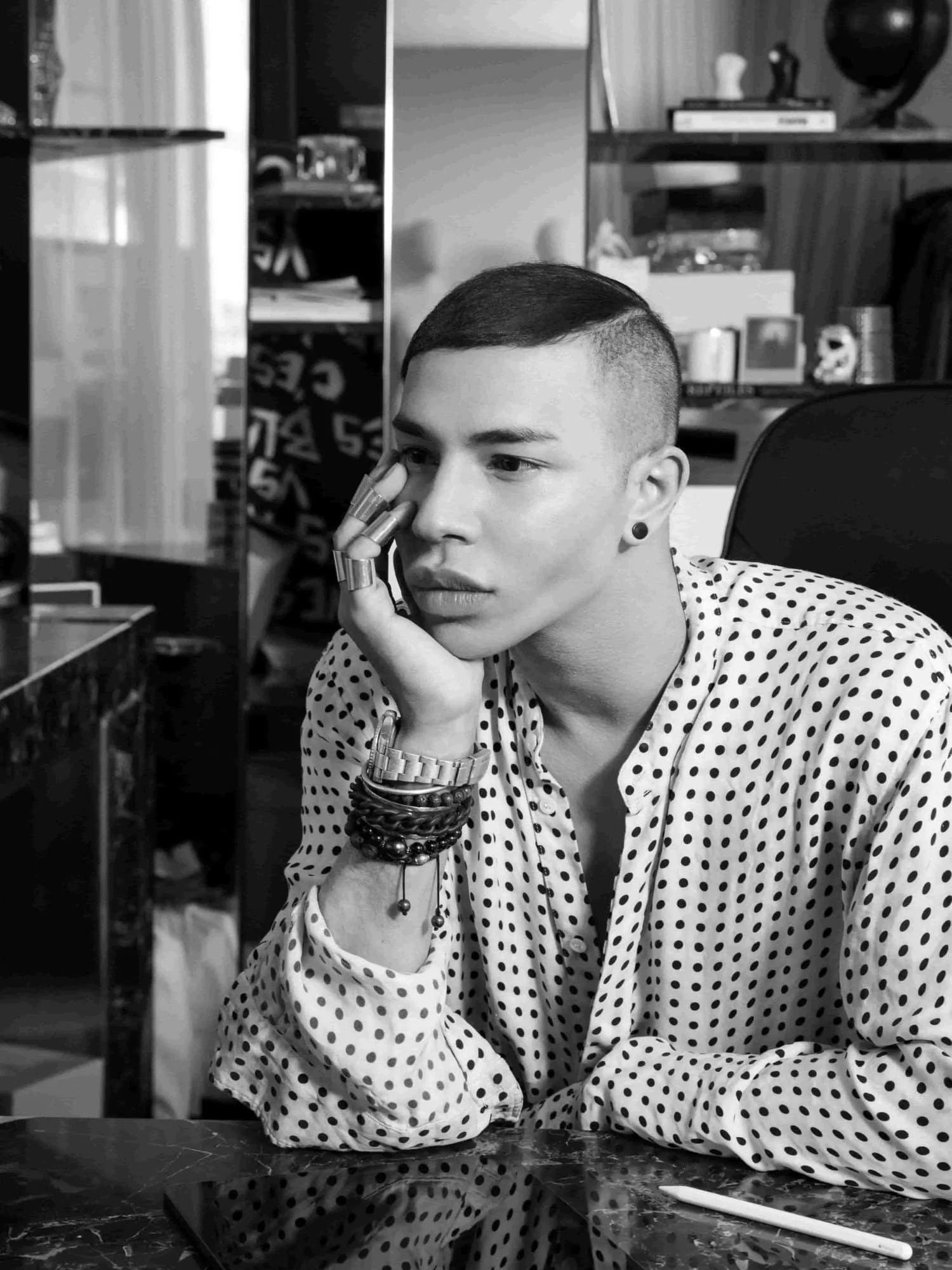 The new bottle of Balmain x Chivas XV, 100% fashion by Olivier Rousteing
The latest fashion collaboration is between Balmain and whisky house Chivas Regal to create the new Chivas XV bottle with Olivier Rousteing.
In an interview with Chivas Regal, Balmain's Creative Director, Olivier Rousteing, talked about the luxury design and the process that went into the collaboration to create the Chivas XV bottle.
We transcribe the interview and parts of the Balmain x Chivas XV creative process here:
WHY HAVE YOU DECIDED TO COLLABORATE WITH CHIVAS?
"Over the past decade, each collaboration that I've worked on – whether the partner was best known for beauty, tech, skiwear, classical ballet, scents or high-street fashion – has always involved a lot of shared inspirations, decisions and objectives. After all, the point is to make sure that we can actually channel the distinct Balmain DNA into everything we do. And every time, the challenges, materials and production are, of course, quite different.
"It's always humbling to try to work in a new field, there's just so much to learn! But I believe that we can only truly grow when we challenge ourselves, when we learn new things, when we push ourselves outside of our comfort zone.
"That learning process is one of the big reasons why I loved every second of this partnership: the team at Chivas was so amazingly patient with me, explaining the limitations and possibilities at each step of our long design process.
"Accepting new challenges, focusing on new things to learn are actually what help keep me and my team challenged and feeling really alive. That's why it's always intriguing to receive offers to work on something other than the products that people expect me to be working on. The learning process is so intense and so rewarding. I love working closely with people who are experts in other areas and who are willing to teach me new things – and, in the end, what I get out of the process always helps to strengthen the work I do for Balmain, by inspiring me to think in new ways when I return to my clothing sketches."
WHAT'S THE IDEA BEHIND THE COLLABORATION AND WHAT DOES BALMAIN BRING TO IT?
"Both Balmain and Chivas are historic houses that stand out in their respective universes because of their shared determination to meld together luxury heritage and precise artisanal skills with a completely modern outlook that reflects how we want to live today. That's why we've incorporated so many signature Balmain designs and our easily recognized runway codes into the packaging and unique bottle design. We really want that connection to be clear from the beginning."
TELL US ABOUT THE DESIGN PROCESS BEHIND THE COLLABORATION.
"After being taught by the Chivas experts exactly why Chivas XV was such a singularly delicate and uniquely refined 15-year-old Scotch whisky, my goal was to make sure that the design made as clear as possible that this packaging and bottle contained something rare, something of great value. And, well, when you treasure something valuable, it means that it's something worth defending, right? So, that called to mind a very popular motif from Balmain's runways: an eye-catching and intricately patterned over-sized golden chain that my team and I created. For this partnership, we've reworked that iconic chain to create this collaboration's coat of armour—a tough shield for an important creation that's definitely worth protecting."
HOW DOES CHIVAS ALIGN WITH THE BALMAIN ETHOS?
"Both Balmain and Chivas (in their very different universes) have helped make clear that a mix of tradition, a rigorous attention to detail and a dedication to classic artisanal skills can very beautifully compliment a thoroughly modern outlook. I think it's great that these two historic houses, with their shared values, have been able to partner on a project that really highlights that distinctive outlook."
HOW WILL YOU BE CELEBRATING THE LAUNCH OF THE BALMAIN X CHIVAS XV COLLABORATION?

"Just ask my team, they'll tell you! Most likely, we'll have a toast with the entire team in the atelier to celebrate, and then I'll probably return to my sketches and fittings for the next collection. It truly never stops here at Balmain! I do know that almost every member of my team will be heading out to some of the incredible pop-ups that Chivas has planned (maybe I'll sneak out later for one more celebratory toast) and, of course, I am looking forward to gifting some of the new bottles to some of my closest friends."
Source: chivas.com
You can finish reading the full interview in the article We Caught Up With The World-Renowned Balmain Designer Olivier Rousteing About The Balmain X Chivas Xv Collaboration.
Don't drink and drive. Enjoy responsibly.
Join the community on Reddit
Spirits Hunters is a community dedicated to spirits and the world of mixology. Feel free to talk about the world of mixology and bartending here!
Join