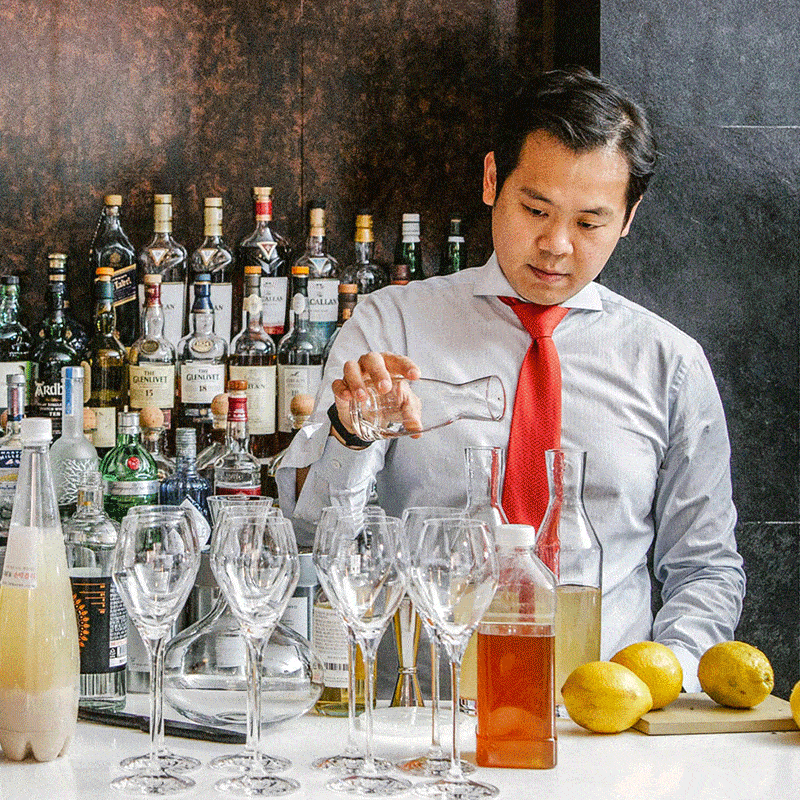 Bartender Kyungmoon Kim shares his creations with Soju
The bartender shared with Food & Wine his love for soju and recipes based on Korea's national spirit. We sum it up for you.
Now that #SquidGame is is ON and the soju craze seems to be gaining momentum… 
After the Korean government lifted restrictions on rice distillation in the 1990s, soju, began a renaissance. "When I tasted it, I was blown away," Kim says. "It opened my eyes." Kim sampled batches of artisanal soju distilled in pot stills, using a natural yeast called nuruk.
Bottled at 20% or 40% alcohol, they offered lush textures and notes of herbs, fruits and cherry blossoms. But few had tasted them, even within Korea. Large, cheap bottles still dominated the market.
Soju is a clear, colorless, distilled alcoholic beverage of Korean origin. It is usually consumed neat, however bartenders like Kyungmoon Kim take advantage of the virtues of this drink to bring it to the forefront of the Korean mixology scene through cocktails.
Soju recommendations by Kyungmoon Kim
Yangchon Chungju
Made with glutinous rice, this golden rice wine is earthy and viscous, with flavors of mushrooms, marzipan and dried pear, plus a bittersweet finish of walnut skin. Enjoy it with Korean barbecue.
Solsongju Damsoul Pine Soju
Infused with spruce and pine, which is highly prized in Korea, and diluted with spruce tea, this herbal soju is a good substitute for gin. Kim likes to mix it with Campari and Yangchon Chungju for a Korean twist on the Negroni.
Soju Sulseam Mir
Made with only water, nuruk and rice from Gyeonggi Province, this double-distilled liqueur has a roasted corn aroma and lactic sweetness, with bright notes of pineapple and hops. It is wonderful on the rocks.
Soju Cocktail Recipe: Forever Young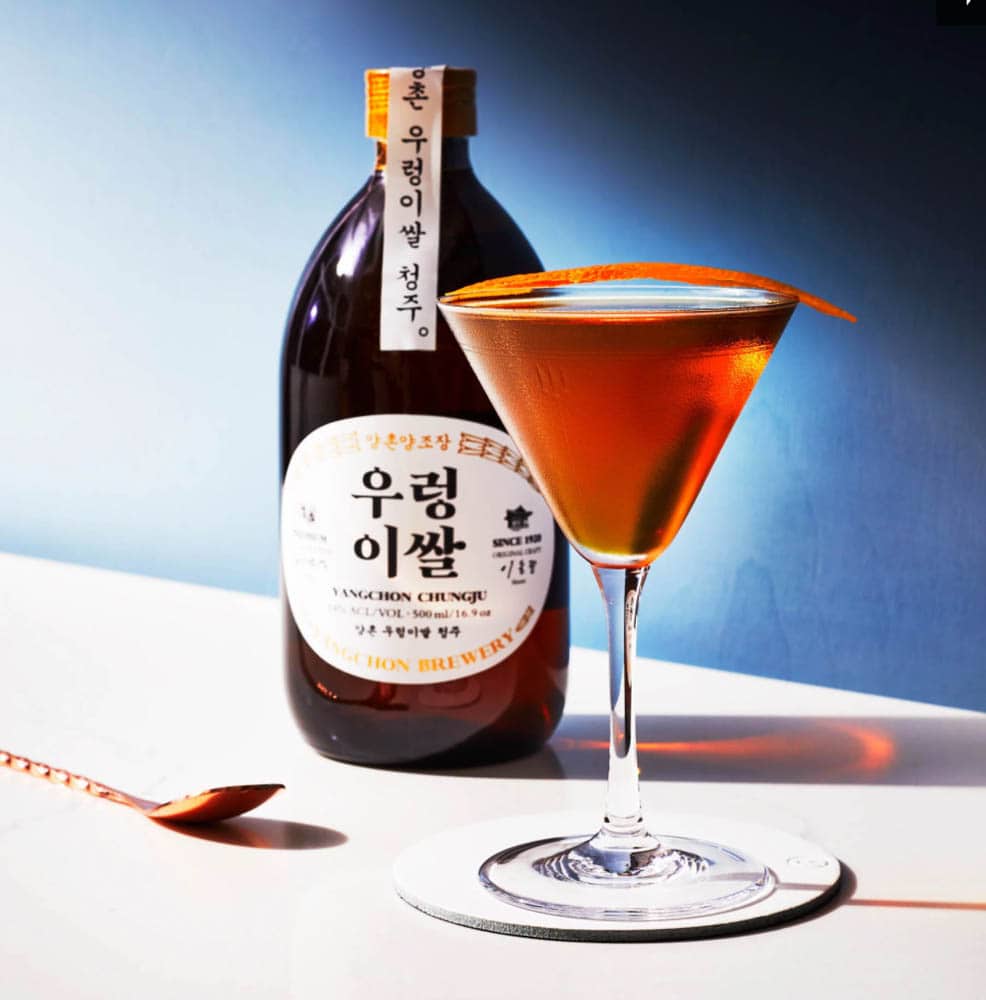 PHOTOGRAPHY BY CAITLIN BENSEL / FOOD STYLING BY RISHON HANNERS / PROP STYLING BY CLAIRE SPOLLEN
Ingredients
3 tablespoons (1 1/2 oz) of Yangchon Chungju
2 tablespoons (2 oz) of Cocchi Vermouth di Torino (sweet vermouth)
1 tablespoon (1/2 oz) of Amaro Nonino Quintessentia (Quintessentia)
2 dashes of orange bitters
1 strip of orange peel (3 x 1 inch)
Garnish: orange peel
Type of glass: Nick and Nora
Preparation: Combine Yanchgon Chungju, Cocchi Vermouth di Torino, Amaro Nonino Quintessentia and orange bitters in a mixing glass filled with ice; stir until drink is chilled, 30 to 45 seconds. Strain into a Nick and Nora glass. Garnish with a strip of orange peel.
Don't drink and drive. Enjoy responsibly.
Join the community on Reddit
Spirits Hunters is a community dedicated to spirits and the world of mixology. Feel free to talk about the world of mixology and bartending here!
Join