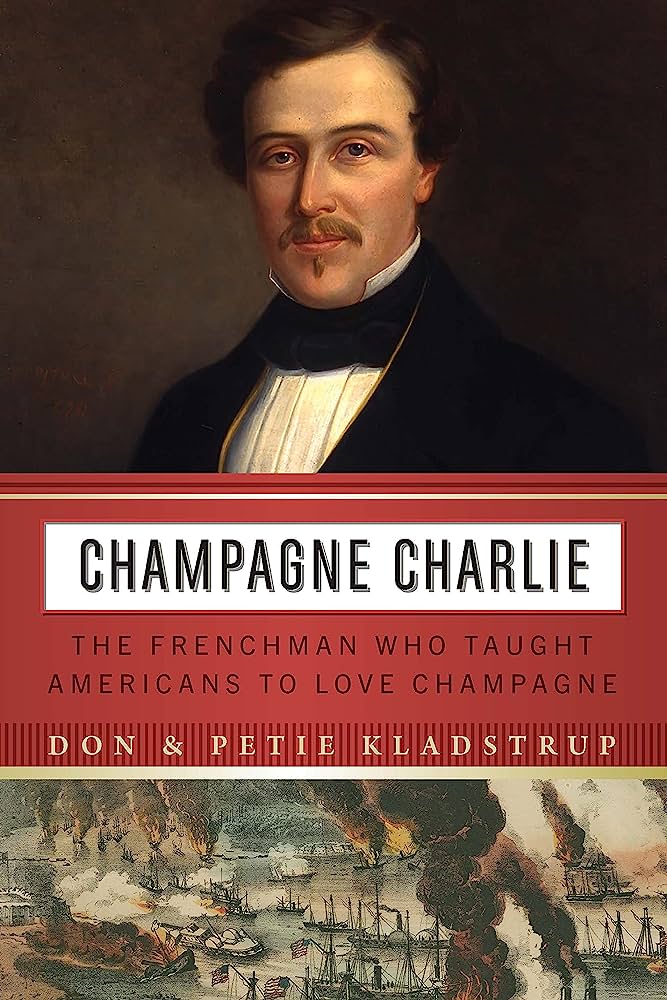 Champagne Charlie: A Captivating Tale of Bubbles, Battles and Dreams
Between perilous adventures and dazzling success, "Champagne Charlie" plunges us into an era where passion for champagne intertwines with historical upheaval. Don and Petie Kladstrup.
Discover the spellbinding story of Charles Heidsieck, nicknamed "Champagne Charlie", in "Champagne Charlie: the Frenchman who taught Americans to love champagne". Setting off to seek his fortune in 19th-century America, he endured incredible adventures and narrowly survived the American Civil War. A captivating saga told by talented authors Don and Petie Kladstrup. Immerse yourself in this intoxicating tale of champagne passion and historical events.
Don and Petie Kladstrup are former journalists and longtime residents of France. They live in Paris. Don was a television news correspondent for CBS and ABC News from 1978 through 1994, covering such stories as the fall of the Berlin Wall, revolutions in Iran and Afghanistan, wars in the Middle East, famine and civil war in Somalia, and the battle against apartheid in South Africa. He is the winner of three Emmys, two Dupont-Columbia awards (Gold baton) the Robert F. Kennedy award for humanitarian journalism, and several Overseas Press Club awards. Petie was a reporter for several midwestern newspapers in the U.S., assistant to the US ambassador to UNESCO in Paris, and the winner of an Overseas Press Club award.
The Kladstrups are the coauthors of three books, the first being Wine & War: the French, the Nazis, and the Battle for France"s Greatest Treasure, an international best-seller describing how French winemakers struggled to survive under the Nazi occupation. Their second book, Champagne: How the World's Most Glamourous Wine Triumphed Over War and Hard Times, describes how that part of France suffered in World War I. Their latest book is Champagne Charlie: the Frenchman Who Taught Americans to Love Champagne. It's the story of Charles Heidsieck who set off to America in the mid-19th century to seek his fortune but nearly lost his life when the U.S. Civil War erupted.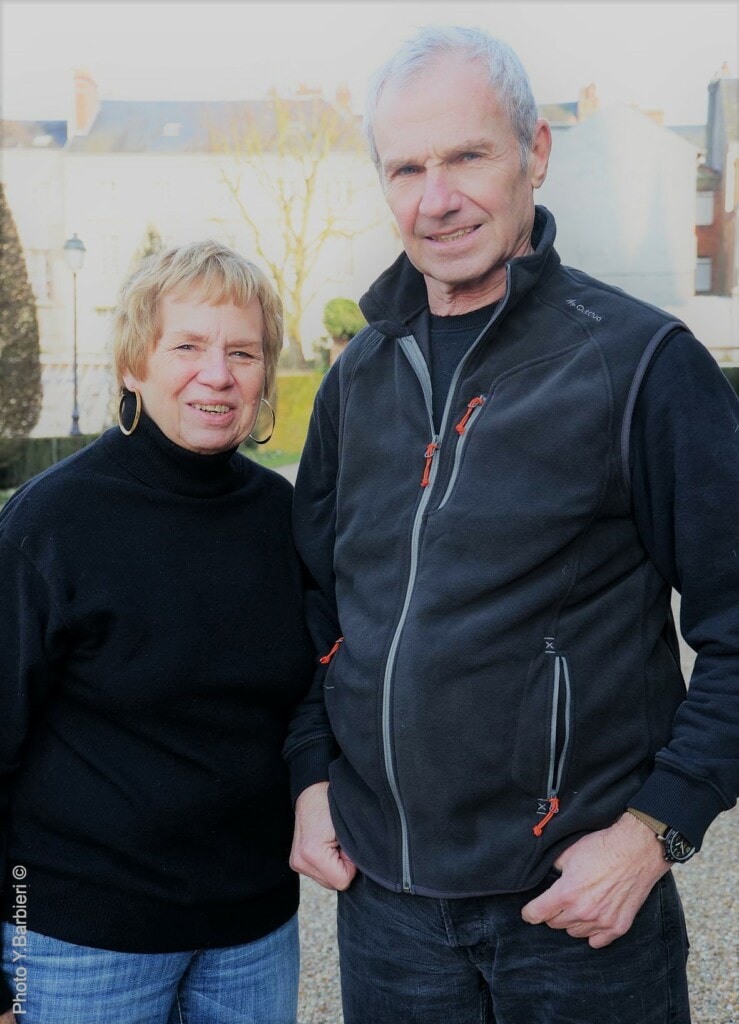 Photo: Don and Petie Kladstrup 
Spirits Hunters: Why did you write a book about this Champagne Charlie? Who is he?
Champagne Charlie, whose real name was Charles Heidsieck, was a dashing young Frenchman who was determined to make a name for himself and his champagne house by selling champagne to America. We first "met" him while working on our second book, the one about Champagne during World War I. In it, we briefly described how Heidseick introduced Americans to the joys of bubbly in 1852, got entangled in the U.S. Civil War, and nearly lost his life after being accused of spying for the Confederacy. That part ran only six pages, which prompted one reader to ask, "Isn't there more to his story?" We certainly thought so.
Up to then, there had been a number of newspaper and magazine articles written about Heidsieck but they all said essentially the same thing. If we were to write a book, we wanted to say something new and carry the story further. That became possible when the descendants of Heidsieck agreed to open their family archives and let us review the hundreds of letters and documents that were there. It was like striking gold. Much of it was personal correspondence between Charles and his wife Amélie.
The letters, composed in the most delicate handwriting imaginable, were so old and fragile that we feared they might crumble when we picked them up to read. But they provided a portrait of two people who loved each other dearly and were so charged with emotion that there were times we almost felt like voyeurs as we went through them. The letters also offered a tantalizing glimpse of America in the mid-nineteenth century as Charles traveled the country to introduce his champagne to Americans . . . and as the nation hurtled toward civil war.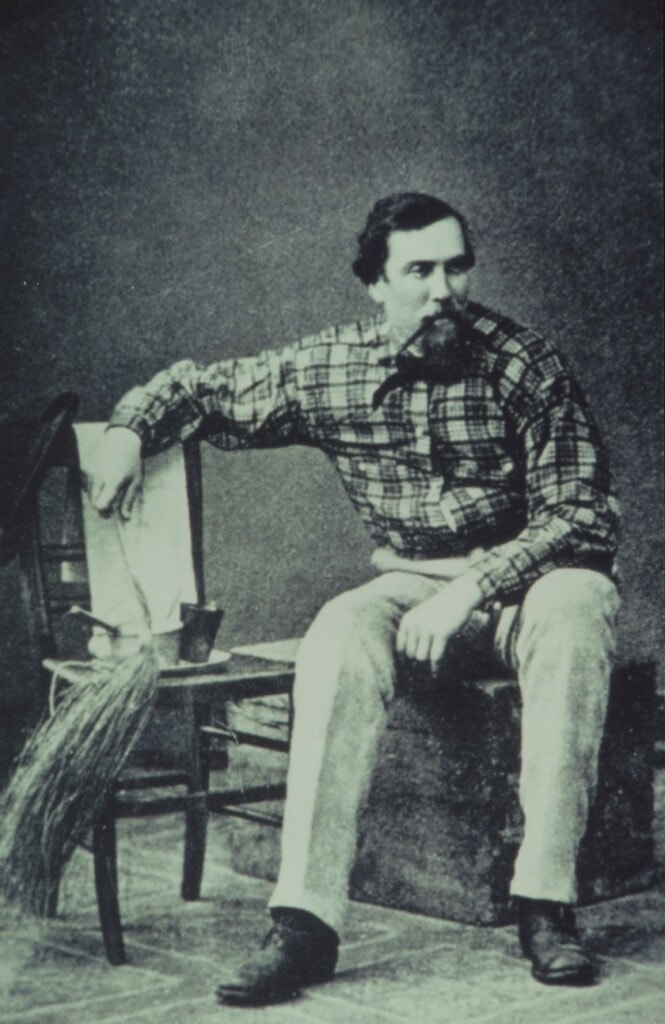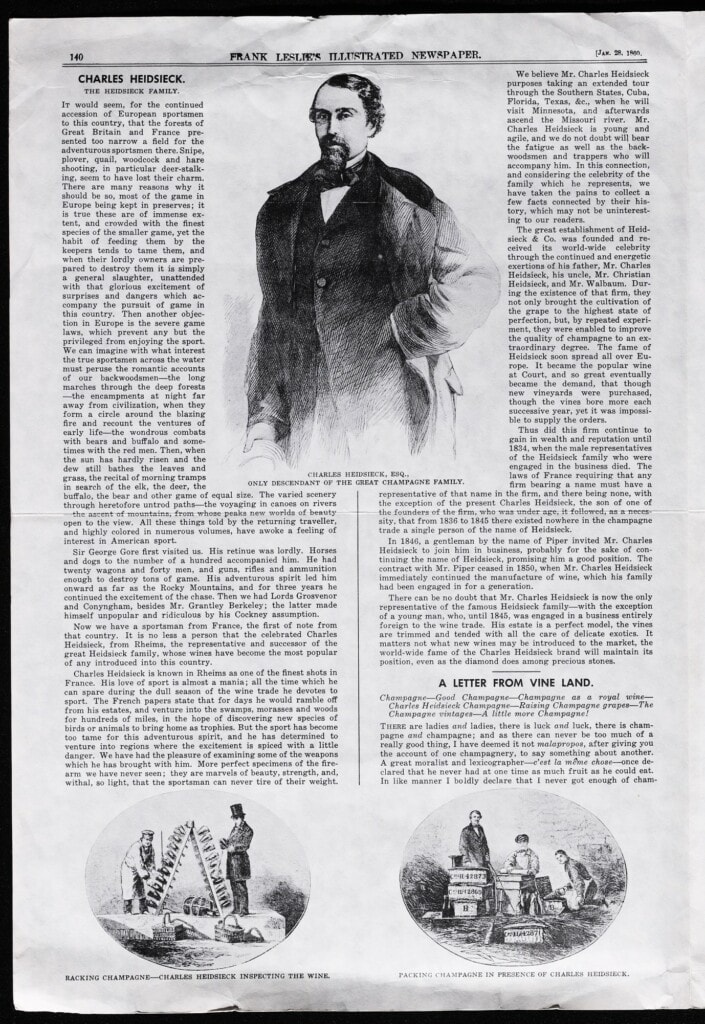 Heidsieck was the first head of a champagne house to go to America and do business with hard-drinking Americans. Ignoring critics who thought he was nuts and warned that the country was dangerous and "filled with wild Indians," Heidsieck considered it "the land of opportunity." Long before the days of marketing and mass advertising, he realized the importance of being there, of putting a face to the name of his product. While other champagne houses relied on locals to do the selling, Heidsieck was there in person, and it made all the difference. His champagne was hailed as the best on the market and journalists followed him everywhere. In no time at all, he became known as "Champagne Charlie."
But dreams of making a fortune became a nightmare when the Civil War erupted. What Heidsieck didn't realize was that his sales agent in New York was cheating him and not paying for the champagne that had been ordered. When the agent refused to pay up, Heidsieck headed south hoping friends there would help. Because they were short of cash, they paid him in cotton which he then loaded onto two ships bound for France. Selling the cotton would enable him to recoup his losses. Unfortunately, the ships were sunk by Union gunboats.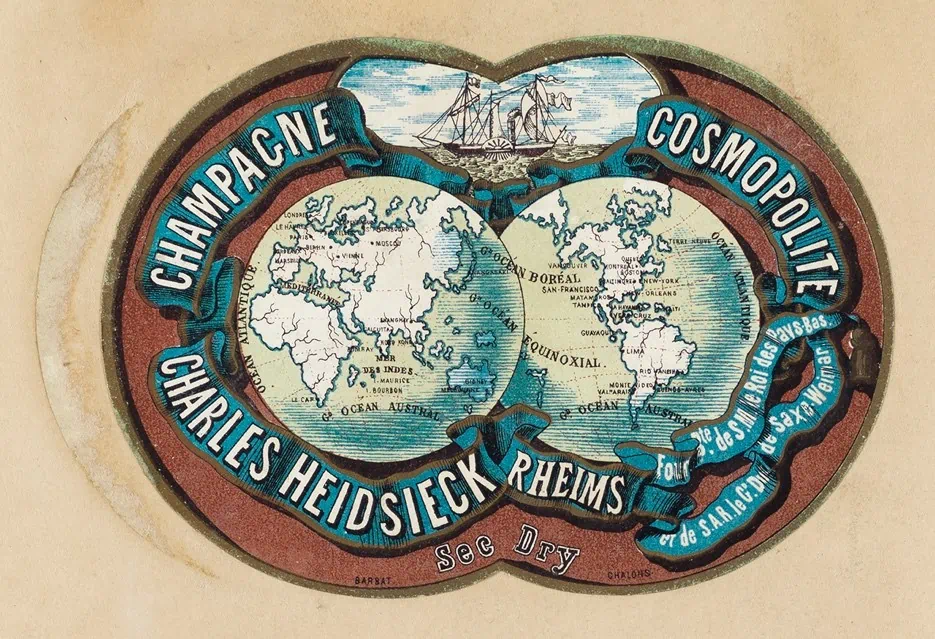 Fearing he was no longer safe – that his French nationality would no longer protect him – Heidsieck made plans to return home. He'd slip out of the country and make his way to Cuba or Mexico where he would try to catch a ship to France. At the last minute, however, he agreed to deliver a diplomatic pouch from the French consul in Mobile, Alabama to the consul in New Orleans. When Union soldiers discovered the pouch contained a letter saying France was making uniforms for the Confederacy, Heidsieck was thrown into prison and nearly executed after being accused of being a spy for the South. His life was spared only after the Lincoln Administration, wishing to avoid a diplomatic incident with France, ordered him freed. He was near death when he emerged from prison, however, and his champagne business had gone bankrupt.
There is a happy ending, however. A few years later after he had returned home, Heidsieck was shocked to learn that he was the owner of nearly half of the city of Denver, the fastest-growing city in the West. It was a gift from the brother of the sales agent who cheated him and who wanted to make amends for what his brother had done. By selling the land, Heidsieck was eventually able to restore his champagne house to its former glory and help make it one of the great champagne houses of today.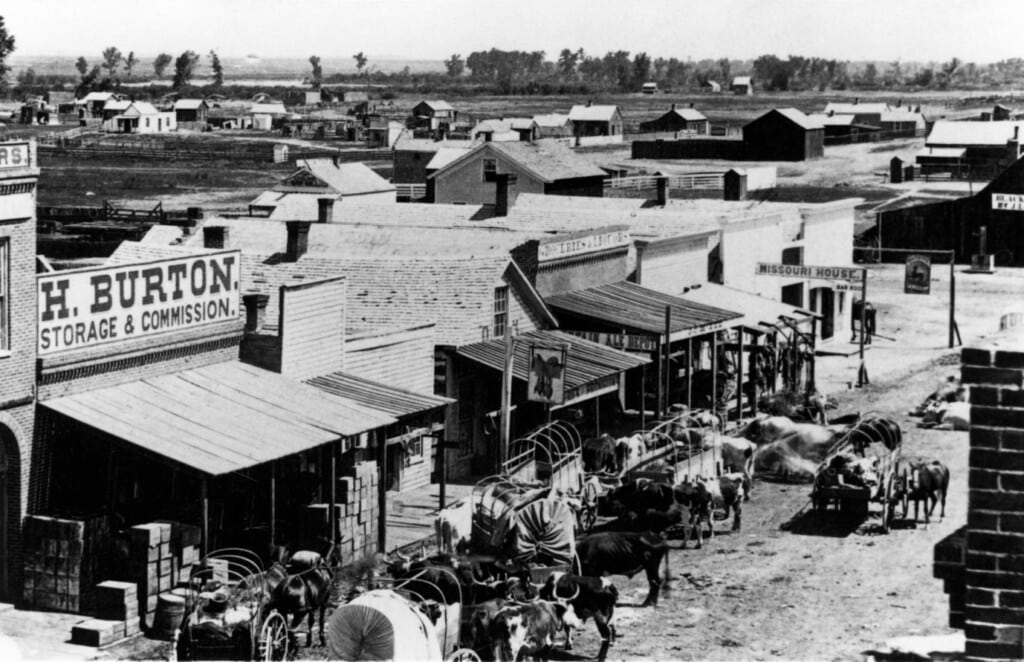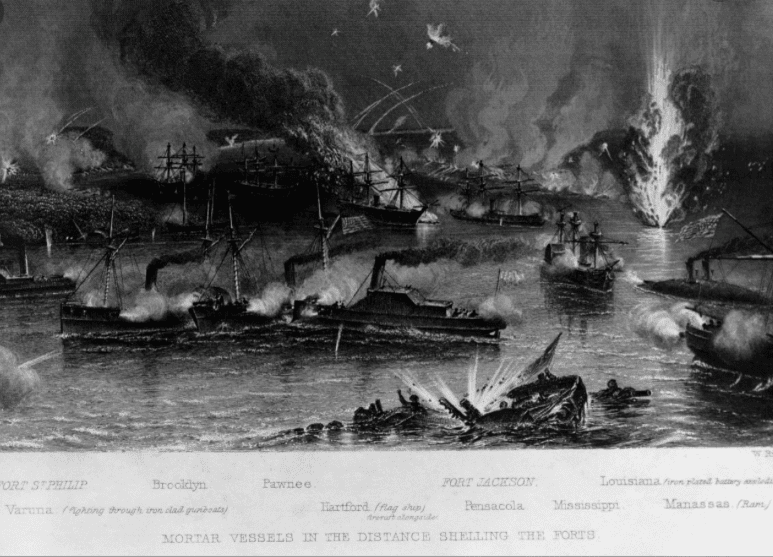 Spirits Hunters: How long did it take you to write it?
We spent roughly a year writing Champagne Charlie.
Spirits Hunters: Where did you find the material/documentation?
Our most valuable material came from hundreds of letters and other documents in the Heidsieck family archives. It took some doing to persuade the family to let us see them for many of the letters between Charles and his wife Amélie were deeply personal and had never been made public before.
Spirits Hunters: How did Charlie make Americans want to drink Champagne?
It was his personality and his flair for salesmanship. As we said earlier, long before the days of marketing and mass advertising, Heidsieck realized how important it was to deal directly with his customers, of being there and putting a face on his product. He knew it would not be easy for America, at that time was a country of hard drinkers, people who were more accustomed to guzzling whiskey and beer. Can you imagine a cowboy hot off the trail and covered in dust sauntering up to the bar and saying, "A glass of champagne, please."? Heidsieck probably could, for he succeeded beyond his wildest dreams.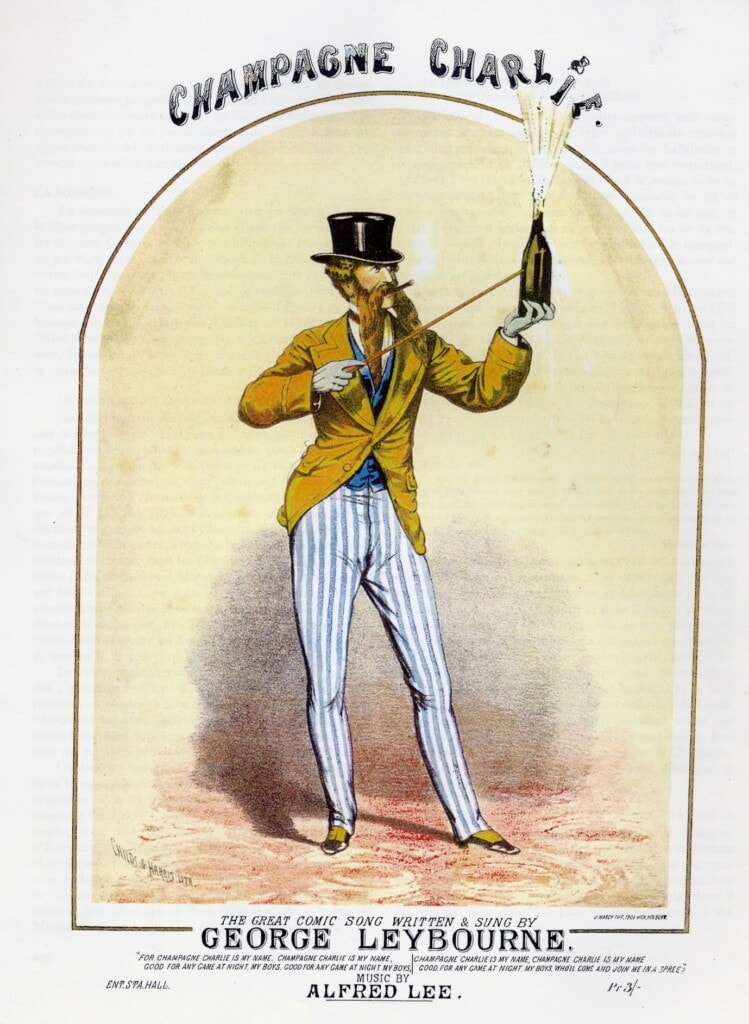 Spirits Hunters: Could you give me a sneak preview of a juicy anecdote about Champagne Charlie before I read your book?
Juicy? How about this… Much has been made of how handsome Champagne Charlie was. He stood 6'4," had dark wavy hair, and sported a goatee and mustache. In short, he was hard to miss. Whenever he appeared in public, people would cry out, "There's Champagne Charlie!" and sometimes break into song. (Yes, one was written about him.) He was like a rock star. Jealous of all the attention he was getting, his wife Amélie who was in Reims taking care of their champagne house wrote to advise him not to let it go to his head. "You have work to do," she said. She became more upset when newspapers began reporting that Heidsieck might be seeing another woman. Heidsieck said the reports were untrue and became upset, telling Amélie, "You seem to think I'm over here having a good time when in fact I'm working as hard as I can to keep our business going."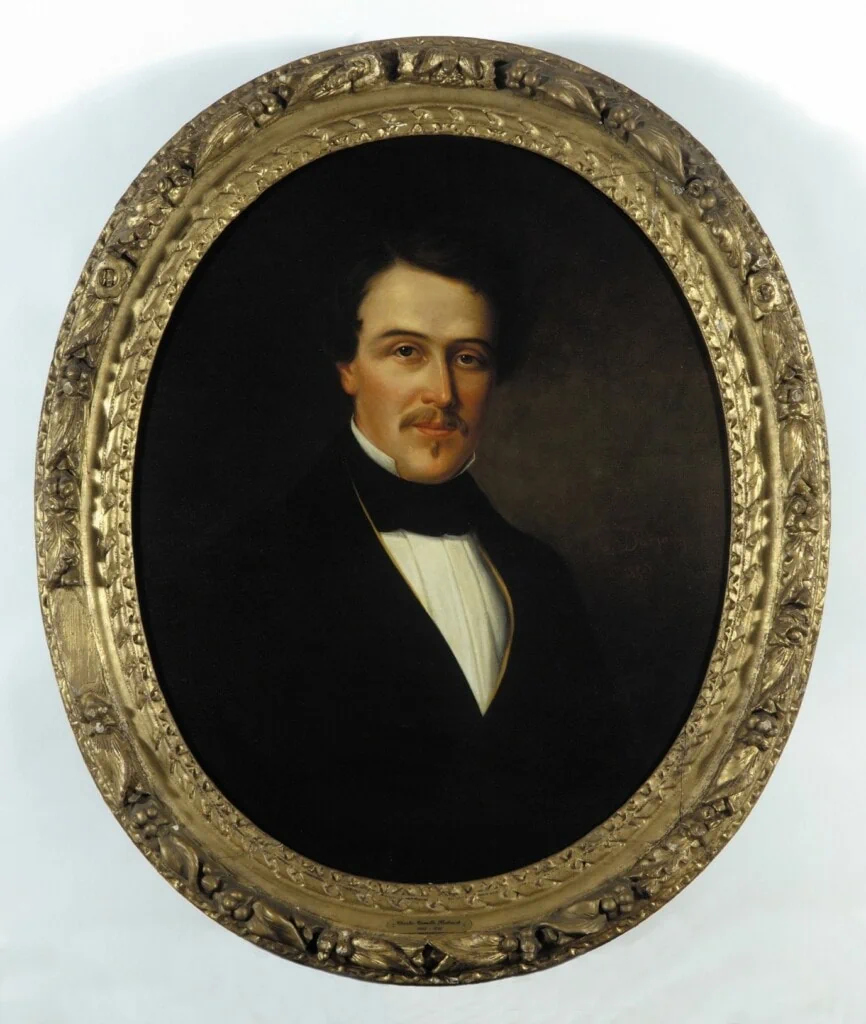 Even though most of the newspapers were convinced the stories were false, they couldn't resist running with what they considered a titillating story and printing every lurid detail they could find. During our research, we poured through hundreds of letters the two wrote to each other. There is no question in our minds that they loved each other dearly. They had eight children and their marriage lasted 43 years.
Spirits Hunters: Where can we find your book for sale in France?
The primary outlet is Smith & Sons (formerly WH Smith) at 248 Rue de Rivoli, Paris 75001. It is also where our other books are sold.
Spirits Hunters: Is it translated into French? In what other languages is it solved?
Thus far, Champagne Charlie is only available in English but we're hopeful that will soon change. Like our other books which have been translated into more than a dozen languages and become bestsellers worldwide, this is a story for readers everywhere – not only those in the United States. What's more, it's not just a story about bubbly. . . it's also about courage and determination, about one man's dream to make a go of it in a country where everyone back in France was convinced he would fail.
Champagne Charlie: The Frenchman Who Taught Americans to Love Champagne
by Don and Petie Kladstrud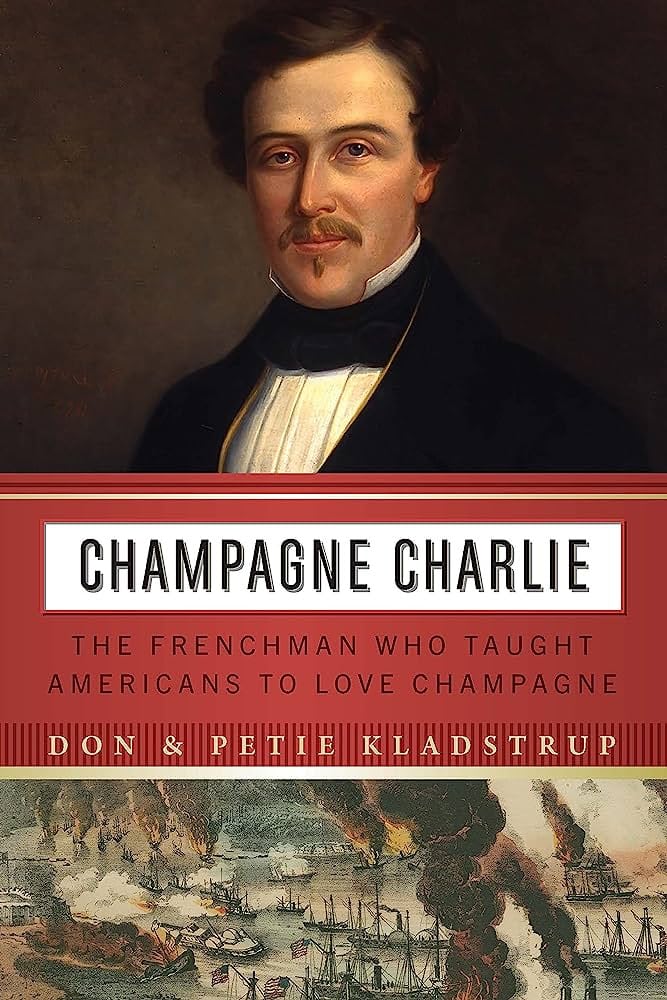 A New York Times Best Wine Book of 2021
Champagne Charlie tells the story of a dashing young Frenchman, Charles Heidsieck, who introduced hard-drinking Americans to champagne in the mid-nineteenth century and became famously known as Champagne Charlie. Ignoring critics who warned that America was a dangerous place to do business, Heidsieck plunged right in, considering it "the land of opportunity" and succeeding there beyond his wildest dreams. Those dreams, however, became a nightmare when the Civil War erupted and he was imprisoned and nearly executed after being charged with spying for the Confederacy.
Only after the Lincoln administration intervened was Heidsieck's life saved, but his champagne business had gone bankrupt and was virtually dead. Then, miraculously, Heidsieck became owner of nearly half the city of Denver, the fastest-growing city in the West. By selling the land, Heidsieck was eventually able to resurrect his business to its former glory.
For all its current-day glamour, effervescence, and association with the high life, champagne had a lackluster start. It was pale red in color, insipid in taste, and completely flat. In fact, champagne-makers, including the legendary Dom Pérignon, fought strenuously to eliminate bubbles. Champagne's success can be traced back to King Louis XV and his mistress Madame de Pompadour, Napoleon Bonaparte, countless wars and prohibitions, and, most important to the United States, Charles Heidsieck.Champagne Charlie tells the history of champagne and the thrilling tale of how the go-to celebratory drink of our time made its way to the United States, thanks to the controversial figure of Heidsieck.
Welcome yourself to our Spirits Hunters Weekly Newsletter for more news like these
Don't drink and drive. Enjoy responsibly.
Join the community on Reddit
Spirits Hunters is a community dedicated to spirits and the world of mixology. Feel free to talk about the world of mixology and bartending here!
Join