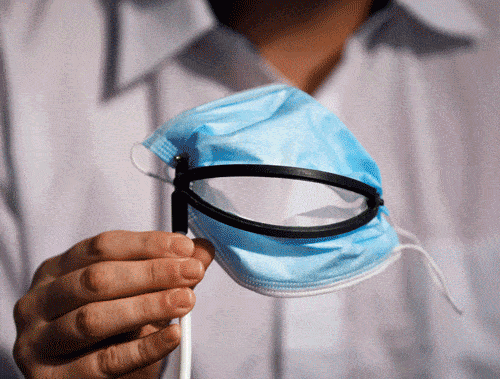 How do you wear a mask in a bar or a restaurant?
Our way of life is changing and for our safety we must now learn to wear a mask in a bar or restaurant. We tell you how to wear it.
Unimaginable. A few months ago we were looking forward to spring, summer… The terraces, eating and drinking outdoors, tasting without worries. Now, as our life takes a turn, we'll regain our habits, but not without protection. Masks and hand sanitizer have become two indispensable ingredients of our day to day. The recipe for safety that will reward us with health and the pleasure of returning to our "pre-Covid-19 life".
Since several months most countries in the world started to question their methods and ways of welcoming guests and customers. From now on, wearing a mask, or any kind of protection for the face, eyes, mouth, nose; and the hygiene of our hands have intensified with the constant use of hand sanitizer in the street. Or soap at home after any activity "suspected" of being able to transmit the virus. It is mandatory. However, it is not something very new in Asian countries where people were more accustomed to wearing masks. Instead, for most of us, it has developed into a new "reality" or lifestyle.
Now, businesses such as bars and restaurants won't even accept customers if they do not wear a mask. They are obliged to offer hand gel to their customers; repeatedly disinfect the premises; and their waiters and bartenders must wear masks or protective visors. In addition, they must respect social distance by separating tables and reducing clientele. But at the same time we find those bars and restaurants that do not see a profitable business receiving less clients and condemning themselves to an eternal disinfection of the premises.
But how to drink a beer pleasantly?
It's annoying. We know! But it is necessary to respect rules in order to not only enjoy our beer, but also to revive and maintain our businesses and respect others.
Wearing a mask allows us to prevent the spread of the new coronavirus. To this day, thanks to the confinement measures and respect for protection gestures in many parts of the world, the spread has slowed down and some countries even speak of "total control" of the virus.
So, you can put your mask down so that you can drink and eat comfortably until you are finished. But for everything else remember to keep it on, otherwise it doesn't make sense to leave it hanging in your chin!
But if you don't feel safe or comfortable going to a restaurant or bar, remember that there are many delivery services, which more and more establishments are joining to continue to survive. We know that nothing compares to the real comfort and security of the home. So remember that your food is just a phone call or an app away if you don't want to go out.
Innovations: the remote control mask for eating
Now, if you're not picky enough to take off and put on your mask all the time, we have some interesting news today.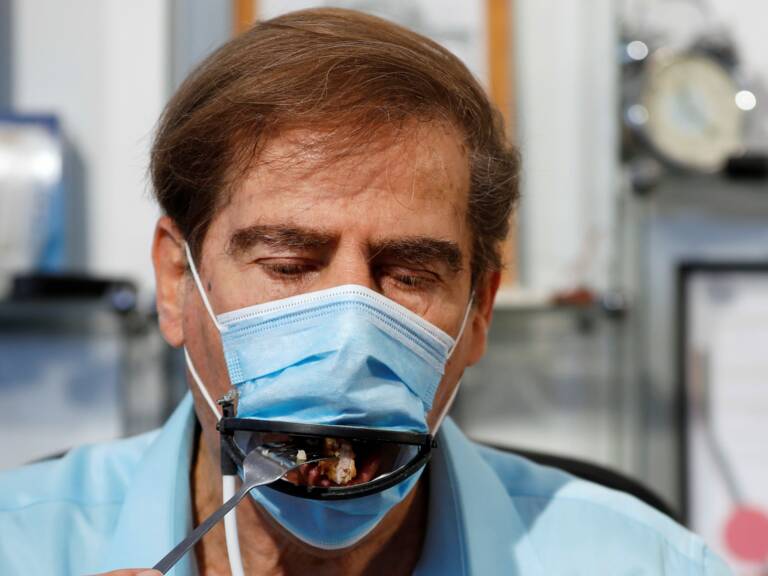 An Israeli company has developed a remote-controlled face mask that we can wear while eating. Avtipus Patents and Inventions reported that they are planning to manufacture the mask in the next few months. It would cost $103 more than a regular surgical mask.
The mask has a controlled opening at mouth level that opens and closes the mouth. It can even open automatically if we bring a fork closer to the mouth. Asaf Gitelis, the company's vice president, told Reuters: "Then you can eat, enjoy, drink, and you take the fork out and it will close, and you'll be protected against the virus and other people sitting with you."
Don't drink and drive. Enjoy responsibly.
Join the community on Reddit
Spirits Hunters is a community dedicated to spirits and the world of mixology. Feel free to talk about the world of mixology and bartending here!
Join