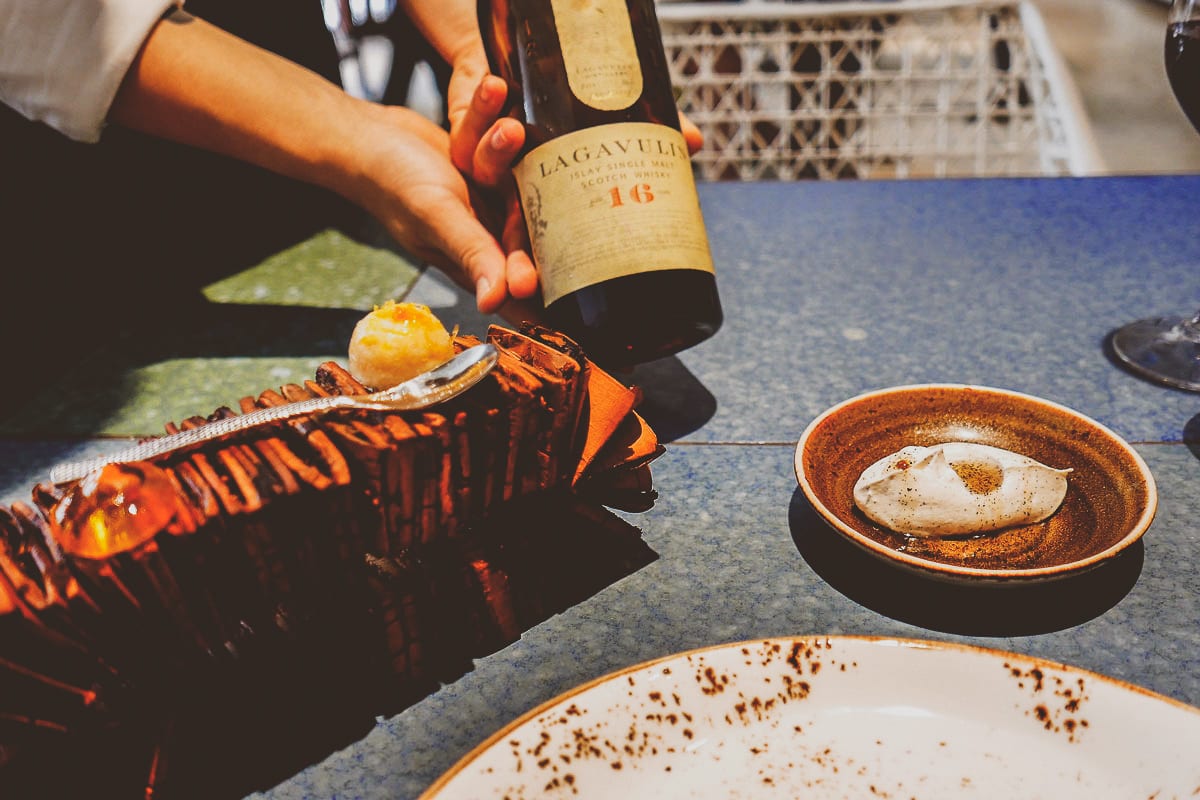 Food Pairing & Whisky: 5 ways to pair your food with whisky
Photo by Lou Stejkal on Flickr
Whisky  is a powerful and delicious spirit that deserves a good dish. We show you 5 proper ways to pair food with whisky.
This drink shows us that wine is not the only one to be paired with. Other spirits such as whisky find their place at the table, whether with light or heavy dishes, cheese, deli or desserts.
Generally, lighter whiskies combine better with smoked salmon and sushi. Medium-bodied ones work better with smoked fish such as mackerel or sardines. However, full-bodied whiskies aged in cask, strong, smoked and peaty work very well with chocolate.
Salads
Yes, whiskey can go very well with a salad. For example, lamb's lettuce and rocket with its strong flavor go very well with smoked sardines, walnuts and mustard vinaigrette. An ideal whisky to pair with would be a young blended that we can cut with a little sparkling water without salt, in a cold glass without ice.
Fish
Fish like sea bass go very well with smoked and blended Islay whiskey. A perfect whisky for sipping -for drinking in small sips. Other fishes are of course, salmon – preferably Scottish! You can cure your salmon with the same whiskey that will accompany your dish. A wild Scottish salmon brings out the flavors of a whisky like a Talisker: spicy, peppery and smoky aromas. Or for a smoked salmon, a Balvenie 17 year old Doublewood.
Meats
To taste the whisky with meat, you can go for a powerful meat like the Scottish black angus, rather grilled. You can taste it with barbecue sauce, and the whisky should preferably be a pure malt cask strength that can be reduced with water. This will allow you to release nuances of the drink. Also, you can taste a beef rib steak with chips with a Redbreast Lustau, an Irish whiskey matured in sherry and bourbon barrels. Rich, creamy and spicy.
Pork is also an option for tasting American whiskey, and one example is to pair Stagg Jr Bourbon with pulled pork.
But for a 100% Scottish touch, there is the 2009 Octomore 6.3 Islay Barley whisky. It will go perfectly with the Scottish speciality Haggis.
Cheese
For cheeses with a strong smell, such as blue cheese, we prefer a full-bodied malt whisky. Softer, creamier cheeses work better with a light, soft scotch to taste. For example, goat's cheese goes well with a fruity Speyside malt whisky such as Aberlour 12 Year Old. Peated whiskies are not recommended as they tend to overpower many flavors.
Desserts
Bourbon also plays an interesting role in food, and with desserts you can mix one made with corn. It will add a sweet touch with a chocolate fondant and vanilla ice cream. Or, you can try a toffee pudding that will go great with Glenfiddich 21 Year Old Rum Cask Finish Reserve.
Don't drink and drive. Enjoy responsibly.
Join the community on Reddit
Spirits Hunters is a community dedicated to spirits and the world of mixology. Feel free to talk about the world of mixology and bartending here!
Join