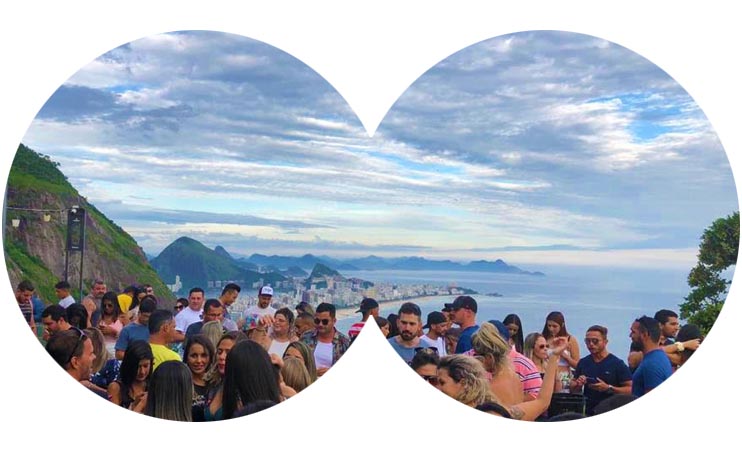 These bars in Rio de Janeiro will give you a view you'll never forget
These bars in Rio de Janeiro will give you your best postcard photo. Stunning views of the city you will never forget while tasting your cocktail.
From Bar da Laje you can see all the beaches from Barra to Botafogo, and the North zone. And of course sunsets.
Monday to Thursday from 12:00 PM to 20:00 PM
Friday to Sunday from 12:00 PM to 22:00 PM
R. Armando Almeida Lima, 8 – Vidigal, Rio de Janeiro
At the Deck Bar from the Pestana Copacabana hotel you can enjoy a view over the mythical but as real as it gets Copacabana beach ! Good music and refreshing drinks are available.
Sunday to Thursday 7:00 PM to Midnight
Friday and Saturday 7:00 PM to 1:00 AM
Avenida Atlântica, 2964 , 22070-000 , Copacabana
The Maze is an amazing bar for jazz lovers, as it is one of the best known bars of the genre in Brazil (and the world). You can see the beautiful and legendary Pan de Azucar from here. Plus, the design is beautifully colored as with a Gaudi kind of allure.
R. Tavares Bastos, 414 – casa 66 – Catete, Rio de Janeiro 
This bar offers rather a more chic and elegant experience. You can spot the Guanabara Bay from the Xian Lounge and Restaurant, while tasting one of the cocktails from the extensive cocktail menu or a drink from the gin selection.
Monday to Thrusday from 12:00 PM to 23:00 PM
Fridays and Saturdays from 12:00 PM to 00:00 AM
Sundays and Holidays from 12:00 PM to 22:00 PM
Av. Almirante Silvio de Noronha, 365, Rooftop, Bossa Nova Mall
Don't drink and drive. Enjoy responsibly.