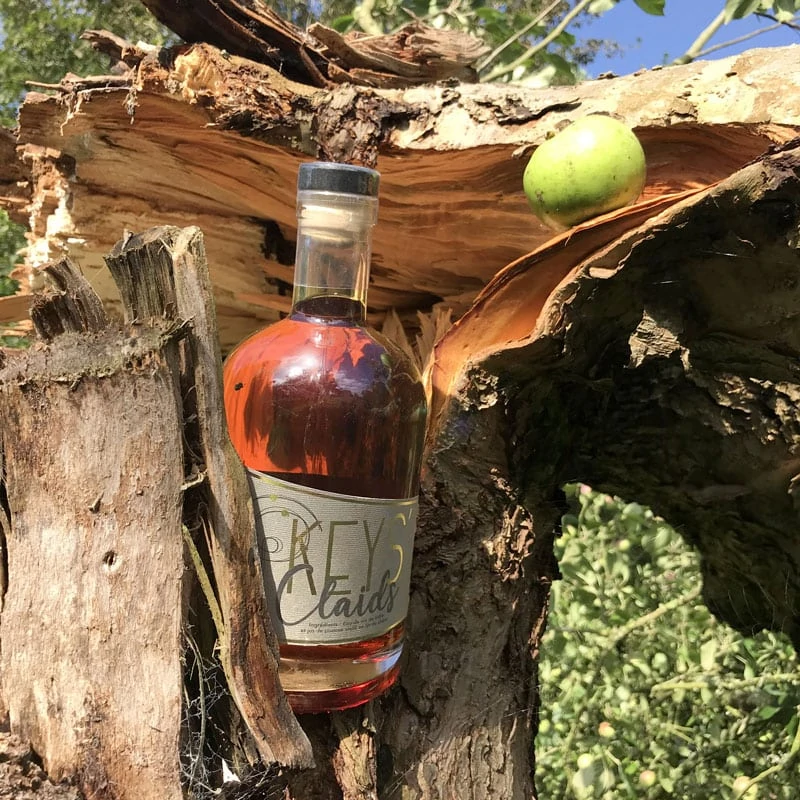 "Keys' Claids" a whisky variant based on calvados, the latest creation of Alain Dauget
We pursue our conversation with Alain Dauget, milk producer, cider and spirits producer and Keys' Claids, his latest Calvados-based creation.
SH: Tell us about Keys' Claids Why this name?
AD: Originally, we wanted to call it "whisk'claids" because it is a variant of whisky made from Calvados. But the fraud squad refused and I was looking for a name. And then one night, it came like this… Why Keys? In English, it's a key, and the village where the head office is located is called Saint Patrice de Claids (pronounce "clés, French for keys").
SH : So what is it exactly?
AD: It's a blend of our oldest eau-de-vie, which has been aged in oak barrels for about ten years, with another product from the cellar which has also been aged in oak barrels. We blend the two products and let them age in a barrel that we have selected.
SH: How long?
AD: one year.
SH: So we can say that it is an atypical product? And why did you design it?
AD: Yes, really, atypical. You won't find it anywhere else. It's a creation, even if it has certain aromas close to smoked and peated whiskies. It also has a vanilla aftertaste, a touch of caramel from certain rums. The objective is to make our famous calvados drink as an aperitif. Usually, we taste it as a digestive but people drink less and less and, frankly, we can drink Keys' Claids as an aperitif as well as a digestive.
SH: And how do you drink it?
AD: At room temperature. Afterwards, it's a bit to everyone's taste, you can drink it chilled but without ice because the ice cubes dilute the product by melting. And some people say that the cold kills a little bit the aromas.
SH: I just drank it, it was at room temperature. I found it was very delicate, elegant, much less hard than whisky in general. I like everything that is quite, how can I say, rather straightforward, elegant. And it's something quite complex at the same time. But round in the mouth.
AD: It's round in the mouth and very long. You keep it for a very long time.
Key's Claids Tasting Notes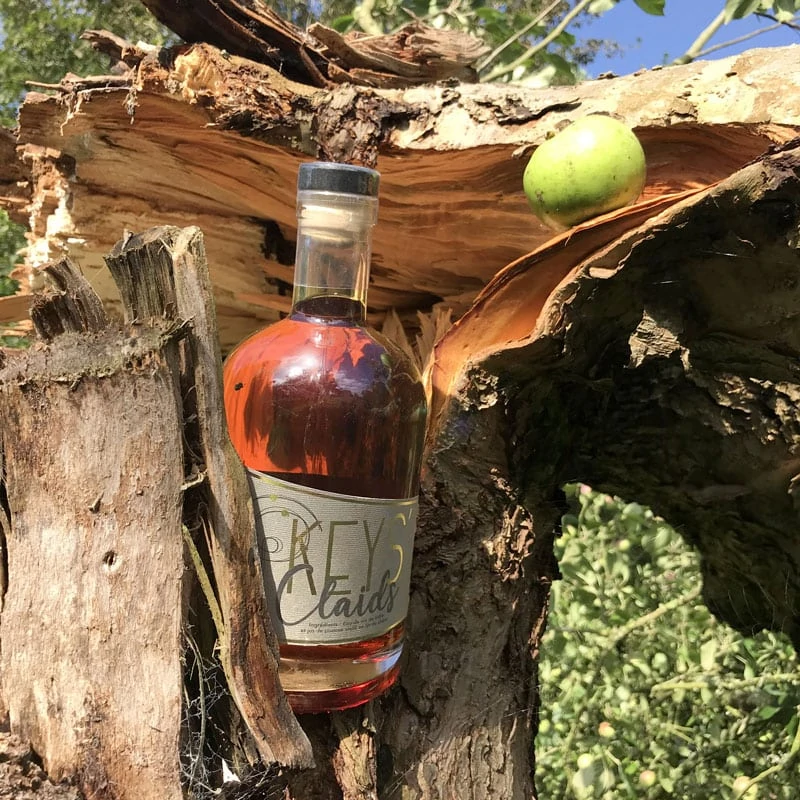 SH: What notes do you detect?
AD: A little vanilla, a little honey can be, and above all it is quite smoky.
SH:  Vanilla, caramel. Is there a little nutty in it?
AD: There were no nuts added. Nuts? No, I don't think so.
SH: You can smell a bit of bourbon anyway.
AD: That's true.
SH: Is there a little orange, or not?
AD: No, I don't think so. Let's say honey, vanilla, caramel.
SH: There is a bit of citrus. Not because there is something acidic, but something fresh.
AD: Yes, it's fresh. It's true that it's particularly pleasant. I could make you taste our Calvados to compare, it's neat, it's nothing like that.
SH: You could say that there are still notes of apple and something fresh.
AD: It's clear, it's 100% apple !
SH: So, it's 100% apple, but there's a fruity, vanilla side, a bourbon side that can be similar to whisky but that doesn't make it a whisky. At the same time, there is something much more fluid than whisky as an aperitif.
AD: It's easy to drink, even if it's still 41°. You could say that Keys' Claids is the possibility to drink it as an aperitif with Calvados.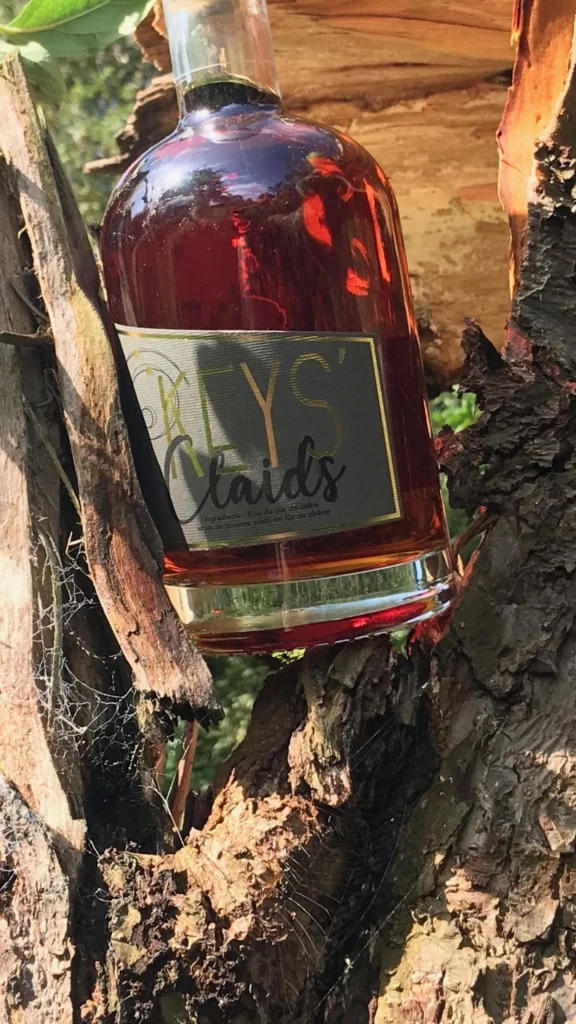 SH: How many bottles have you produced per year?
AD: For the moment, I have been selling for a year. We started on June 6 last year, for the 75th anniversary of the D-Day landings. The first vintage of 300 bottles left. The second one is in progress, so we are soon almost at 600 bottles sold.
SH: In Normandy ?
AD: Here, in the store, in Saint-Patrice. We deliver to a few stores such as the cookie factory in Sortosville-en-Beaumont, the Coutancaise farm, two or three local stores, but mostly to private individuals. Yes, you can drink some at the restaurant de la Mer in Pirou, it's very good, a real cook, a real chef…
Food Pairing and Key's Claids
SH: Today we are very attentive to food pairing. What could you drink Key's Claids with? Lobster?
AD: We no longer have the idea of an aperitif with toast. Or meats. It wouldn't be bad with game, with that slightly sweet side, too.
SH: Sweet and salty, how would you feel?
AD: I don't know yet, I'm going to make a proposal… Honey roast, pork with caramel.
The GAEC of Claids
Where? Ferme de Claids 50190 ST PATRICE DE CLAIDS
Website
Don't drink and drive. Enjoy responsibly.
Join the community on Reddit
Spirits Hunters is a community dedicated to spirits and the world of mixology. Feel free to talk about the world of mixology and bartending here!
Join