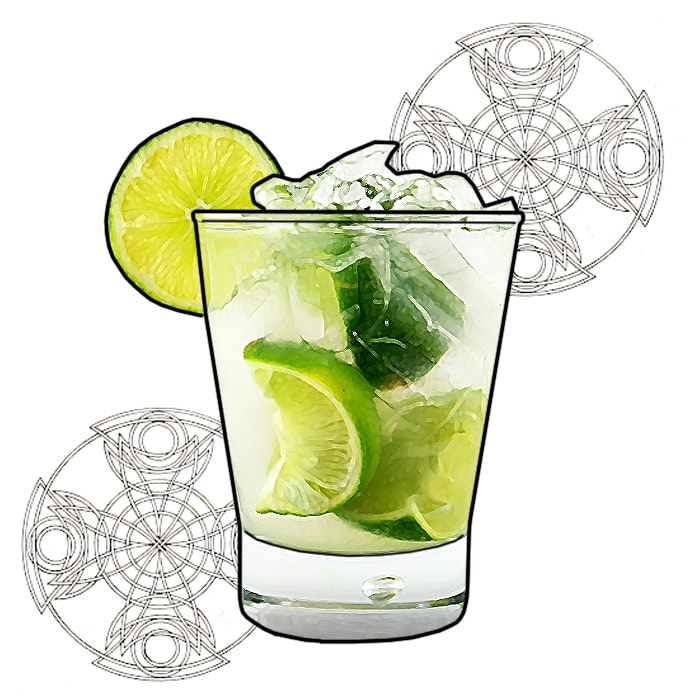 5 of the most popular rum-based cocktails this 2021
We continue with the most popular rum-based cocktails this year 2021 to celebrate the summer season.
When it comes to rum cocktails we think of us at the beach bar, or in a tropical space somewhere around the world. This year, and since the previous years, according to ISWR drinks market analysis, premium rums are helping the rum category grow overtime in the US and also in the UK. "The latest IWSR figures show premium, super-premium and ultrapremium rums growing at a rate of 8.35% to reach over 3.42m cases in 2017. The impressive performance of high-end rum contrasts sharply with the overall rum category, which declined -0.79% to total 149.9m cases last year."
1. Coquito
Coquito means small coconut. This cocktail gets its origins in Puerto Rico, and is traditionally served at Christmas through New Year's. Yes, we know it's not summery, but it's not summery. Yes, we know it's not summery, but if you live in a cold (southern) climate, you can enjoy cocktails like this rum-based one.
Ingredients
56 ounces of sweetened condensed milk
48 ounces evaporated milk
24 ounces of coconut cream (such as Coco Lopez)
4 teaspoons vanilla extract
4 teaspoons ground cinnamon
1 teaspoon ground nutmeg
750 milliliters (1 bottle) of white, aged or spiced rum from Puerto Rico
Garnish: cinnamon sticks (1 per storage bottle and 2 per individual serving).
Preparation:
Add condensed milk, evaporated milk, coconut cream, vanilla extract, ground cinnamon and ground nutmeg to a saucepan over medium heat. Bring to a simmer, stirring constantly. Remove from heat and let cool.
Add rum and stir to combine.
Transfer to sealable bottles and add a cinnamon stick to each bottle. Close and store in the refrigerator.
Serve over ice in rocks glasses.
Garnish each glass with 2 cinnamon sticks.
Floridita
Ingredients
60 ml (2 oz) white rum
5 oz (5 oz) grapefruit juice
15 ml (1/2 oz) lime juice
2 teaspoons sugar
Quarter lime
Ice cubes
Preparation: In a cocktail shaker filled with ice cubes, pour all ingredients.
Shake vigorously for 8 to 10 seconds. Strain over a highball glass with a few ice cubes using an ice strainer.
Garnish with a quarter of a lime.
3. Painkiller
A version of the Piña Colada is rich and fruity. It is prepared with dark rum, pineapple juice, orange cream. It is very easy to prepare, and it is very easy to drink. Definitely among the cocktails that rhyme perfect with vacations and summer weather.
2 ounces of dark rum
4 ounces of pineapple juice
1 ounce of freshly squeezed orange juice
1 ounce of coconut cream
Garnish: freshly grated nutmeg
Garnish: pineapple slice
Preparation: Add the rum, pineapple juice, orange juice and coconut cream to a cocktail shaker with ice and shake vigorously until well chilled.
Strain into a hurricane glass or glass with crushed ice.
Garnish with freshly grated nutmeg and a pineapple chunk.
Serve with a straw.
4. Mojito
We know this Cuban cocktail, one of Hemingway's favorites (so much so that there is a Mojito made his way). It is a favorite of rum-based cocktails and ranks among the top 10 most popular in the world. An easy recipe to make at home or anywhere.
Ingredients
3 mint leaves
1/2 ounce of simple syrup
2 ounces of white rum
3/4 ounce of lime juice, freshly squeezed
Club soda, to complete
Garnish: mint sprig and lime wheel,
Preparation: Lightly muddle the mint with the simple syrup in a shaker.
Add the rum, lime juice and ice, and shake briefly.
Strain into a highball glass with fresh ice.
Add the soda. Garnish with a sprig of mint and a lime wheel.
5. Hurricane
A rum-based cocktail created in the United States, in New Orleans, based on rum, lime juice and passion fruit syrup. All this is served in a glass of the same name, the Hurricane, a long glass like a Pina Colada. It is presumed that it was born in the 1940s, created by Pat O'Brien, owner of the jazz restaurant Pat O'Brien's Bar.
Preparation: add the ingredients in a cocktail shaker and shake with ice. Serve chilled over ice (on the rocks) in the Hurricane glass. Garnish with orange slice and a cocktail cherry.
Don't drink and drive. Enjoy responsibly.
Join the community on Reddit
Spirits Hunters is a community dedicated to spirits and the world of mixology. Feel free to talk about the world of mixology and bartending here!
Join