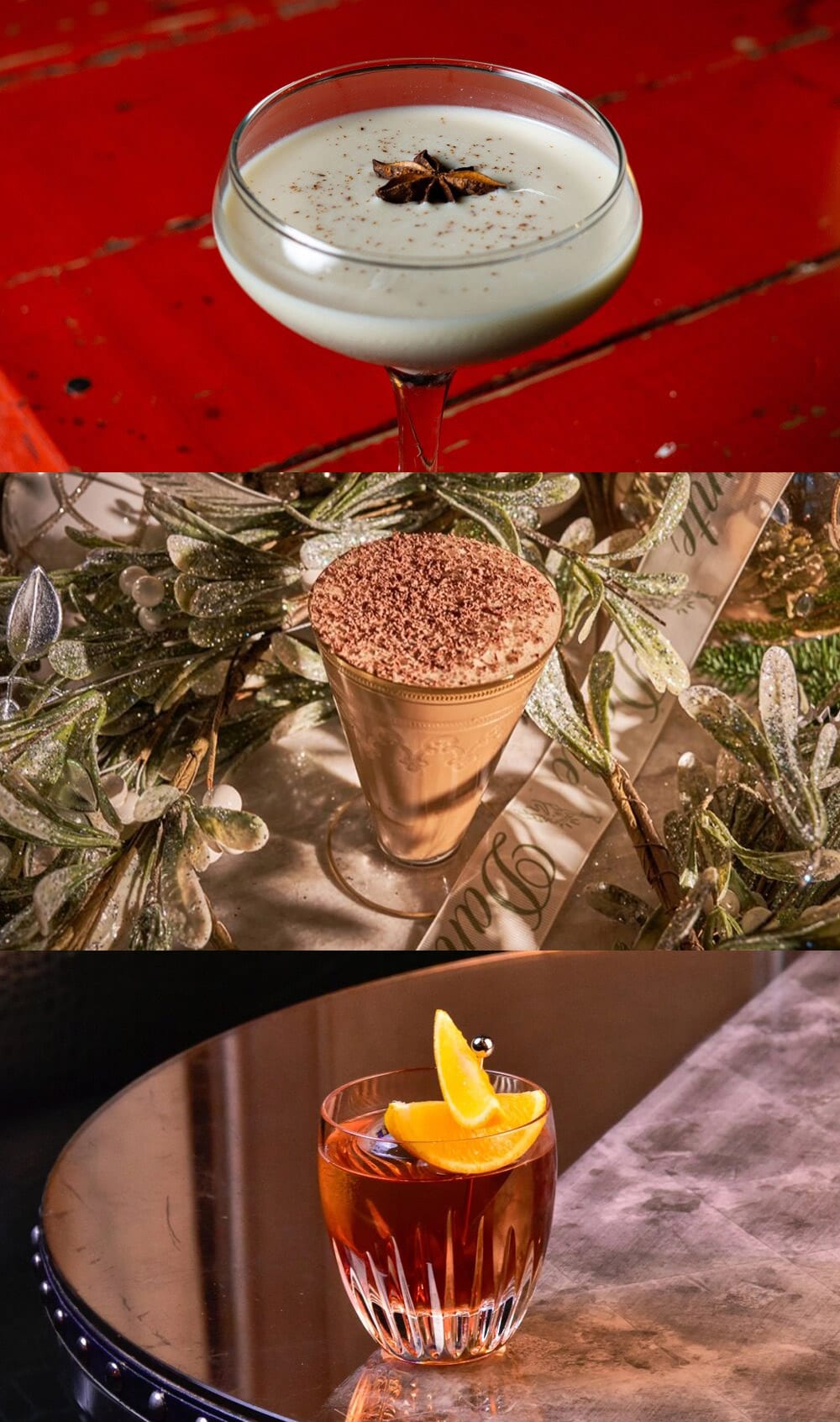 The best bars in the world propose their cocktails for the holidays
The following bars are among the best in the world with renowned bartenders, proposing their best cocktails for the holidays.
These bars from around the world have recipes to propose the best cocktails for the holidays. From England to Singapore, find in this list the cocktails you can recreate at home to please everyone this season.
Photos: The Connaught / Giada Paoloni / Don Q. Rum
5 cocktails for the holidays
Negroni Code
Bar: Connaught Bar, England
Bartenders: Agostin Perrone and Giorgio Bargiani
Ingredients
20 ml Connaught Bar Gin (or other gin)
20 ml of bitters
20 ml sweet vermouth
20 ml of aromatic water*.
1 drop of balsamic vinegar
Orange peel for garnish
Stir all ingredients with ice; pour into a rocks glass over a large ice cube (preferably). Garnish with an orange peel.
*For the aromatic water: Add 1.25 teaspoons (5 g) cocoa nibs, 1.5 tablespoons (20 g) orange peel and 2 tablespoons (25 g) raisins to 2 c. (500 ml) hot water. (500 ml) of hot water. Let it infuse for one hour and then strain into a bottle. Keep refrigerated.
Santa's Rum Nog
Bar: Atlas Bar, Singapore
Ingredients
15 ml Vedrenne Sirop d'Orgeat
30 ml cream
10 ml of Pedro Ximénez sherry
15 ml Cointreau
45 ml of Diplomático Reserva (or other dark rum)
1 dash of Angostura bitters
1 dash of Montenegro bitters
Egg white
Nutmeg
Pour all ingredients into a cocktail shaker with ice; shake vigorously. Strain into a rocks glass over a large ice cube (preferred). Top with freshly grated nutmeg.
Cidre d'Orange
Bar: Little Red Door, Paris
Ingredients
750 ml Pommeau de Normandie (30&40 Double Jus brand recommended)
Zest and juice of four mandarin oranges
250 ml nut milk (preferably hazelnut)
250 ml of vodka
Peel the mandarins and squeeze out the pulp. Gently heat the nut milk. Add all the ingredients, making sure the milk is still warm, to a 2-liter container. Seal and leave in a cool place for 24-72 hours. Strain through a cheesecloth or coffee filter before serving.
Note: Once bottled, the punch will keep for at least 1 month refrigerated.
Tiramisu Eggnog
Bar: Dante, New York
Ingredients
100 ml Seven Tails XO brandy
25 ml of amaretto
25 ml vin santo
75 ml of espresso
90 ml mascarpone
100 ml spice syrup
1.5 whole eggs
1 egg yolk
Valrhona chocolate for decoration
Add all ingredients to a tin and shake vigorously. Pour into a festive glass and garnish with freshly grated Valrhona chocolate.
All Spruced Up
Bar: Thunderbolt, Los Angeles
Ingredients
60 ml Wild Turkey 101 Bourbon
15 ml spruce tip syrup*.
2 dashes Angostura bitters
1 grapefruit zest
Add bourbon, syrup and bitters to a glass filled with ice. Gently add ice to the glass, filling it 3/4 full. Stir the drink for about 15 seconds. Place a large grapefruit peel over the drink, pith side up, and squeeze it so the oils drip into the drink. Discard the peel.
* For the spruce tip syrup: Add 1 c. water, 1 c. granulated sugar and 0.25 c. fresh or frozen spruce tips to a saucepan and bring to a simmer. Remove from the heat as soon as it comes to a simmer, stir to incorporate the sugar and let cool for 20 minutes. Strain out the solids and bottle; store in the refrigerator.
Coquito
Bar: La Factoria, Puerto Rico
Ingredients
180 ml Don Q Cristal
120 ml Don Q Reserva 7 Años
420 ml sweetened condensed milk
360 ml evaporated milk
250 ml coconut cream
1 teaspoon vanilla extract
1 teaspoon ground cinnamon
1.5 tsp. ground nutmeg
Mix all the ingredients well (it is suggested to use a blender). Pour into an empty bottle and refrigerate for at least two hours before serving. Shake well and serve chilled in a small glass. Sprinkle with ground cinnamon.
Ready to enjoy these delicious holiday cocktails?
Don't drink and drive. Enjoy responsibly.
Join the community on Reddit
Spirits Hunters is a community dedicated to spirits and the world of mixology. Feel free to talk about the world of mixology and bartending here!
Join