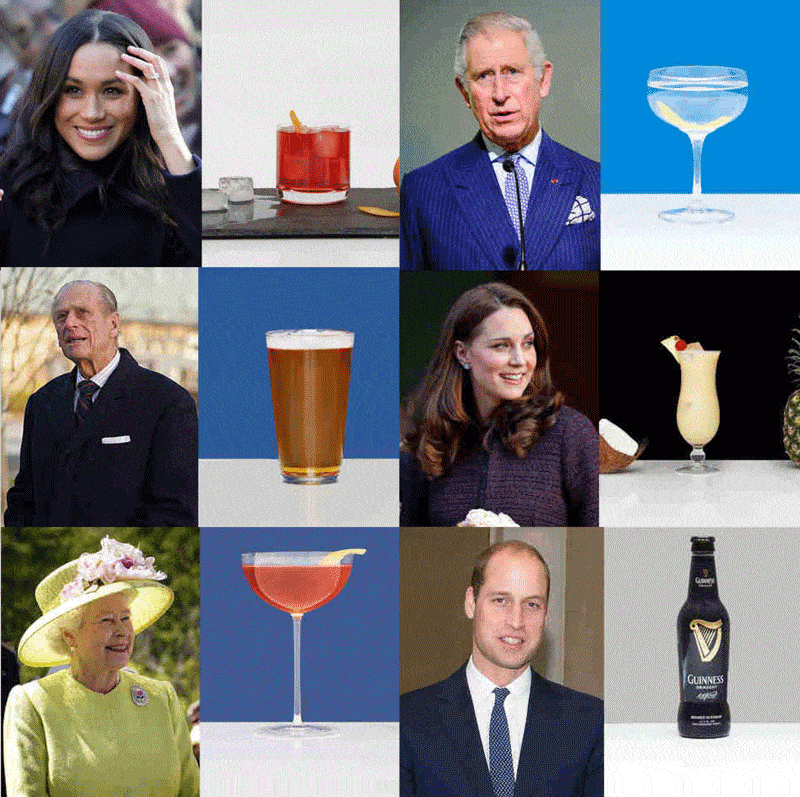 This is how the royal family enjoys cocktails and drinks
If you are a fan of the royal family, you probably know what everyone drinks, or not… so we show you our favorite drinks and cocktails.
Queen Elizabeth II
We have discovered this before at Spirits Hunters, and the Queen's favorite drink is a Dubonnet Cocktail. This cocktail, mixes a lemon peel, gin, with fortified French wine known as Dubonnet. Dubonnet & Gin is a custom for the queen. Also, she seems to enjoy the Dry Martini in the evening, a glass or two of champagne with dinner, and a bit of port after dinner. Secrets to a long life?
Prince Philip, Duke of Edinburgh
The prince simply enjoys a good beer. His favourite brand is Boddington, a regional brewery in Manchester. Unfortunately the brewery closed down in 2005. Rumour has it that during a visit to Italy, the prince muttered "Bring me a beer. I don't care which one it is. Just get me a beer," when former Prime Minister Giuliuano Amato offered him a refined wine in Rome.
Charles, Prince of Wales
The Prince of Wales does well with different types of alcohol: single malt whisky from Islay, Laphroaig 15, for example. In fact, he has his own whisky: Barrogill. But he also enjoys gin and vermouth, so his favourite cocktail is the 50/50 Martini (equal parts gin and dry vermouth).
Prince William, Duke of Cambridge
Apparently, William follows in his grandfather's footsteps, preferring beer to cocktails or wine. His favorite beers seem to be Stella Artois and Guinness, although he occasionally likes to enjoy a shot of Sambuca. Among other things, he is said to have ordered the Treasure Chest cocktail at the Mahiki Picadilly Club on several occasions. A $180 cocktail with brandy, peach liqueur and a bottle of champagne, served to a steaming treasure, flowers and sparklers.
Catherine, Duchess of Cambridge
The duchess claimed to have regained her taste after giving birth. According to sources, Kate enjoys cocktails such as Piña Colada and Crack Baby: vodka, raspberry liqueur, passion fruit and champagne. And apparently she also likes to enjoy a good Jack Daniel's every now and then.
Harry, Prince of Wales
His favourite drink is Cîroc Ultra-Premium Vodka, but his favourite cocktail is Red Bull Vodka.
Meghan Markle
In interviews, Meghan has confirmed that she's tasting wine, a good red or white. But as for cocktails, she enjoys tasting Spicy Tequila Cocktail or a Negroni. She also likes a good dry Scotch. Although in the summer he shows a weakness for a good rosé wine.
Ne buvez pas au volant. Consommez avec modération.
Join the community on Reddit
Spirits Hunters is a community dedicated to spirits and the world of mixology. Feel free to talk about the world of mixology and bartending here!
Join