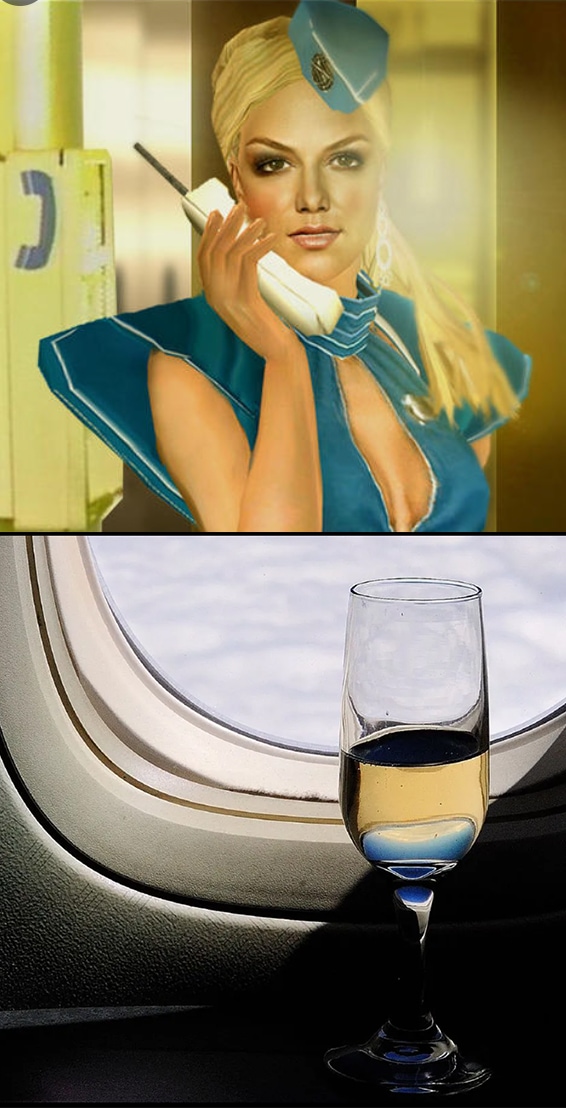 Banning alcohol on airplanes?
In the United States, an increase in the aggressiveness of passengers on airplanes serving alcoholic beverages has been noted. Would it be possible to ban alcohol on airplanes?
Drinking in moderation.  This is what we refer to whenever we talk about alcohol. In the United States, the possibility of banning alcohol on flights has been mentioned since the 1950s, and today it is once again a topic of discussion. Data show that aggressiveness on airplanes has increased considerably this year. We summarize the Foundation for Economic Education article, Banning Alcoholic Beverages on Flights Is (Still) a Really Bad Idea.
"Since the beginning of [2021], the Federal Aviation Administration has reported a sharp spike in the number of passengers behaving badly," Stephen Mihm, a history professor at the University of Georgia, wrote recently in Bloomberg.
"In a typical year, the FAA records between 100 and 200 incidents. In the first three months of 2021, it reported a whopping 1,300, even though passenger numbers were still well below normal levels."
However the exact reason why this explosion of bad behavior on air flights has increased has not been pinpointed, although alcohol is suspected to be the main culprit.
"It's hard to explain this recent spike, but it's hard to argue that air rage has become a growing problem," Mihm says. "The usual explanations – reduced legroom, alcohol and flight delays – have merit." And it's worth noting that airlines are not taking the issue lightly. In fact two American airlines, Southwest and American Airlines suspended their alcohol service in the economy section.
A decision that was taken after a violent episode occurred on a Southwest flight between a passenger and a flight attendant, and the latter ended up with two injured teeth.
Would it be useful to ban alcohol on airplanes?
There are several reasons why an airline would ban alcohol on airplanes. One is that they reserve the right to do so or not because they are private. Another reason is that if we compare accidents today with the 1950s, passengers have proven to be so elusive in both eras.
There is however a consequence that banning alcoholic beverages on flights would provide. "I have found an increasing number of passengers carrying bottles on board," flight attendant Martha Ann Alexander testified before the Senate committee. The FAA recently noted that many in-flight altercations involved passengers carrying their own stash of alcohol on board.
Other factors could also be at play. Forbes writer Elva Ramirez notes that FAA data shows that a large portion of the 2,500 reports of "unruly behavior" the agency has received since the beginning of 2021 have also stemmed from – in addition to passenger alcohol smuggling – "federal mask-wearing rules." It could also be an act of rebellion after a year marked by the coronavirus.
A close reading of the details of the FAA report suggests that passengers being served alcohol is not the root of the problem. The disruptions appear to stem largely from passengers bringing their own alcohol onto flights, in large quantities no less.
In other words, it appears that banning alcohol on airplanes is what is causing many of these disruptions, as instead of buying a drink or two at $11 a head, passengers are polishing off their own product, resulting in confrontations with flight attendants, who have no doubt been tasked with the thankless job of separating passengers from their illicit liquor.
Passenger behavior, of course, is by no means excusable… so we repeat, as long as we drink in moderation and appreciate the art of tasting we will be spared altercations, and return to times of yore where prohibition set the pace.
Don't drink and drive. Enjoy responsibly.
Join the community on Reddit
Spirits Hunters is a community dedicated to spirits and the world of mixology. Feel free to talk about the world of mixology and bartending here!
Join