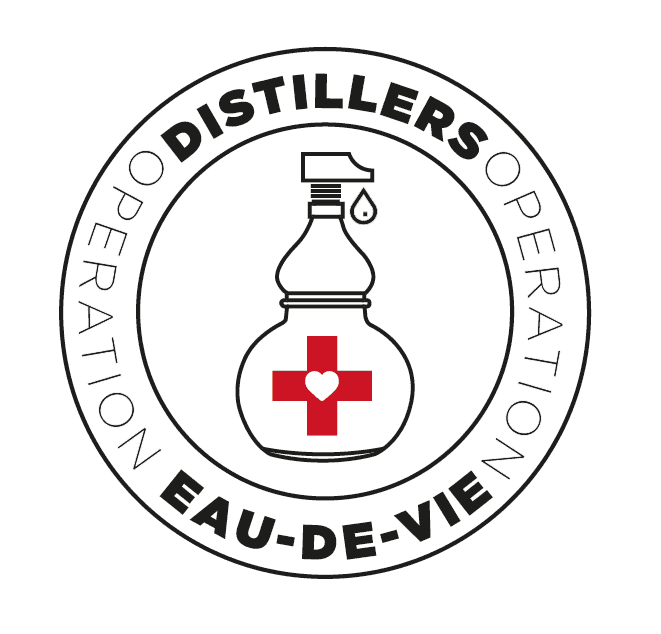 Never before has eau-de-vie worn its name so well
Here are a few distilleries, companies and groups of spirits, breweries, producers, winemakers who are providing support during the coronavirus crisis.
And thanks to all those we have not listed.
Keep in mind: For a disinfectant to be effective against coronavirus it must contain 60% to 80% alcohol. Homemade recipes based on vodka, a spirit that typically contains 40% alcohol, are eliminated out of hand. Making your own hand sanitizing gel with vodka is therefore of no use in fighting the coronavirus.
Eau-de-vie saves lives! a special cheer to Alexandre Vingtier who works day and night to ensure the transmission of information.
FRANCE
LVMH has promised the production of 12 tons of hand sanitizer gel. Its perfume branch would manufacture hydro-alcoholic gels made available free of charge to the French health authorities.
Other regions of France have also made themselves available. Distilleries such as the Maison Ferroni in Marseille and the Alambic Bourguignon in Beaune.
Pernod Ricard announced on Wednesday that a total of 70,000 litres of alcohol will be destined for the Cooper laboratory, which supplies all French pharmacies, in order to avoid gel shortages.
The Landas distillery donated 15 litres of neutral alcohol to the Dadoun-Maurel pharmacy in Villefranche-de-Panat.
The Paul Devoille brandy and absinthe distillery supplied 500 litres of alcohol at 96 degrees to pharmacies. The Armand Guy distillery in Pontarlier (Doubs) has decided to sell 3,000 litres of its stock of 96-degree alcohol to manufacturers of hand sanitizer and to pharmacists.
The Romann schnapps distillery in Sigolsheim, Alsace, will sell about 3,000 litres of alcohol at 98 degrees to pharmacies and hospitals in the region.
Distilleries and employees of the GROUPE BARDINET-LA MARTINIQUAISE are committed to helping medical services by producing hand sanitizing gels and providing pure alcohol to medical services.
Awen Nature has donated 5-litre, 10-litre and even 20-litre jerry cans to the Red Cross, Intermarché, liberal nurses and old people's homes, associations working with migrants, and others working with the homeless. The Awen Nature distillery plans to offer 300 litres of gel.
The Bordeaux Distilling Company offers, on its Facebook page, to make available to pharmacists 1000 litres of 96% neutral alcohol. This is the main component of the hydroalcoholic gel.
In Aigre, the alcohol would be transformed into Berger Blanc, a famous anise-flavoured aperitif. Eventually, it made it possible to manufacture more than 100 litres of hydroalcoholic solutions.
In Villeneneuve-de-Marsan, the company Le Club des Marques donated 60 litres of alcohol at 96% volume (or 96°) to the pharmacies in Nogaro and Manciet to fight against Covid-19.
Angoulême: Avel offers 2,500 litres of hydroalcoholic gel for carers and traders
Hennessy, Martell and Rémy Martin donated alcohol to make hydroalcoholic gel, or various masks and equipment. The hospital in Cognac welcomed this gesture with gratitude.
The Grande Distilleries Peureux of Fougerolles de Haute-Saône reserved 80,000 liters of alcohol and stopped the production of liquor for antibacterial gel.
Distilleries et Domaines de Provence sent 16,000 litres of alcohol to the production of hydroalcoholic gels.
Distillerie de la Tour, has decided to offer 10,000 liters of pure alcohol to help pharmacies in the Cognac region to cope with the shortage of hydroalcoholic gel.
UK
DIAGEO will provide two million litres of alcohol to support the manufacture of hand sanitizer, which will contribute to the manufacture of eight million 250 ml bottles of hand sanitizer.
In Ireland, the Listoke distillery has developed a recipe for a hand sanitizer with 64% alcohol. The company has started selling bottles to the public and donating them to associations that deal with the homeless.
Brighton Gin founder Kathy Caton works with Lewes A.S. Apothecary Cosmetics to produce hand sanitizer using the distillery's ethanol supply.
USA
The AMASS master distiller created a hand sanitizer last month at 70% alcohol.
Rock stream Vineyards, in the United States, has developed a recipe based on wine spirits and grape marc: brandy with 90% vol. ethanol reduced to a TAV of 65% vol.
Anheuser-Busch, the brewing group, is facing the coronavirus crisis with the creation of a hand sanitizer. Last Saturday, Anheuser-Busch announced that it would provide support during this crisis by creating the gel.
The Hendricks family distillery in Omro, Winsconsin began producing hand sanitizer. In about a day, the Hendricks filled and distributed about 300 small bottles of hand sanitizer.
Some small New York distilleries also create their gel, such as Ginsmiths. Ginsmiths has shipped small bottles of the gel as well as orders for gin through its website. In addition, according to Eater New York, they have sent orders to hospitals for 2,500 gallons and 1,700 gallons of antibacterial gel.
Iron Fish, Michigan, created its first 50-gallon batch of hand sanitizer earlier this week.
Some distilleries in the country produce hand sanitizing gels, such as the Old Fourth Distillery, based in Atlanta. The distillery offers a free hand sanitizer to anyone who passes by the distillery.
Other distilleries such as the Shine Distillery in Portland, Durham Distillery in North Carolina and Moonshine Distillery in Georgia, Cotton & Reed in Washington D.C., Train Wreck Distillery in New Jersey, among others, also contribute to the creation of disinfectant solutions.
Niagara Craft Spirits (Kentucky) is helping the community by turning spirits into hand sanitizer. You can stop by on weekends to fill up and keep your hands clean.
Lakewood Distillery (Cleveland) has manufactured a hand sanitizer that will be released early next month and is already out of stock. They began pre-ordering 48 hours ago and have already sold almost 2,000 gallons.
The 28 Mile Vodka and Distillery in Illinois, U.S.A., has made a few hundred gallons of hand sanitizer, but has ordered all the necessary raw materials and plans to move to a 24/7 operation.
Sagamore will produce 100,000 litres per month of hand sanitizer.
SPAIN
A distillery in Arucas, Gran Canaria, has 53,000 litres of neutral alcohol of more than 96 degrees suitable for sanitary use and 10,000 litres of denatured alcohol of 96 degrees used to make a hand sanitizer.
LATIN AMERICA
Argentina
In Argentina, the company "Nueva Destilería de Allen" donated 19,000 litres of pear alcohol with which the provincial laboratory PROFARSE will produce disinfection solutions for use on surfaces in hospitals, health centres and public institutions.
Argentina: San Juan will contribute 25% of the country's wines used to produce alcohol.
Venezuela
In Venezuela Destilerías Unidas S.A (Diplomático rum, Wellington Gin…) donated 10,000 liters of alcohol to the ministry of health, Corposalud Lara (where the DUSA factory is located), and the town hall of Simón Planas.
Distillery Carúpano decided to donate a significant part of its ethyl alcohol, to be used by the health organizations of the Sucre Governor's Office and the Mayor's Office of the Bermúdez Municipality, adding up for such an important cause.
Puerto Rico
The Bacardi Corporation distillery in Cataño, Puerto Rico, where more than 80% of the company's rum is produced, has partnered with Puerto Rico-based manufacturer Olein Refinery to supply the raw material that will enable the production of more than 1.7 million 10-ounce units of hand sanitizer.
Mexico
Licorera Cihuatán reported that they are producing an antibacterial alcoholic solution for hands and surfaces. Interested parties may contact the company's liquor store for corporate and personal orders over 10 gallons.
CANADA
In Canada, the Compass distillery in Halifax and Steinhart in Antigonish have also begun producing hand sanitizers that they distribute free of charge.
Labatt Breweries in London, Ontario, will join the fight against coronavirus, committing to manufacture 50,000 bottles of hand sanitizer in plants across the country.
Bryan Furlong (Distillerie La Chaufferie, Canada) would like to produce about 800 litres of hand sanitizer every 5-6 days. The Patent 5 Distillery in Manitoba offers the liquid hand sanitizer to organizations. Such as Main Street Project, Sunshine House and the Exchange District BIZ. The 3 Lakes Distillery also manufactures hand sanitizer.
The Distillerie Fils du Roy helps supply some government agencies with hand gel during the COVID-19 outbreak. "We use bottling lines, tanks, everything, to produce enough hand sanitizer."
Pit caribou will provide 20,000 liters of must, a liquid fermented by the microbrewery and distilled by La société secrète to reach the level of alcohol needed to make antiseptic.
Corby Spirit and Wine Ltd, announced on Thursday 19th March that the disinfectant has been added to its product line.
The Junction 56 distillery in Stratford and Dillon's Small Batch Distillers in Beamsville in the Niagara region are also participating.
The Artist in Residence distillery in Gatineau will use the alcohol originally intended for whisky production to make a hand sanitizer that will be offered to hospitals and community organizations in the region.
AUSTRALIA
South Australia's Prohibition Distillery added a juniper-scented hand sanitizer to its repertoire in mid-March.
Melbourne-based St Ali has developed a hand sanitizer containing 75% alcohol in partnership with local water treatment company HydroChem.
The Bundaberg rum distillery is now contributing to the production of 500,000 bottles of hand sanitizer.
Beenleigh Artisan Rum Distillery shipped 24,000 liters of neutral ethanol for the manufacture of hand sanitizers for the shipment of more than 60,000 bottles, in addition to the manufacture of 20-liter drum sanitizers.
POLAND
In Poland, 430,000 litres of vodka and pure alcohol seized in various smuggling cases will be used to disinfect vehicles and buildings. From this, 1,000 litres of alcohol were obtained for firefighters in the city of Olsztyn. And 2,500 litres for hospitals in Olsztyn and Elbląg (Masuria).
ITALY
The Italian subsidiary of the L'Oreal group was immediately activated: 100,000 euros from the Foundation will be allocated to Emergencies and to Banco Alimentare, to which 80,000 packs of hydroalcoholic gel will also be donated.
GERMANY
Crop Energies: The Zeitz plant produces 1 million litres per day of specially purified and drinkable neutral alcohol for pharmaceutical, cosmetic or beverage applications.
SOUTH KOREA
Manufacturers of soju, South Korea's popular liquor, donate their alcohol for the production of disinfectants. Ethanol producers promised to donate 32 tons of ethanol to disinfect public spaces.
SWITZERLAND
Morand Distillery began producing ethanol-based disinfectant and pear brandy. On sale since Saturday in the supermarkets.
INDIA
Goa's artisanal brewery, Goa Brewing Co., has stopped producing beer and now produces disinfectants to combat the coronavirus. In the last two weeks, the brewery has provided free alcohol-based hand sanitizers to villagers, health workers, the army, hospitals and even government offices.
State health departments across India have been supported by Pernod Ricard India with more than 1.1 lakh liters of alcohol-based (70% v/v) hand sanitizers.
PHILIPPINES
Alliance Global Group Inc. (AGI), which operates Emperador Inc. will donate one million liters of disinfectant alcohol to the government, amid the spread of coronavirus disease 2019 (COVID-19).
Don't drink and drive. Enjoy responsibly.
Join the community on Reddit
Spirits Hunters is a community dedicated to spirits and the world of mixology. Feel free to talk about the world of mixology and bartending here!
Join