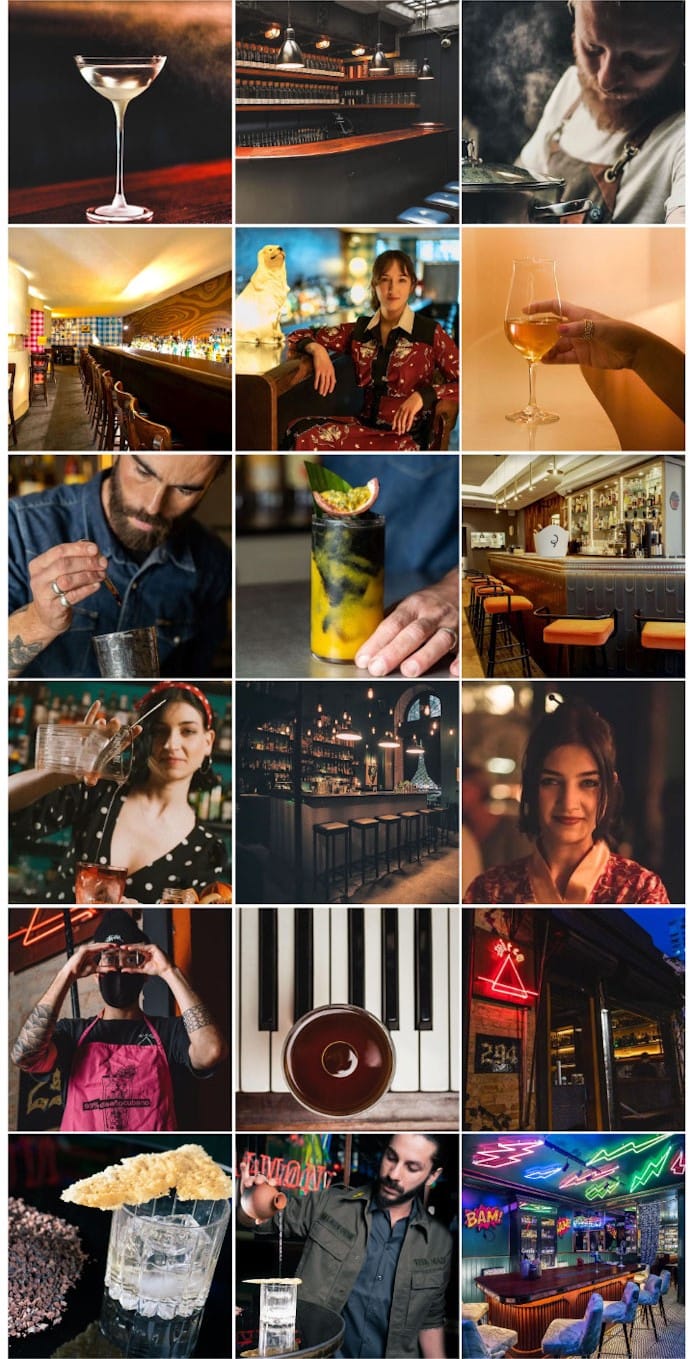 6 bartenders and their cocktails you should know right now
Bartenders all over the world share with us their creations, check out these cocktails that you should know right now!
From Sao Paulo to Madrid explore the world of cocktails on our latest post made by talented bartenders.
6 bartenders from all over the world share their cocktails
As seen on our Instagram @spiritshunters_mag!
🐚ULTRAMARINO COCKTAIL
This time we're tasting the ULTRAMARINO cocktail, which aims to create a new range of cocktails that have been sealed in amphorae and placed at the bottom of the Mediterranean Sea.
Bartender Diego Cabrera created the ULTRAMARINO, a Twist on the Gimlet.
-GIN
-MEZCAL
-CHAMOMILE
-LIME CORDIAL
-RHUBARB SYRUP
Settled in a clay amphorae submerged in seawater.
Madrid bar Salmon Guru was recently named one of the World's Best 50 Bars and also collected the 2021 Michter's Art of Hospitality Award.
The bar has a reputation for eccentric drinks and crazy décor offering amazing international dishes and original cocktails. Filippo Faedda is Head Bartender at Salmon Guru.
📍SALMON GURU @salmonguru –Calle de Echegaray, 21, 28014 Madrid, Espagne
🥃👉La Maga In Manhattan
At Picco, Cocktails are classic leaning, with an extensive selection on offer, and accompanied by a concise list of excellent signature drinks, all playful and accessible, such as the La Maga in Manhattan, made with bourbon and rye whiskeys, peanut butter, sweet vermouth, and coriander. A creation of @o.picco a 50 Best Discovery bar @50bestbars – 📸 @tahlao
Recipe:
-Bourbon and rye whiskeys,
-Peanut butter,
-Sweet vermouth
-Coriander
📍R. Lisboa, 294, Pinheiros, São Paulo, 05413-000. Open Tue – Sun.
"Bergamotto" 🍋by @myroslavamartyniuk
Ingredients
•30ml Pisco infused with bergamot peels
•5ml Campari
•1dash bitter apricot extract
Method: stir/strain
Garnish: cracked nugget of ice
Enjoy 👌 you can taste it at @el_koktel cocktail bar in Warsaw.
📍 Wojciecha Górskiego 9, 00-031 Warszawa, Poland
The NIGHT BEACHCOMBER by bartender@maxbaja
🍍Perfect for the summer season ahead🌞
A refreshing cocktail mixing a House rum blend – amargo de angostura – passion fruit – pineapple – lime – fresh ginger – house tonka bean syrup
Taste it at @ouistiti_paris
📍58 rue de l'arcade 75008, Paris
Study of a female nude🎨⁠
A cocktail created to represent the liquid taste of a piece of art✨⁠
⁠
Inspired by the piece "Study of a Female Nude" by the French artist Henri Lehmann, @mariagorbatschova presents to us her amazing creation and recipe :⁠
⁠
45 ml Sweet vermouth
25 ml Clementine-infused Tement Verjus⁠
15 ml single malt Scotch whisky⁠
10 ml Plum Liqueur⁠
10 ml Covert Fig Leaf Liqueur⁠
A dash of galangal tincture⁠
⁠
Stirred, served neat. ⁠
Taste it at 💚 @greendoorbar⁠ – 📍Winterfeldtstraße 50, 10781 Berlin, Germany
Darjeeling
Check out Bart Miedeksza @bart_behind_bars original cocktail called Darjeeling!
Want to try it out? here's the recipe! 🍸
– 25ml Darjeeling Tea Distillate
– 15ml Jasmine Blossom Distillate
– 35ml Ambrato Vermouth
– 10ml Dry Vermouth
– 1 dash 16% saline solution
– Yuzu Peel Extract Spray
Taste it at Crossroads Cocktail Bar – 📍 47 Newington Grn, Newington Green, London
Take a look at our Instagram and discover more bartenders from all over the world
Don't drink and drive. Enjoy responsibly.
Join the community on Reddit
Spirits Hunters is a community dedicated to spirits and the world of mixology. Feel free to talk about the world of mixology and bartending here!
Join