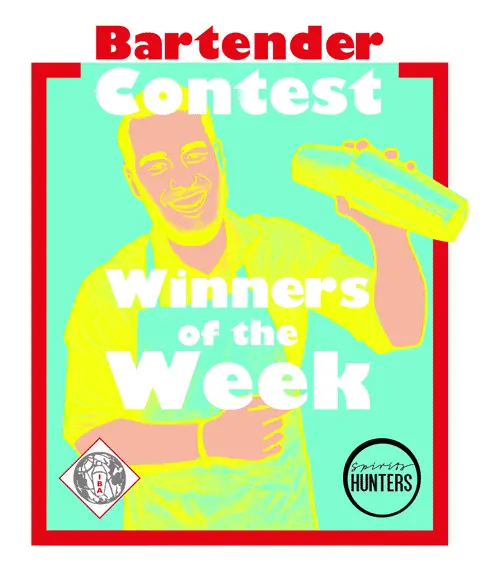 The winners of the sixth and Last week of Confinement Bartender Contest
Dear bartenders! What a ride! We would like to say THANK YOU for being a part of this great community that we have gathered via the Confinement Bartender Contest.
The Confinement Bartender Contest has come to an end. We have received videos from every continent (EXCEPT ANTARCTICA!) and we couldn't be happier to see this movement.⁠ Six challenging weeks testing bartenders from all over the world showing their skills to choose the best cocktails created at home. Thank you all for creating your cocktails, whether original or signature versions.
We would also like to give a big thank you to the IBA International Bartenders Association for their support! Go to our Instagram account to watch the winning tutorials @spiritshunters_mag.
But that is not it!
The finals of the CONFINEMENT BARTENDER CONTEST starting on June 8th until the 8th of July will reward a 2.000 euros prize.⁠ Read all about the rules of the final here.
⁠
⁠⁠THEN we are still with you! From 15th of July to 30th of September we will begin a new contest called "Tuto Bartender Contest". This contest will reward 2 winners per week a 150 euros tip each.⁠ Stay tuned more information soon.
⁠GOOD LUCK!⁠
Now, the winners of the sixth week of Confinement Bartender Contest
Week 6 – Day 5
It's the last day of winners nominations! We want to thank all the bartenders for their beautiful work, their cocktails and the effort! That is why we will see you all in the FINAL of the CONFINEMENT BARTENDER CONTEST starting June 8th.
For our fifth and last day we are happy to congratulate Olga Sabanina from Russia and Raul de la Cruz Díaz from Mexico! Congratulations for your confinement cocktails!
Olga Sabanina – Russia – Bar Story Show
Cocktail: Lemon Face
Ingredients:
Rosemary infused gin 3,5 cl
Vermouth Bianco 2 cl
Homemade thyme syrup 1,5 cl
Fresh lemon juice 2 cl
White grapefruit soda water(homemade) -on top
Garnish: lemon zest, piece of rosemary
Glass: highball
Method: shake&strain, pour on top.
Raul de la Cruz Diaz – Mexico – "EL DORADO BEACH CLUB AND RESIDENCES"
Cocktail: MEZCALATE
45 ml. Young Mezcal
30 ml. Damiana Liquor
15 ml. Syrup Spice
120 ml. Chilate
Chilate:
Drink based on
*Cocoa beans, roasted and peeled
*Rice (Soaked 40min)
*Piloncillo
*Cinnamon
NOTE: I used it in smaller quantities for the presentation of the cocktail.
Week 6 – Day 4
Today we would like to congratulate Paulo Gabriel Carneiro from Brazil and Oleg Antonov from Russia! Congratulations for your delicious libations!
Paulo Gabriel Carneiro – Brasil – Deck Only
Cocktail: 3 lemons Caipirinha
1/4 lemon
1/4 lime
1/2 rangpur/mandarin Lime
7,5 cl Cachaça
4 bar spoon white cane sugar
Ice
Place lemon, lime, rangpur and sugar into the mini tin and muddle gently. Fill the tin with cracked ice and add Cachaça. Shake it and serve in a long drink glass.
Oleg Antonov – Russia – BRAUBAUER PUB / TRUE BARTENDERS
Cocktail: Life Beyond the Wall
It is based on tincture of vodka on fried buckwheat*
Ingredients
500 ml vodka
150 gr. buckwheat
30 gr. cane sugar.
50 ml Vodka infused on fried buckwheat
30 ml homemade pistachio and arabica liqueur**
30 ml Coconut Liqueur
Ice
Ice cream
Sated pistacchio
Method:
*Fry buckwheat and pour it into a jar of sugar. Then fill everything with vodka. Furnish in a cool, dark place for 3 days. For elegance and sophistication, I added homemade pistachio and arabica liquor.
**Fried peeled pistachios in a dry pan – 100 gr. Strong coffee from 20 gr. finely ground arabica and 200 ml. water. Filter Coffee into a pan. Add pistachio and sugar 300 gr. We put on the fire and languish for 30 minutes. We filter and cool.
Add Coconut Liqueur to give the cocktail an exotic flavor.
Combine everything and mix thoroughly.
Filter into a brutal glass with ice.
Top with 80 ml ice cream cream.
Garnish – salted pistachio.
Week 6 – Day 3
Congratulations to Claire Boutard from France and to Gerard Medrano from Singapore! For their confinement cocktails!
Claire Boutard – France – Golden Pub
Cocktail: Full Garden
4 crushed cucumber slices
1 spoon of homemade Rhubarb jam
2 cl of home made fresh grass syrup
2 cl lemon juice
4 cl of homemade vodka infused with elderflower
Sparkling water
Gerard Medrano – Singapore – Skai Restaurant and Bar Singapore
Cocktail: Silver Lining
Ingredients
Jackfruit infused whisky 45 ml
Cold brew 30 ml
Lemon Juice 15 ml
Sugar Syrup 15 ml
Glass: Mason Jar
Garnish: Oven-baked Jackfruit
Method: Build
Week 6 – Day 2
Today our 3rd and 4th winners are Alexander Nikitchenko from Kazakhstan! And, Ale Caia from Argentina living in Spain! Congratulations for your cocktails!
Alexander Nikitchenko – Kazakhstan – SE7EN Bar
Cocktail: "REFI" Cocktail
A word from Alexander: I am from cold Pavlodar city. There are a lot of factories around our town so we have many ecological problems.
When I first heard about this competition I decided to take a part in it and to tell people  about "Zero Waste" conception. The bottom line of this conception lies in three main terms: REUSE, REDUCE, RECAST. All of them are used in my "REFI" cocktail. (Rest from Industry).
Not for nothing that I use tequila. "Zero Waste" technology has already existed for at least 7 years B.C. According to one little known fact, agave was so-called magic wand for Red Indians. It's sharp spikes were used as needles, from leaves people produced fiber and sewed clothes. Also leaves were used for manuscript writings. Plant core was added in food cooking.
I have a friend, who works at a supermarket and he told me that there are big amount of unsold and spoiled bananas in their supermarket and I decided to use them in my shrub.
I have used four main components: grapefruit, banana, lime and dill. From banana's flesh I have made shrub. Grapefruit and dill were used as a cordial. From lime I have squeezed lime juice. After cordial and shrub cooking all zests and pulps were used for producing edible candies, mixing them with sugar and gelatin in blender.
Ingredients
Tequila Blanco – 60 ml.
Banana shrub – 30 ml.
Grapefruit-dill cordial – 120 ml.
Lime juice – 15 ml.
Method: Shake
Garnish: Edible sweets from leftovers & grapefruit chips
Ale Caia – Spain – @bittercocktailbar
Cocktail: Rosso Vulcano Vermucillo
This Vermouth carries organic White Wine to fortify it, Homemade Grappa palo santo, absinthe, coriander and cardamom. And at the end Curcuma (it has been filtered with a paper filter). 50 ml.
40 ml of Gin.
Hibiscus ices
Garnish: Lemon Leaves
And Topping beer foam / 2 Ginger Syrup and aquafaba.
Week 6 – Day 1 
We are happy to congratulate, Maxime Brisville from France (working in London) and Jans Rojas from Chile, for their original cocktail creations made in confinement!
Jans Rojas – Chile – Don toro restaurant
Cocktail: Purple Tea
2 oz infused tea Chilean pisco
2 spoon of blueberries
1 lime squeezed
1 oz simple syrup
Garnish: dehydrated apple and 3 dehydrated blueberries
Glass: Martini
Technique: shake and fine strain
Maxime Brisville – France – 100 Wardour St. (London)
Cocktail: Sundance
5 drops chocolate bitters
15 ml macadamia orgeat
10 ml coconut water
20 ml lime juice
10 ml port
5 ml crème de banane
40 ml Barbados rum
30 ml milk
Build the drink, add milk as last ingredient while stirring. Refrigerate for 24 h and strain through a cheesecloth and then coffee filter if necessary.
CONGRATULATIONS again and thank you for participating! For any specific questions please contact marie@spiritshunters.com.
For sponsors: nathalie@spiritshunters.com
We encourage all bartenders around the world to participate in our contest and to spread the word to their known bartenders.
New contestants can enter the finals. To read the contest rules and learn how to participate click here.
For any questions you can also contact us via Instagram Direct @spiritshunters_mag.
Good luck!
---
With the support of the International Bartenders Association
The international bartender Association (IBA) is the world largest bartender association and the host of the official World Championship in Classic cocktails and Flair. The International Bartenders Association was founded on 24 February 1951 in the saloon of the Grand Hotel in Torquay, England, is an international organisation established in order to represent the best bartenders in the world.
Don't drink and drive. Enjoy responsibly.
Join the community on Reddit
Spirits Hunters is a community dedicated to spirits and the world of mixology. Feel free to talk about the world of mixology and bartending here!
Join