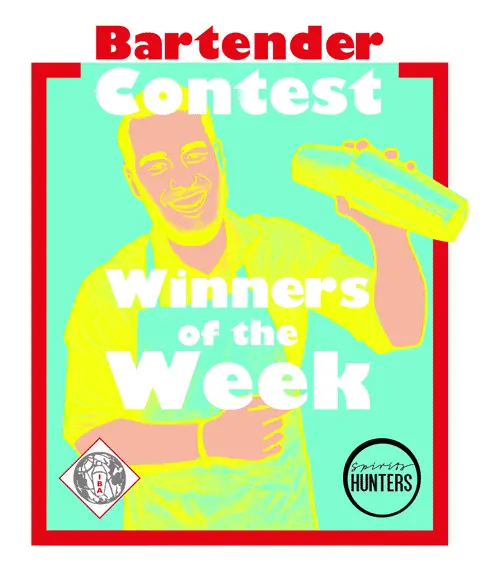 Winners of the fourth week of "Confinement Bartender Contest"
The contest is already on its fifth week starting today, and today we are proud to introduce the ten winning bartenders of the fourth week of our "Confinement Bartender Contest"!
Spirits Hunters launched a contest to help bartenders from all over the world during confinement, the "Confinement Bartender Contest".
Each week we choose 10 winners, and we will present 2 per day on our website and our social networks, Instagram (@spiritshunters_mag), and Facebook. Contest ends May 30th.
You can also find information on our Twitter account (@spiritshunters).
You can check the winners of the first week here, the winners of the second week here and winners of the third week here.
We are happy to receive videos from all over the world. Every week contestants from every corner of the planet are sending videos and we couldn't be happier. We want to thank and congratulate all bartenders for their effort and dedication and special thanks to the IBA for their support.
To all participants: Don't be discouraged! As your video might appear as a winner in a new week of contest and you will be participating for the grand prize as well!
It is time to reveal the winners of our fourth week of contest
Week 4 day 5
Today we introduce the last two winners of the fourth week of contest. We are happy to congratulate Paul Dumain, from France, and Michele Hitch from Italy! Congratulations for your confinement cocktails!
Paul Dumain – France – Point Rouge
Cocktail: Sweet Bee Collins
50ml Cognac
20ml Homemade Honey Sirup
20ml Acid Apple Juice
50ml Ginger Beer
2 dash Cinamon Bitter
Method: Direct in the glass.
Michele Hitch –  Italy – DiscoClub Molto
Cocktail: ITALIAN JOHN COFFEY
– 25ml Marsala
– 15ml Apricot Brandy
– 25ml Moca coffee
– 15ml Sugar syrup
– 15ml Egg white
GARNISH:
– Whipped cream
– Biscuits
Week 4 day 4
The winners of the 4th day / 4th week of our competition are Jairra Poltrias from Philippines and José Eduardo Sandoval from Peru another new country in our list of winners! Congratulations for your confinement cocktails!
Jairra Poltrias  – Philippines – Sage Bar ( Makati Shangri-La )
Cockail: Taste of Hope
Ingredients:
45 ml Scotch Whisky
20 ml Dry Vermouth
15 ml Calamansi Juice
15 ml Brown Sugar Syrup
10ml Mango infused Fish Sauce with Black Pepper
Add strip of mango from the infusion
Method: Shake and Double Strain
Glass: Rock Glass
Garnish: Sliced Calamansi and Mango from the infusion
Mango infused Fish Sauce with Black Pepper Recipe: 45 ml of Fish Sauce, 5 Ripe Mango Strips, 5 pinch of Black Pepper. Put everything in a clean glass bottle, infused it then put it in the fridge for 1 day before using it.
José Eduardo Sandoval – Peru – Chumay Chifa Restaurant
Cocktail: El Casero
3 oz pineapple syrup
1/4 oz lemon juice
10 grams of chopped coriander
5 gr of chopped ginger
10 ml ginger syrup
Ice
Complete with cold boiled water or sparkling water.
Garnish: Lemon slice, ginger cubes, chopped coriander
Glassware: rocks
Method: stir
Week 4 – Day 3
On this day we have a winner from a new country, Belarus! Congratulations to Katerina Kolybskaya from Belarus -very special video!- and to Thomas Peigne from Spain for their confinement cocktails!
Katerina Kolybskaya – Belarus – Gastro-club "Mesto"
Cocktail: Smith Cocktail
Ingredients :
20ml Campari
30ml Whiskey
30ml Home-made liquor "raspberries on cognac"
30 Lemonade
Method: stir.
Preparation: mix liquor, whiskey and campari in a mixing glass with ice. Pour over the strainer into a chilled glass. Add lemonade on top. Garnish with sugar flowers (edible) or a slice of orange.
Thomas Peigne – Spain – MR ROBINSON
Cocktail: Cherry Pearl Cocktail
Ingredients
1/2 apple
50 ml gin
15 ml maraschino liqueur
50 ml Pomegranate juice
2 spoons of cherry jam
15 ml egg white
Garnish: apple and cherry spiral
Week 4 – Day 2
Today we are happy to congratulate Joaquin Conejo from Argentina and Davide Norcini from Italy, for their cocktail tutorials in confinement!
Joaquin Conejo – Buenos Aires ARGENTINA – Bartender Academy 
Cocktail: Spring Tea
London Dry Gin – 60ml
Plum Jam – 2 BarSpoon
Earl Gray Tea – 90ml
Vanilla Syrup – 1 BarSpoon
Lemon Juice – 20ml
– Method: Shake and Strain
– Glassware: Cup (Wine) – Full of ice
– Garnish: Tea Bag – Lemon Peel
Davide Norcini – Italy – (Based in Spain) – Dry Martini Bcn Bar
Cocktail: Mango & Stormy
Spiced Rum 6cl
Mango curcuma shrub 3cl
Ginger beer 7cl
Chocolate bitter 4 dashes
Week 4 – Day 1
Our first announcements of the fourth week. We are happy to congratulate Brunante Robert from Canada and Akash Kanojia, from France for their cocktail tutorials in confinement.
Brunante Robert – Canada – Le Boefish
Cocktail: The Bubble Gum Martini
Ingredients
1/2 oz raspberry liqueur
11/4 oz vodka
3/4 oz homemade bubble gum syrup
1 bar spoon of unsweetened strawberry puree
1 bar spoon of 35% cream
All shaker + double strain
Garnish with cotton candy on a pick (optional)
Akash Kanojia – France – Hotel and spa moulin de Moissac
Cocktail: " Hope is alive "
Ingredients
Fresh ginger slices
Red fruit tea syrup
Lime juice
Sweet vermouth
CONGRATULATIONS again and thank you for participating! For any specific questions please contact marie@spiritshunters.com. For sponsors: nathalie@spiritshunters.com
We encourage all bartenders around the world to participate in our contest and to spread the word to their known bartenders. To read the contest rules and learn how to participate click here.
For any questions you can also contact us via Instagram Direct @spiritshunters_mag.
Good luck!
---
With the support of the International Bartenders Association
The international bartender Association (IBA) is the world largest bartender association and the host of the official World Championship in Classic cocktails and Flair. The International Bartenders Association was founded on 24 February 1951 in the saloon of the Grand Hotel in Torquay, England, is an international organisation established in order to represent the best bartenders in the world.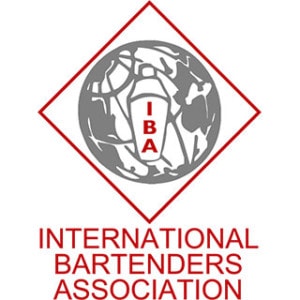 Don't drink and drive. Enjoy responsibly.
Join the community on Reddit
Spirits Hunters is a community dedicated to spirits and the world of mixology. Feel free to talk about the world of mixology and bartending here!
Join