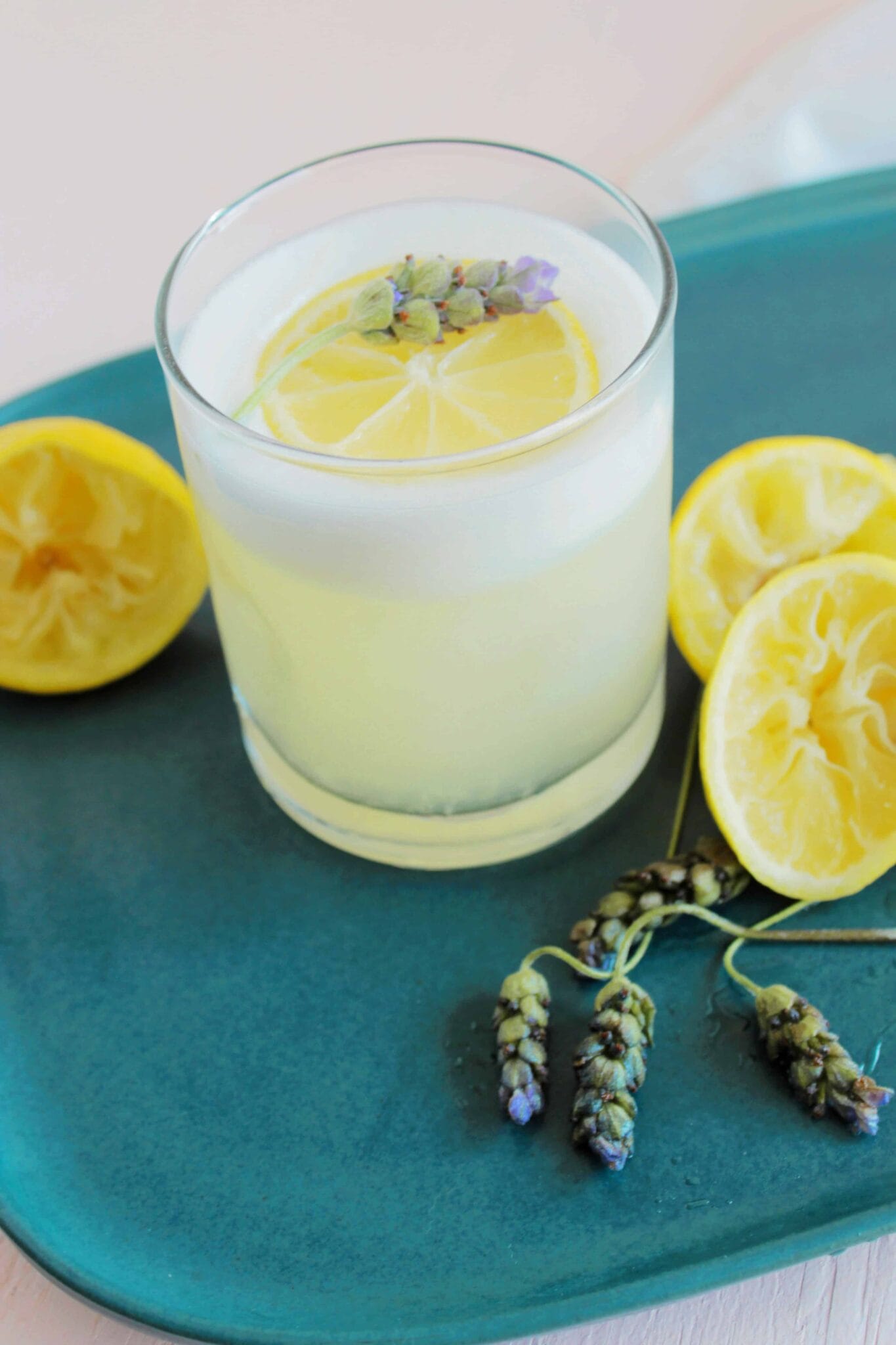 5 Pisco Sour Twists for Cocktails for International Pisco Sour Day
The International Pisco Sour Day is coming! For the occasion, let's taste five Pisco Sour Twists.
Pisco sour is a Peruvian cocktail typical of the Peruvian and Chilean cuisines. The name of the drink comes from pisco, which is its base liquor, and from the term cocktail sour, in reference to the acidic citrus juice and sweetener components.
International Pisco Day, usually celebrated on the first Saturday of February, celebrates this world-renowned cocktail.
We bring you five Pisco Sour Twists to celebrate it this Saturyday 4th of Febryary 2023.
We propose five Pisco Sour twists to celebrate the International Pisco Sour Day
1. Pisco Sour Twists, recipe by Monica Carbonell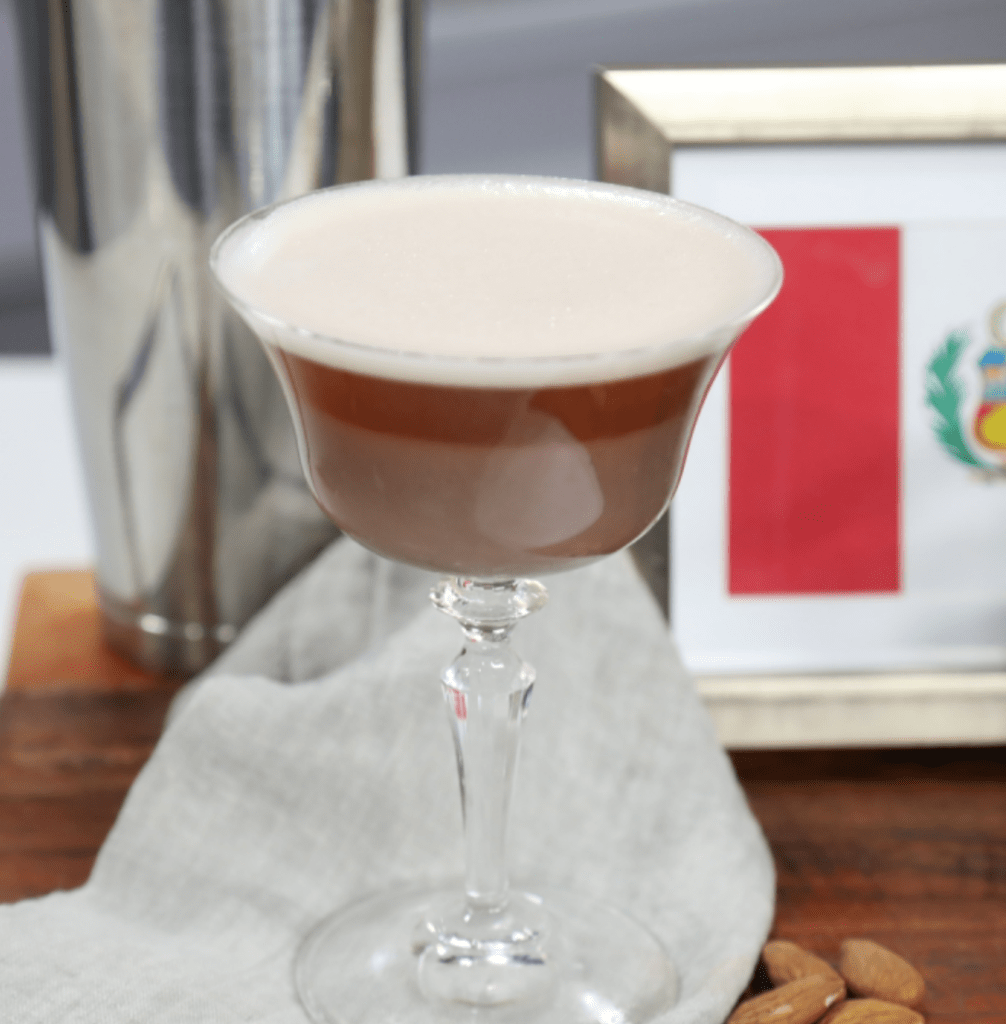 Ingredients
2 oz of Pisco
1 oz of pomegranate juice
3/4 oz of almond syrup
1 egg white
2 dashes of bitters
Preparation:
add all ingredients into a shaker and dry shake (without ice).
Do this for at least 45 seconds. Once that's done, open up your shaker, fill with ice and shake once more.
Strain into coupe glass.
2. Pisco Punch
Ingredients
2 oz pisco¾ oz lemon juice
¾ oz rich (approximately 2:1) pineapple syrup
Preparation:
shake all ingredients with ice.
Double strain into a chilled coupe.
The traditional garnish is a pineapple wedge, however, a dried citrus wheel also looks great.
3. Lavender Pisco Sour, by  thedrinkblog.com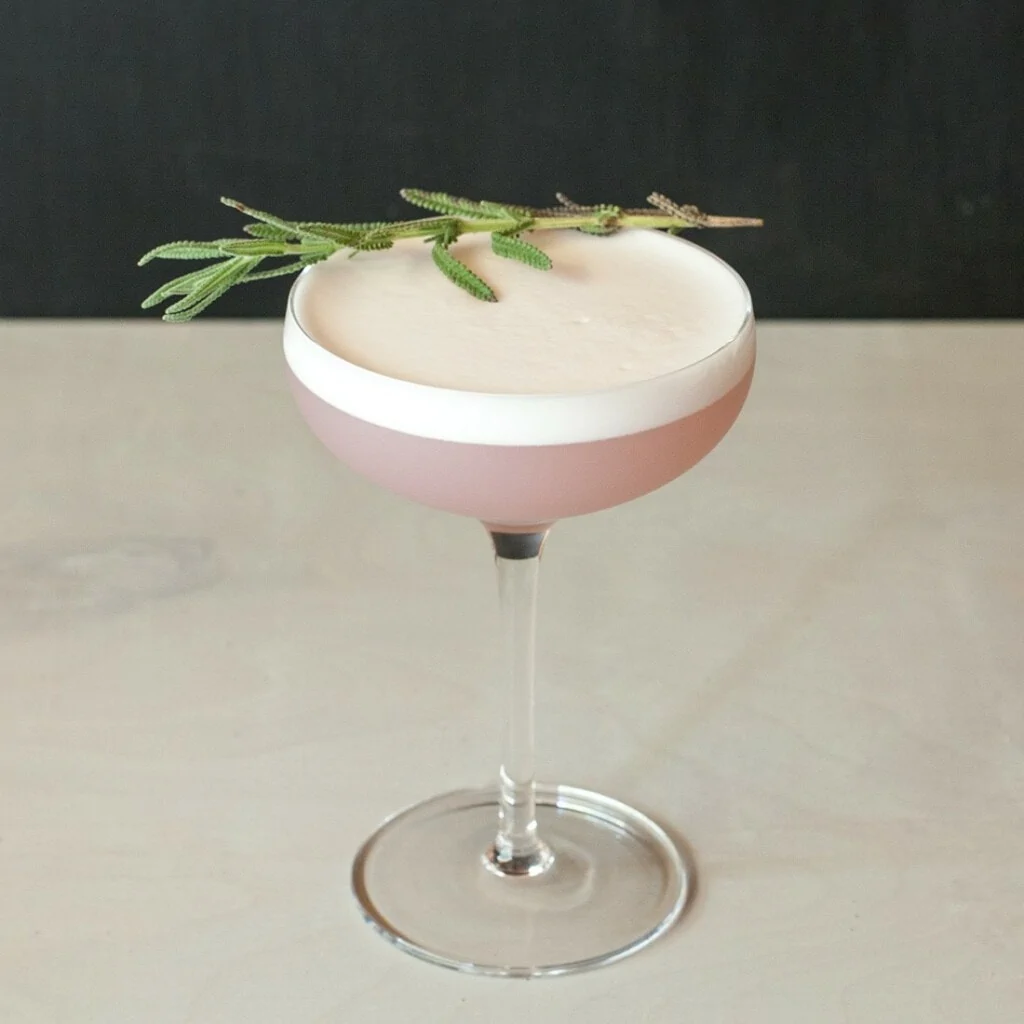 Ingredients
3 oz pisco
1 oz lavender syrup
1 oz lime juice
1 egg white
Sprig of lavender
Glass type: coupe
Preparation:
Put your pisco, lavender syrup, lime juice and egg white into your shaker with ice. Except the yolk part, leave that out.
Shake a whole lot. Pour into your coupe.
Once the drink has settled giving you that sexy top, garnish with lavender.
4. Lavender Lemon Pisco Sour by homebodyeats.com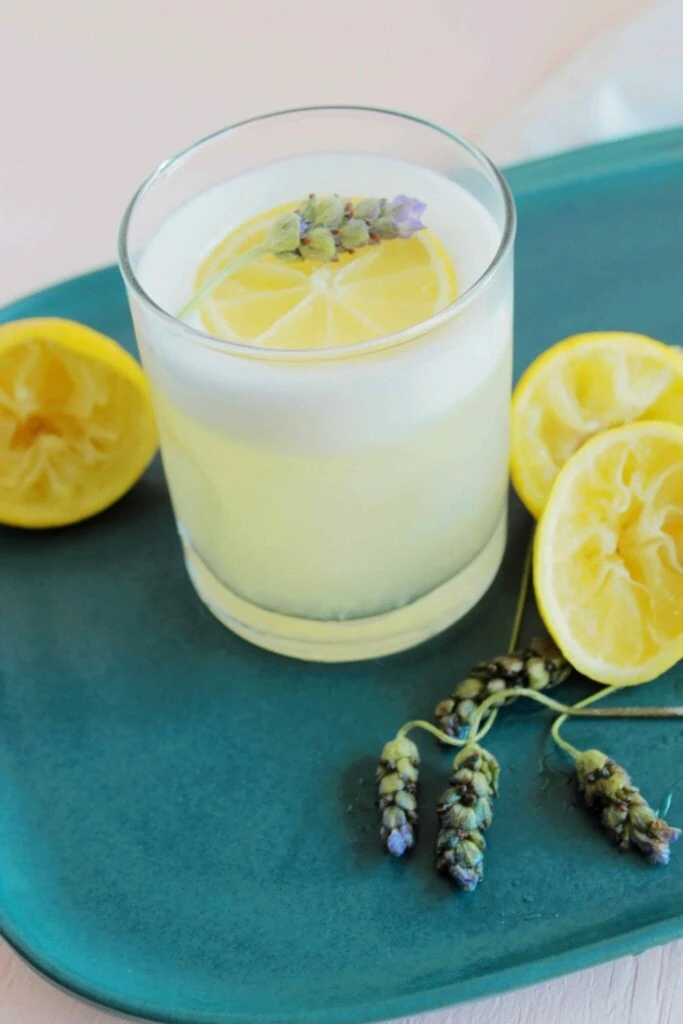 Ingredients
For the Lavender Simple Syrup
1 cup water
2 cups granulated sugar
3 tablespoons lavender flowers (fresh or dried)
For the Pisco Sour
4 ounces pisco
2 ounces lemon juice freshly squeezed
1 ounce lavender simple syrup
2 egg whites
thin lemon slices for garnish
lavender flowers for garnish
Preparation
For the Lavender Simple Syrup
In a small saucepan, bring 1 cup of water to a low boil.
Add in sugar 1 cup at a time, and stir until completely dissolved in the water.
Remove from heat, and add in lavender flowers.
Allow to steep for 40 minutes – 1 hour, until the flavor is to your liking.
Once completely cool, transfer to a sterilized storage container or bottle.
Place a label of today's date on the bottom of the bottle. Store in the refrigerator up to one month.
For the Pisco Sour
To a cocktail shaker, add in pisco, lemon juice, simple syrup, and egg whites.
Dry shake (without ice) vigorously for 30-45 seconds.
Add in a handful of ice, and shake again until well-chilled.
Using a hawthorne strainer, pour drink into serving glasses.
Gently garnish the egg white top with a thin slice of lemon and a fresh lavender flower.
5. Pisco Sour con Ruibarbo y Miel por Denisse @lepetiteats.com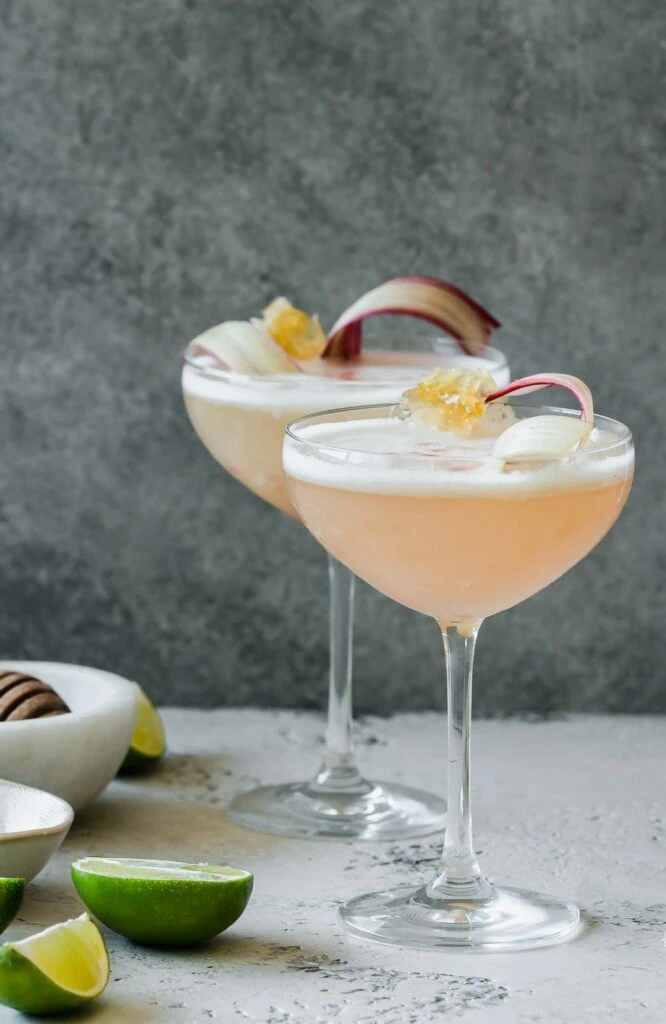 Ingredients
For the rhubarb honey simple syrup:
2 stalks rhubarb chopped
1/4 cup honey
1/4 cup water
For the pisco sour:
3 ounces pisco
1 ounce rhubarb honey simple syrup
1 ounce lime juice
1 egg white
2-3 dashes bitters
1 piece honeycomb for garnish (optional)
1 strip rhubarb thinly sliced, for garnish (optional)
Preparation:
In a small saucepan, combine rhubarb, honey and water and bring to a simmer over medium heat.
Cook for about 5-6 minutes or until rhubarb is soft.
Remove from heat and cool completely. Strain out rhubarb pieces and discard.
Mix the pisco, lime juice, simple syrup, and egg white in a cocktail shaker.
Add ice to fill and shake vigorously. Alternatively, you can use a blender if you don't have a shaker.
Enjoyin these Pisco Sour Twists? Welcome yourself to our Spirits Hunters Weekly Newsletter for more cocktails
Don't drink and drive. Enjoy responsibly.
Join the community on Reddit
Spirits Hunters is a community dedicated to spirits and the world of mixology. Feel free to talk about the world of mixology and bartending here!
Join