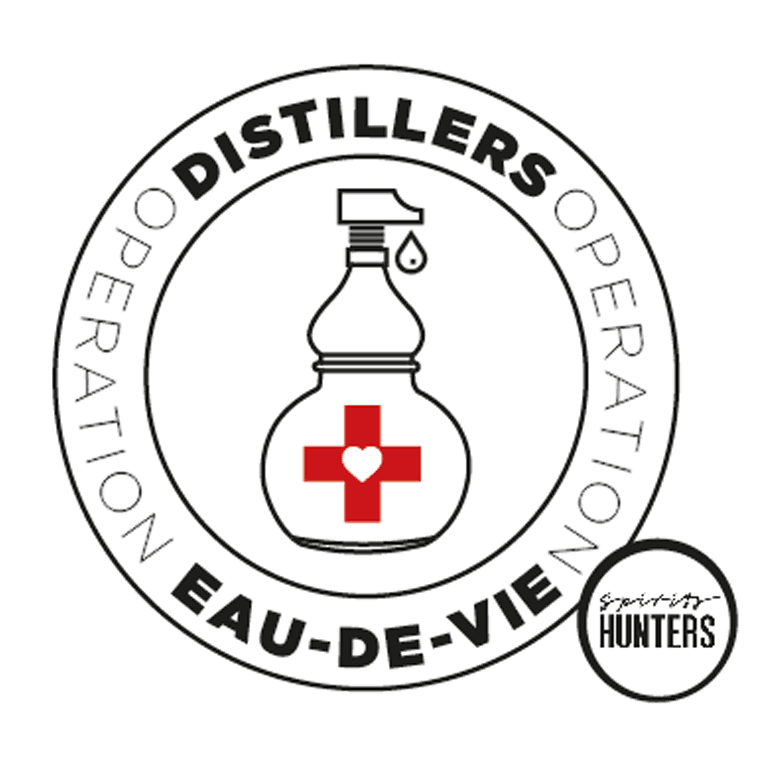 Distilleries and spirit groups in the fight against Covid 19
Follow the news of distilleries and spirit groups in the fight against Covid-19. Here are some names of who donate alcohol or ethanol to produce hand sanitizing gel, among other news.
And thanks to all those we have not listed yet.
*Don't refuse the use of an online translation tool such as Google Translate or Deepl, in order to read the information featured below in French or Spanish.
Spread the news
Ethanol from distillers can save lives! Forward this information to whoever is a distiller or has ethanol. Hospital and people are missing disinfectant, and the most important gesture right now is to keep clean hands and not touch our face.
All over the world, if you are a producer of spirits,know that you can save lives by giving or selling your ethanol!
Contact your nearest hospital or call the government sanitary offices of your country, they will guide you to do this.
Please be careful to whom you give your ethanol to. People are taking advantage of the situation by selling very high price hand sanitizer and disinfectant.
Ethanol is a virucide in a 65-80% ethanol hydroalcoholic solution. 1 litre of pure ethanol is equivalent to 500 hand washes. The objective is to inform about local initiatives such as large mobilizations. Modes of mobilization: ethanol production, sanitizer solutions for cutaneous and surface use, partnerships, etc.
Canada
Canadian Distilleries produce disinfectants to meet shortages. Visit DistilleriesCanada.com
Source: https://www.linkedin.com/posts/distilleriescanada_stopcovid19-covidabr19-chaqueachatlocalcompte-activity-6649011602882383872-_Jun/
In Canada, the SAQ announces that one of our employees at the branch located at 10418 Lajeunesse Street in Montreal received a confirmed diagnosis of Covid-19 today.
Source: https://www.linkedin.com/posts/saq_covid-19-un-cas-parmi-les-employés-de-la-activity-6652297815743582208-pnJd/
The Caribbean
Angostura Holdings is committed to beating Covid-19 by manufacturing and donating hand sanitizers.
Source: https://www.linkedin.com/posts/peter-sandström-153bab9_alcohol-distilling-spirits-activity-6650211954243747840-f2PE/
Bolivia
During the month of April, Casa Real stops the production of Singani. To supply hospitals and health centres in Tarija, Bolivia. Due to the national health emergency, 40,000 bottles of medicinal alcohol will be produced.
Source: https://eldeber.com.bo/172474_casa-real-deja-de-producir-singani-para-fabricar-alcohol-sanitizador
Portugal
Symington Family Estates, Portugal, shares on their social networks a recipe for an antiseptic solution based on 70% alcohol.
Source: https://www.instagram.com/p/B-e2iPWp5oK/
And donate 10,000 litres of antiseptic alcoholic solution (70%) to several hospitals in northern Portugal.
Source: https://www.linkedin.com/posts/symington-family-estates_estamosjuntos-activity-6651491487680995329-yYGo/
Ireland
Teeling Whiskey Distillery, announced the launch of a special edition bottling to support charities on the front line of the fight against Covid-19 in Ireland.
Source: https://www.thewhiskybusiness.com/2020/04/teeling-launches-new-bottling-in.html
The Irish whisky brand Jameson has pledged to donate US$500,000 to the United States Bartenders' Guild charity. To support retail members affected by the coronavirus.
Source: https://www.thespiritsbusiness.com/2020/03/jameson-pledges-500k-to-help-bartenders-in-us/?_lrsc=b09762d9-bd30-4a4d-b7e5-aad22104439a
Scotland
The Bruichladdich distillery together with Ailsa and Gemma have now produced a batch of the sanitiser 10 times larger to try to meet the shortage on the island of Islay, resulting in 1,000 250 ml bottles.
Source: https://www.bruichladdich.com/bruichladdich-whisky-news/the-distillery/islay-hand-sanitiser/
The Arbikie Highland Estate distillery based near Lunan Bay, on the Angus coast, is the latest company to supply a hand sanitizer gel to NHS frontline staff.
Source: https://www.hw.ac.uk/news/articles/2020/distillery-helps-nhs-staff-on-covid-19.htm
United States
Pernod Ricard USA, the leader in premium wines and spirits, has responded to the Trump administration's call for action by announcing that it will produce and donate hand sanitizer gel to help in the nationwide fight against the Covid-19 virus.
Source: https://www.prnewswire.com/news-releases/pernod-ricard-usa-produces-hand-sanitizer-to-help-us-combat-covid-19-virus-301026216.html?_lrsc=dbf0a13f-9cd9-4021-8202-7f1fdf56f904
Campari America announced a $1 million donation to Another Round, Another Rally, a nonprofit organization that raises emergency funds for hotel workers to support bartenders facing economic hardship due to the Covid-19 emergency.
Source: https://www.bevnet.com/spirits/2020/campari-america-donates-1-million-to-another-round-another-rally
The McAllen Restaurant in Salome sur Main will host the Rio Grande Distillery and the Magic Valley Moonshine in Los Fresnos . The Lower Valley Distillery has recently begun using its resources to help prepare batches of hand sanitizer, which will be available in the restaurant's parking lot.
Source: https://www.themonitor.com/2020/04/03/local-distillery-restaurant-team-distribute-hand-sanitizer/
The distillers join forces in a massive effort: 1.3 million bottles of gel for frontline workers in Philadelphia.
Source: https://billypenn.com/2020/04/05/distillers-join-forces-on-massive-effort-1-3m-bottles-of-sanitizer-for-frontline-workers-in-pa/
India
Beam Suntory India has partnered with the National Restaurant Association of India (NRAI), the country's largest restaurant organization, to pledge ~$150,000 in support that will be used to assist thousands of member restaurant employees and their families during this time of closure.
Source: https://www.beamsuntory.com/en/Beam-Suntory-India-Stands-Up-for-the-Indian-Food-and-Beverage-Community
Puerto Rico
The Bacardi plant in Puerto Rico has modified its production lines to pump the ethanol needed to make hand sanitizers.
Source: https://www.miamiherald.com/news/nation-world/world/americas/article241460771.html
Colombia
In Colombia, thanks to the contribution of Industria Real, Nutresol and Ron Dictador, more than 2,500 litres of glycerol alcohol, essential for hand hygiene, will be delivered.
Source: https://www.eluniversal.com.co/opinion/columna/coronavirus-la-crisis-del-siglo-HN2609999
Cayman Islands
The makers of Seven Fathoms Rum have decided to offer this disinfectant free of charge to all front-line health care workers, emergency services personnel and police.
Source: https://www.caymancompass.com/2020/03/19/cayman-spirits-producing-all-purpose-sanitiser/
Don't drink and drive. Enjoy responsibly.
Join the community on Reddit
Spirits Hunters is a community dedicated to spirits and the world of mixology. Feel free to talk about the world of mixology and bartending here!
Join