Interview with Emmanuel Joannis, a proud and meticulous collector of whisky bottles
Illustration: polpo-agency.com
We met Emmanuel Joannis, a whisky enthusiast: "Today I have a little more than 270 references and probably tasted around 450 different distillates".
When do we start collecting bottles? How and why do we attach such importance to these objects? The passion for collecting bottles and the satisfaction of creating a glass wall containing precious liquids from all eras and origins is something that Emmanuel Joannis, a passionate collector of bottles of various alcohols but mainly whisky (but also gin and rum) is proud of and tells us about with conviction in our interview. Emmanuel advocates above all curiosity, perseverance and passion in order to develop a link with this world that never ceases to impress us.
Spirits Hunters: Tell us a little about yourself…
Emmanuel JOANNIS: My name is Emmanuel, I am 38 years old. I live in Haute-Savoie and I am a receptionist in a hotel.
SH: How does one become a collector ?
EJ: I think it's with time and with the passing of knowledge and experience on the subject. You also need a certain character: to be curious, persevering and passionate. It is with a certain pleasure that I started to hunt. Each time it is an adventure: to find THE bottle, to buy it (so that the budget fits my desires) and to appreciate it (with time, aeration can make the distillate evolve). But all my bottles are open or are destined for it. It is more a database of tastes rather than a speculative storage. And what a luxury to appreciate or share when you have a choice!
SH: How did you start ?
EJ: I've tasted a few whiskies on various mundane occasions, with my family, in the evening: my father is fond of it, he probably put a foot in my mouth. But it's really only after 2015 that I really got interested in it.
It all started when a friend who was going to live in another country moved and gave up a few bottles and a promotional catalog from a well known hypermarket to find myself with a small sample. I then began the education of my palate. And I can confess to you: it is with astonishment that I can smile pleasantly when I think back on certain versions for which I used to grimace and which now leaves me stunned… (all things considered, of course. You don't grimace with whisky!).
During 2016, I took part in a small tasting fair (30/40 exhibitors) where I was able to broaden my horizons of supply, deepen my knowledge of distilleries and discover new ones. But above all, I had the opportunity to exchange with professionals. This is now my little annual session.
I also met a local wine merchant who regularly organizes "Mets et Whiskies" tasting evenings. This has allowed me, among other things, to discover the world of peated whiskies!
My next step will be to go and visit the distilleries and share all my discoveries on the web. There are not enough French-speaking blogs or YouTube channels I find, at least not as many as in English or German. And of course to do other fairs, including the Whisky Live!
SH : How do you store your bottles ?
EJ: By origin (country, region, distillery) and type (peaty or not). They are arranged in a closed high cabinet and on shelves, in their box out of direct sunlight or sheltered from the light. It was difficult to find a versatile format for all bottle sizes. (Thanks to the Swedish furniture!) And I must admit that I will have to enlarge… It is always a bit surprising when you see this "wall" in my little house.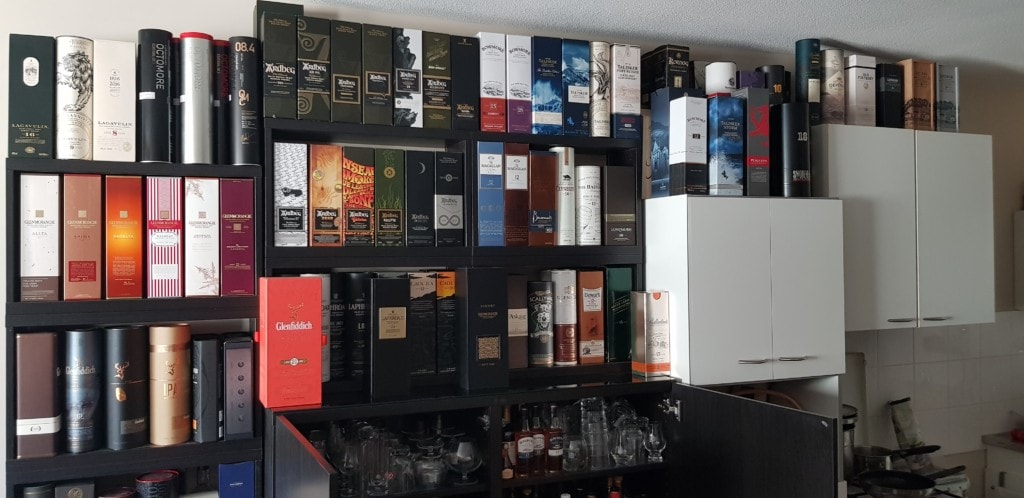 SH : How and when do you taste your spirits?
EJ: That's an interesting question. Because contrary to what one might think, I don't drink it every day. I think there's a Moment for that (with a big "M"). And it all depends on what you choose, because some require more tasting time than others. A whisky is tamed, more or less quickly, between opening and airing, and according to the seasons. There is also the fact of accompanying its dishes with a whisky and there are many combinations and pleasures! In the end, the best tasting is the one that is shared, around a table or at the back of a club armchair. It's crazy how social whisky is.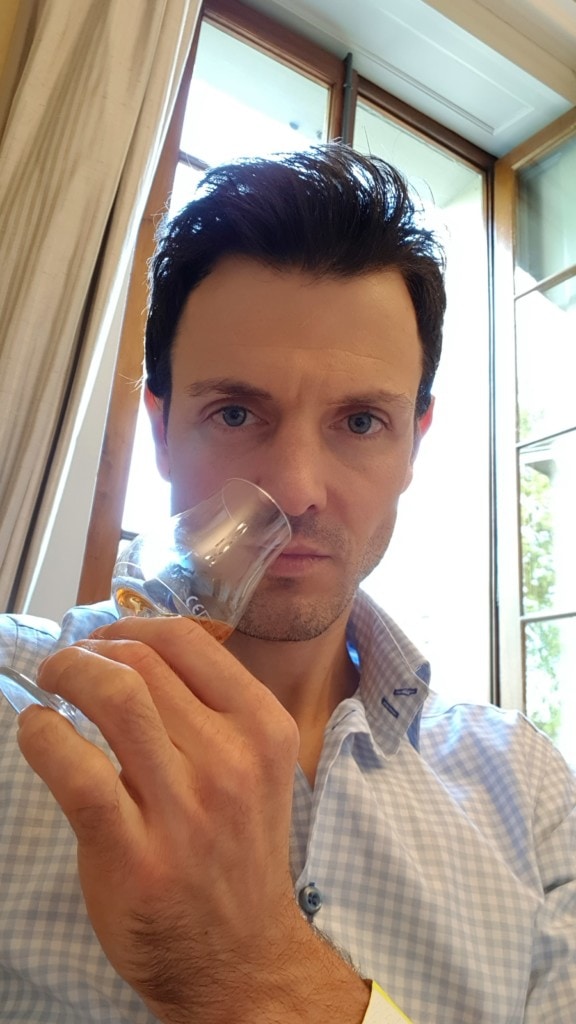 SH : What is your mother's favorite whisky ?
EJ: I'm sorry. In spite of my infatuation and my pedagogy, my mother doesn't really have a thing for this spirit. She would rather be a customer for a cocktail, like a Japanese Highball based on Miyagikyo for example. It is rather my father who shares this attraction with me. He likes Cardhu and Talisker.
SH: Which cocktail do you recommend ?
EJ: If you want my preferences, I would be Speyside Old fashioned and Peat Collins. But I'm still a neophyte about mixology. If I were to recommend a cocktail, I would tend to divert the classics for bold variations (use peated, scotch rather than Bourbon, work with ryes and single grain…).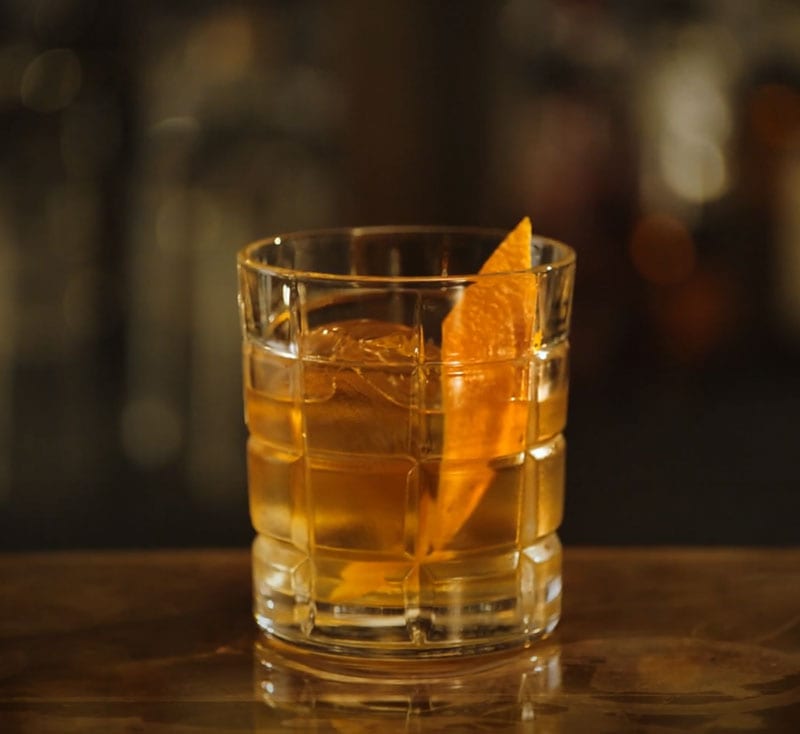 Speyside Old Fashioned (Image: The Glenlivet)
SH: How do you see your collection of tomorrow? What will it look like?
EJ: I am reorganizing my selections to focus more on my real preferences rather than completing families. In the beginning, I bought in bulk to create a base. If a newcomer is as passionate as I am, I will advise him/her first on tastings, lounge and samples rather than buying a 70cl bottle at the outset. Because today, I would redirect a good third to the bars of friends and family. Today I have a little more than 270 references and probably tasted around 450 different distillates, you obviously can't have a bottle of every one…
In the future, I would like to strengthen my favorite distilleries (Ardbeg and many of Islay, Talisker, Ledaig, Highland Park, Glenmorangie, but also Kornog and G.Rozelieures…) and focus on those "golden nuggets". The kind of bottling with a history, an originality, a markdown from the field of mass distribution. The piece itself will be the full representation of the admiration I have for these distillers: craftsmen with a know-how as vast as their origins, terroirs and climatic conditions. There is still work to be done, but what a pleasure.
Long live the uisge beatha!*
*Translator's note: whisky in Irish.
Don't drink and drive. Enjoy responsibly.
Join the community on Reddit
Spirits Hunters is a community dedicated to spirits and the world of mixology. Feel free to talk about the world of mixology and bartending here!
Join