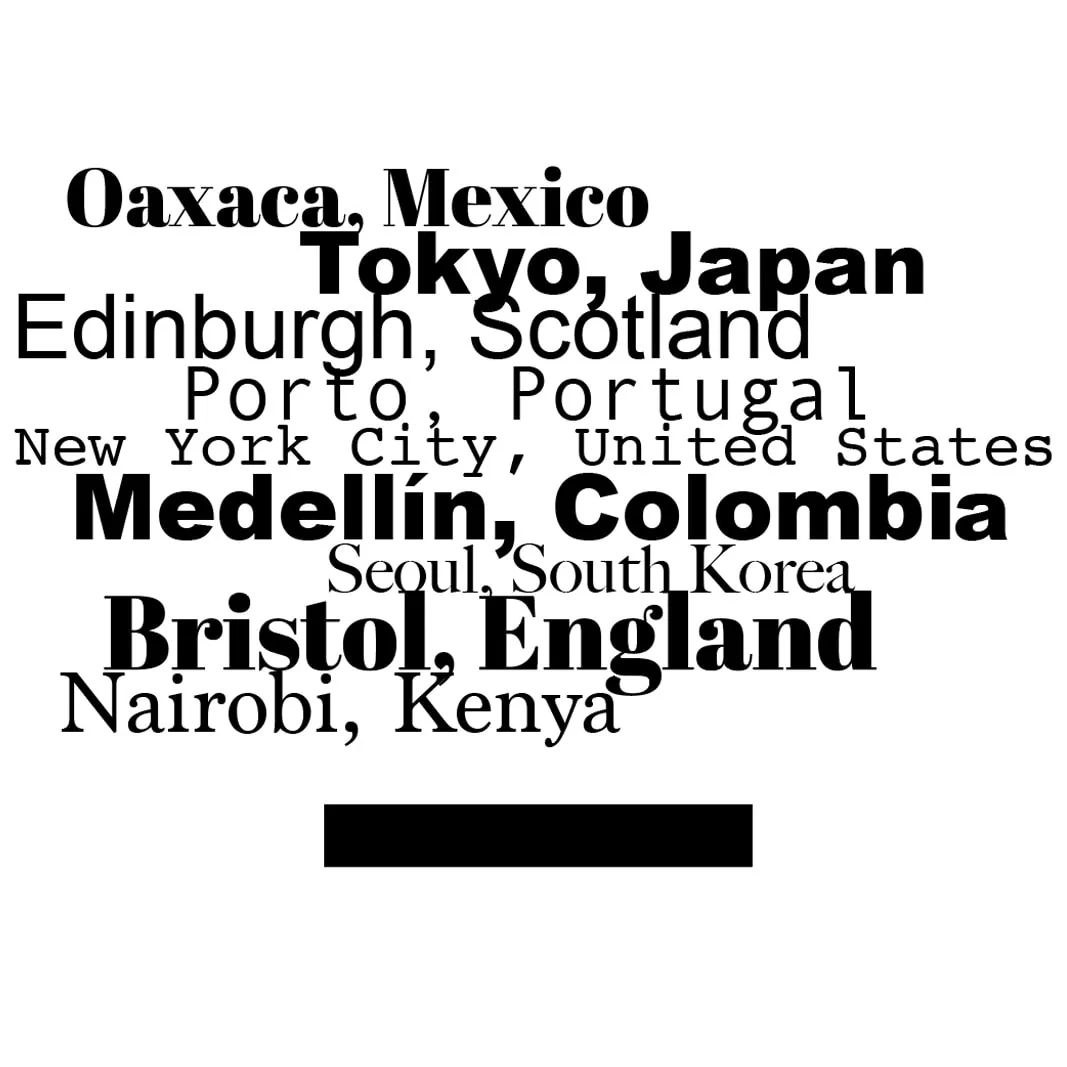 14 best cities to drink in the world this 2023
Find here 14 of the best cities to drink in the world, going through each and every continent, you might find what suits you!
From cocktail bars to spots to drinking local spirits, there are plenty of good places to drink around the world. Check out the shortlist below.
The best cities to drink in the world can be found in each continent, so according you where you live or if you're visiting, find the best spot for you.
Best cities to drink – the Top 10
1. Oaxaca, Mexico
If mezcal is your thing, Oaxaca has to be your destination of choice, as the opportunities to visit growers and distillers will only increase your appreciation for this liquor, especially when you see firsthand the incredibly labor-intensive techniques required to make it (by Discover Silversea). Simply put, after visiting Oaxaca, you'll never look at the spirit the same way again.
2. Tokyo, Japan
Perhaps the most unique places to drink are the izakaya bars which, according to Japan-Guide, are relaxed restaurants where small plates are served accompanied by alcohol, mostly sake. They are a must-visit for those who want to learn about Japan's drinking culture while sampling some of the country's best-known dishes.
For those looking for a more intellectual experience, Tokyo also offers several highly praised cocktail bars, many of which are regularly listed among the 50 Best Bars in Asia, according to TimeOut. Notable among them is Benfiddich, a cocktail bar that uses botanical and other homegrown ingredients (via The World's 50 Best Bars).
Finally, even teetotalers can enjoy Tokyo, as Japan's rich tea culture offers many unique non-alcoholic experiences. Condé Nast Traveler notes that tea-drinking ceremonies provide an oasis of calm while exposing you to a version of the beverage immeasurably superior to your usual brew.
3. Edinburgh, Scotland
In this city you can find some of the best whiskey bars in the country, such as Usquabae Whisky Bar & Larder, which houses more than 400 different bottles. Additionally, Edinburgh has an abundance of local beers to try, thanks to a variety of breweries based in the city, such as Innis & Gunn, Moonwake Beer Co. and Barney's Beer.
For the ultimate drinking experience, visit Edinburgh during the annual Hogmanay celebration, a riotous party when nearly every pub, bar and nightclub is packed to the rafters. There's even a street party (via Visit Scotland).
To get this famous night off to a good start, we recommend visiting some of Edinburgh's best cocktail bars. These include the world-famous and well-hidden Bramble Bar and Lounge (according to The Scotsman) and Hey Palu, an Italian-Italian bar (via The Scotsman).
4. Porto, Portugal
When visiting Porto, this joy is exacerbated by the fact that the local specialty is a fortified wine, suitable for almost any occasion. As Wine Folly reports, Port wine can be divided into four categories: white, rosé, tawny, and ruby. Each has different tasting notes, but the underlying experience is sweet and fruity.
5. New York City, United States
Justin Elliott, director of on-trade, notes to Thrillist, "New York has always been and always will be the best city in the world for drinking, and not just as part of a kind of contemporary pilgrimage inspired by the cocktail renaissance, but because each and every neighborhood in New York still deeply appreciate 'local' in a way that almost every other city has either abandoned or never learned to love."
6. Medellín, Colombia
If it's partying you're looking for, you can't do better than visiting Medellin.
According to Time Out, 90% of Medellinenses who participated in a nightlife survey agreed that their city has an incredible atmosphere for drinking and partying, and you can be sure that all kinds of music will be the soundtrack to your drinking experience here.
As Mixmag reports, Medellín's underground music scene thrives thanks to pioneering DJs like Julianna. So, if you visit Medellín, find a live music venue and grab a drink from the bar.
What you drink at these fantastic events is essentially a matter of choice. However, for a pick-me-up, we recommend Colombia's national drink, guaro, also known as aguardiente.
7. Seoul, South Korea
According to Vice, drinking is an integral part of Seoul's culture, to the point that it can be drunk 24 hours a day. While the overall beer and wine offerings are commonplace in Seoul's many clubs, pubs, and bars, its real appeal lies in its immense variety of unique traditional alcoholic beverages.
According to Time Out, bars such as De Chou serve some must-have South Korean spirits, such as soju, a vodka-like flavored liquor (via Town and Country Magazine), and Moonbaeju, a distilled liquor traditionally served to royalty, according to The Korean Herald. Other rarer finds include Gyeongju Gyodong Beopju and Hansan Sogokju, while a visit is not complete without sampling the famous makgeolli (via Visit Korea).
As with any capital city, there are a number of more international destinations to visit, such as the acclaimed Charles H, one of the best bars in the entire continent (via Asia's Fifty Best Bars). However, our advice would be to skip the fancier establishments and immerse yourself in Seoul's raucous nightlife in the Hongdae, Gangnam, and Itaewon districts, according to Korea Travel Post.
8. Melbourne, Australia
8. Drinking in Melbourne doesn't mean limiting yourself to just the pub. In fact, since the days of Melbourne's gold rush, the city's drinking culture has extended far beyond the pub.
As The Sydney Morning Herald points out, pioneering establishments like Jimmy Watson's Wine Bar – which can still be visited today – changed the way the whole city and all of Australia drank. Above all, they popularized Australian wine.
9. Bristol, England
To enjoy a drink in Bristol, just pop into a bar or event, place your order and enjoy listening to world-class music with plenty of bass.
For those looking for a quieter drink, Bristol is also home to a variety of pubs, many with a unique twist. For example, Horts is known for housing a small cinema, while Kongs boasts a huge selection of arcade games from the 1980s (according to Bristol Live).
At the other end of the spectrum is the mega-club Motion, considered by many to be one of the best underground clubs in the world (via Mixmag). In Bristol there are nights for all tastes.
10. Nairobi, Kenya
For those who enjoy a more energetic experience, full of dancing and good tunes, Nairobi is a top choice. The first thing that attracts many people to Nairobi is the music, as documentary filmmaker Mia Zur-Szpiro points out: "The music was the first thing that caught my attention and showed me what Nairobi was really about and that the city and its people are so much more than our narrow-minded, spoon-fed Western concept of them. The diversity, sound, experimentation and energy I heard in the music completely absorbed and intrigued me" (via Fact Magazine).
Other of the best cities to drink in the world
11. San Juan, Puerto Rico
Regardless of what drink you order at San Juan, excellent quality is guaranteed. As Brad Dean, general manager of Discover Puerto Rico, explains, that's because making and serving world-class drinks is simply the Puerto Rican way of doing things.
An ever-popular bar recommendation is Barrachina, where the original piña colada was supposedly created (via Discover Puerto Rico). If you don't feel like sipping a piña colada in the hot sun, we suggest one of the best bars on the planet, La Factoría. Currently ranked twelfth in the World's Fifty Best Bars, La Factoria offers a variety of venues, each with a particular focus, ensuring there's a seat and a drink for everyone's taste.
12. New Orleans, United States
Unlike other places in the United States, New Orleans allows drinking on the street, as long as it's in a plastic cup. This creates the odd juxtaposition of patrons buying expensive cocktails at bars like Jewel of the South (via 50 Best Discovery) before decanting them into cheap glasses and hitting the streets.
While it may seem confusing at first, the reason for this decanting craze soon becomes clear. The streets of New Orleans are incredibly fun. Often the streets can feel like one big party, and for most drinkers, a party of New Orleans' caliber is a welcome sight.
13. Hong Kong, Hong Kong
If you want to take your pick of top-notch bars, Hong Kong is the one of the best cities to drink in the Asian country. According to Time Out, two bars in the city are on the 2022 World's Fifty Best list.
The most prominent is COA, a cocktail bar specializing in mezcal, according to Time Out. While the average person wouldn't expect a bar specializing in agave-based drinks to be located in Hong Kong, COA has found immense popularity, as co-owner Jay Khan explains.
"I'm surprised to see how many local customers like mezcal, which is helped by the fact that most relate it to a spiced whiskey," says Khan. "The COA team spends as much time as necessary sharing their knowledge of agave spirits with customers who show interest. No matter how busy we are, we take our time with each guest so they can enjoy the spirit to the fullest" (via Drink).
14. San Sebastián (Donostía), Spain
San Sebastian is one of the most picturesque cities in Europe, flanked by beaches and filled with beautiful architecture. Despite these obvious attractions, San Sebastian is also on many travelers' wish lists for its prominence in the world of food and drink, as the small city boasts an impressive concentration of Michelin stars, according to Donostia San Sebastian Tourism.
As for drinks, txakoli, a lightly sparkling and immensely refreshing white wine, is a real treat (according to Decanter). This wine can be ordered both in Michelin-starred restaurants and in the numerous pintxo bars that fill the Parte Vieja. Here, casual cañas can also be drunk by the dozen and a genial atmosphere pervades, thanks to the chatter bouncing through the narrow streets.
The casual style of the pintxos is well suited to the pleasant weather during the summer months. So while San Sebastian may not be the most exclusive drinking destination on this list, it is certainly the most relaxing.
Enjoying our shortlist of Best Cities to Drink?
Don't drink and drive. Enjoy responsibly.
Join the community on Reddit
Spirits Hunters is a community dedicated to spirits and the world of mixology. Feel free to talk about the world of mixology and bartending here!
Join