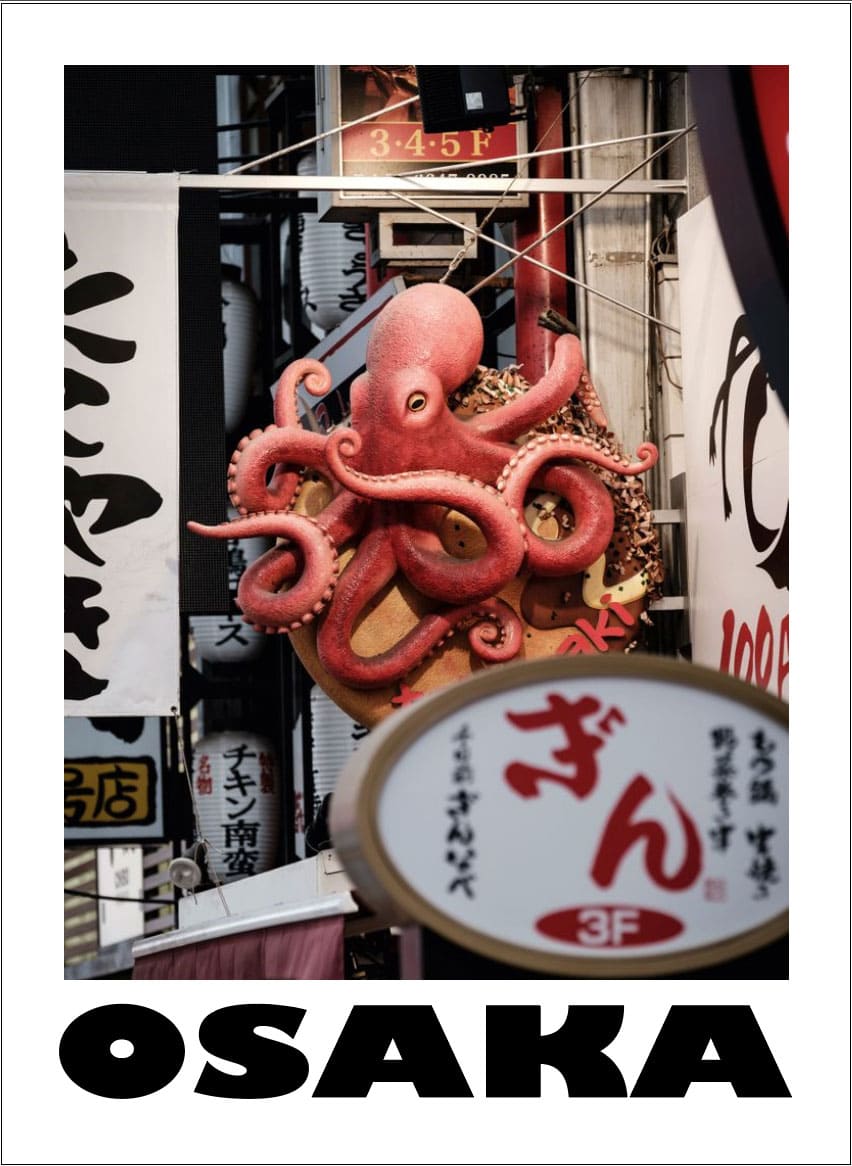 Osaka, the Japanese city for beer lovers
Photos by Ben Weller
We discovered through the National Geographic article the importance of beer in Osaka and a culinary guide.
Sake no Ana / Ravitaillement
Chris Tharp tells of his beer journey in Osaka City. Between culture and gastronomy, the author reflects realities of the city, but how beer is an important drink in this area of Japan. Starting at the bar Sake no Hana, with a good jar of Asahi, paired with kushikatsu, some fried meat skewers very famous in Osaka. The pair of Asahi beer jars were joined by a plate of sausages, quail eggs, beef and pork. Tharp says that the Asahi-kushikatsu combination complements each other perfectly between the crunchiness of the skewers and the crisp of the lager.
Continue the tour with a stop at Ravitaillement, sampling a Nishinari Riot Ale. This bar, unlike the previous one, focuses entirely on beer. The small bar serves beers from the neighboring microbrewery Derailleur Brew Works. It employs former addicts and people with disabilities. This brewery is a key part of the booming beer scene in Osaka. Ravitaillement has avoided the more modern parts of the city to settle in one of the most neglected areas of the city, the Nishinari district. On the way back to gastronomic discoveries, Tharp stops at a cart that sells okonomiyaki, the typical pancakes of the city prepared with pork and cabbage.
Next stop: Tachinomiya
Tachinomiya is one of the most ubiquitous, small and perhaps unpleasant "standing" bars in town. One of its guides, Motomaro, explains that there are many places to eat and drink for a small fee. In fact, this has a relationship with Osaka's unofficial slogan: Kuidaore, which means "eat until you drop". "The inhabitants of Osaka could go bankrupt because of their drinking and eating habits, so we know how to do it cheaply", says Motomaro. Here, a sparkling glass of Kirin lager was enjoyed.
All the food seems to fit in with beer
Tharp follows his culinary discovery accompanied by Richard Farmer, gastronomic and cultural guide for Inside Japan Tours. "Almost every restaurant or bar serves potato salad, so I always order it. If it's good, you know the rest of the menu will be too". Between potato salad tasting at Houjenzi Sampei, yakisoba (fried noodles) and tonpeiyaki (pork belly wrapped in egg) and the famous okonomiyaki join the gastronomic experience. Tharpe tastes a cold Asahi beer to pair with the tasting. "There is one quality that unites much of Osaka's food: everything seems tailor-made to go with the beer," says Tharp.
Ura-Namba: the nightlife district
Tasting at the Sake Sai Bar, and more beers at the Ajito Stand, a tachinomiya bar popular with young women and very famous for its fried spaghetti side dish, the ultimate in comfort food to pair with drinks.
Direction Peking, in Shin-Umeda Shokudogai, an area populated with small restaurants and drinking places. A tasting of raisins and butter spread on crackers. "It's surprisingly good, made better by the frosty mug of beer in my hand," says Tharp.
Towards Tenma District
In the Tenma district, Tharp introduces us to the Beer Belly bar. A craft beer bar belonging to the award-winning Osaka Minoh Brewery. Here the selection of the night is the W-IPA, a strong beer with an ABV of 9%, so to avoid the hard hit, a plate of prosciutto and a potato salad will do the job.
Asahiya / Koji: a very reputable place and character
Asahiya is located in the neighborhood of Asahi. It is a reputable place. "Originally this place was my family's soy sauce brewery," says Koji Inokuma, the owner of Asahiya. "In 1950 my father got a license and turned it into a liquor store. Now we specialize in craft beer."
Koji was recommended to Tharp by followers of the Osaka beer scene. His store offers hundreds of bottles from all over the world. Two huge fridges contain even more items to offer. "I'm 70 years old and I love beer – too much," Koji tells Tharp with a smile patting his belly.
The tasting led by Koji consisted of a bottle of Minoh Pilsner and a bottle of Minoh Pale Ale.
KANPAI!
For more tips and to organize your visit to Osaka, read Chris Tharp's original article. Craft beer and kushikatsu: a culinary guide to Osaka, Japan's party city
Don't drink and drive. Enjoy responsibly.
Join the community on Reddit
Spirits Hunters is a community dedicated to spirits and the world of mixology. Feel free to talk about the world of mixology and bartending here!
Join