Trends that are coming in and back in 2023
Photo by Pylyp Sukhenko on Unsplash
What are the top cocktail trends now and in the upcoming future? We've gathered trends that are going strong in mixology.
From Fat-washing to sustainability, many trends are going strong in mixology this year and in the upcoming 2023. Instagram is a perfect display of the top cocktail trends that brands, bars, and bartenders are utilizing in their drinks prep.
Check out the top cocktail trends below
Fat-washing
A resource used by mixologists to create, great cocktails with fat-washing brings a serious depth of flavor. Once you have achieved the desired deepness, chill the alcohol to solidify the fat. This way you can scrap it off the top and leave a flavor-infused alcohol base for your next cocktail.
Popular in restaurants and bars by bartenders, it is done with all kinds of fat: Oil, butter, cheese, bacon, olives, and even peanut butter.
Check out here how fat-washing is done.
Coffee
When we think of coffee cocktails the first thing that comes to mind is a classic Irish Coffee or an Espresso Martini, right? Basically, we think of mixing vodka or whisky with coffee. Well, to the surprise of many there is a variety of cocktails with coffee and it is marking the top cocktail trends.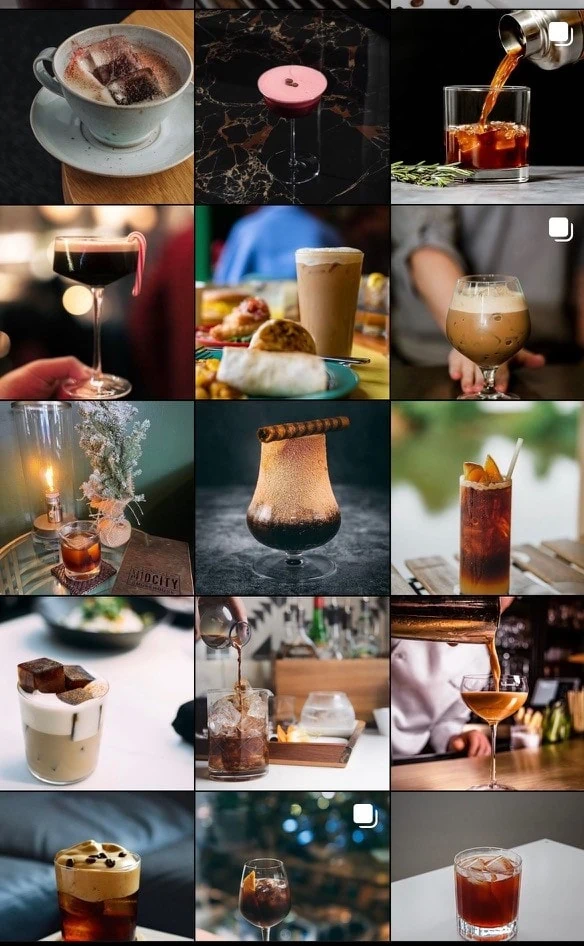 Such as the following cocktail recipes:
Coffe infused añejo tequila / Chocolate liquor / Sherry / Aquafaba / Mole Bitters / Vanilla saline
Vodka / Grind Espresso Shot liqueur / fresh brewed expresso / sugar
Negroni Twist with Coffee
Bitter / Gin / Red Sweet Vermouth / Slow drip coffee / Garnish with orange peel
Foam
Achieving perfection when creating cocktails with foam has a bit of a way to go…
How-to foams:
Air Foam
Bubbles
Cream Whipper Foam
Beer Foam
Egg-white foam
Aquafaba (chickpea water)
Pre-made foamers or foam agents
Whipping siphon
​Many bartenders have used the soda water technique to perfect their frothy cocktails. Experts like Miguel Lancha, cocktail director at José Andrés' gastronomic restaurant minibar, prefer a more scientific and precise approach to recipes and techniques and were initially skeptical of soda water.
"Just on paper and in theory, I didn't see how it could benefit," Lancha says, citing both dilution and the possible inability of egg whites to withstand the carbon dioxide in soda water as concerns.
Other bartenders create their sour cocktails with a blender, rather than manual shaking, a common technique deployed in high-volume bars and restaurants throughout Peru such as at Cantina & Pisco Bar to create their version of the traditional Pisco Sour: the Pisco Sour Brûlée. "The version of our traditional Pisco Sour with this technique turned out to be a total success," said Diego Muñoz.
Stay tuned for foam cocktails on the top cocktail trends this next year.
Pre-made cocktails
Pre-made cocktails are part of the RTD or ready-to-drink category, which is having total success in recent years, even more, accentuated by the pandemic.
There are some quality references that you can find, not only official brands but also bartenders and bars have their own pre-made cocktails and ready-to-drink batches.
Since this category has created high-quality cocktails, pre-made are also a great way for bars to have great premium cocktails ready-to-drink.
CBD
In mixology, CBD cocktails bring a new dimension, especially in relaxation. Preparing cocktails with CBD is shown as an alternative way to consume alcohol, although it is important to know that cocktails can also be made without alcohol.
Tea
Spirits, bitters, and many other elements give cocktails their special taste. We also discover that tea is an ingredient that deserves its place in mixology.
Tea pairings :
Black Tea + Rum
Green Tea + Whisky
Mint Tea + Rum or Bourbon
Chamomile Tea + Gin or Vodka
Chai Tea + Rye Whiskey or Irish Cream
Earl Grey + Bourbon
No & Low-ABV Drinks
A fast-evolving trend, then no, and low-abv drinks have become popular even outside of Dry January for mindful consumption as consumers are looking for better alternatives to alcohol.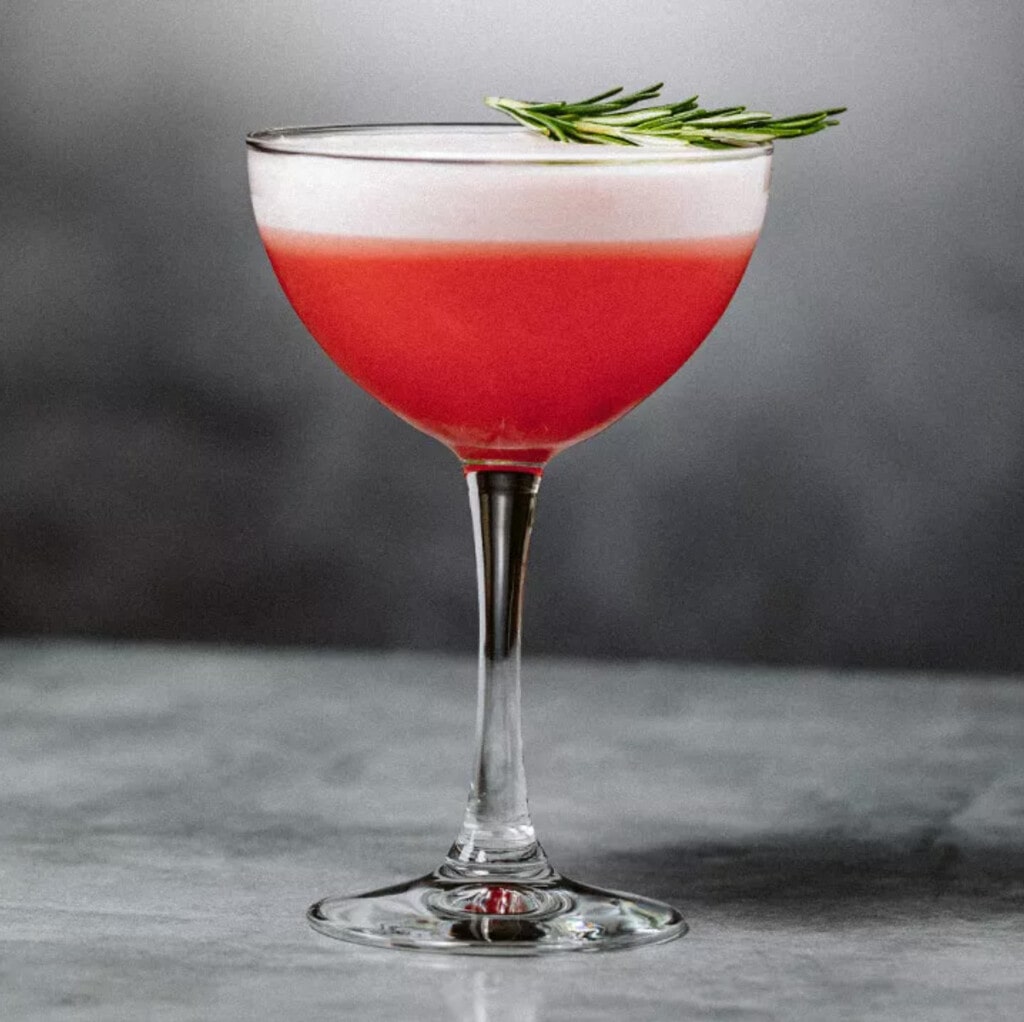 Photo: Winter Sour – Liquor.com / Tim Nusog
Check out the Winter Sour (courtesy of liquor.com)
Ingredients
Leaves from 1 small rosemary sprig
1 1/2 ounces clover honey syrup*
1 ounce Campari
1 1/2 ounces Meyer lemon juice, freshly squeezed
1 ounce egg white
Garnish: rosemary sprig
Preparation:
Add the rosemary leaves and honey syrup into a shaker and muddle gently.
Add the Campari, Meyer lemon juice and egg white and vigorously dry-shake (without ice) for 15 seconds.
Add ice and shake again until well-chilled.
Double-strain into a cocktail glass.
Garnish with a small rosemary sprig.
*Clover honey syrup: Add 1/2 cup clover honey and 1/2 cup water into a small saucepan over medium heat. Stir until the honey is dissolved and the mixture is smooth. Allow to cool then transfer to an airtight container. The syrup will keep, refrigerated, for up to 1 month.
The aperitivo culture
The art of the Italian aperitivo is carried out just like a ritual. Beyond a good cocktail, a good drink, and good food, the Italian aperitivo is all about good company and place. This daily rendez-vous is part of the Italian's life, alone or in good company before a nice dinner. Negroni, Spritz, you name it…Also one of the top cocktail trends this year at Bar Convent Berlin 2022.
Glass Art
Decorating the cocktail glass has gone further than just a simple sugar or salt rim…
Playing it Sustainable
Sustainability will always play a major part in mixology. Bars and bartenders need to opt for no-waste and for organic ingredients. Here below are two examples of it.
Glitter Em!
If you want to see your cocktails sparkle, then check out the edible glitter ingredient on the cocktail below.
Smoked Cocktails
Believe it or not, smoking cocktails are on trends!
Spirits
Agave Spirits, particularly Tequila & Mezcal, Bourbon, and an increase in premium rum as a base spirit. But the popularity of mezcal and tequila won't stop growing in 2023 after a successful 2022. We can find new tequilas going strong in France like Volcán de mi Tierra or mezcals like Mahani.
Behind the Bar 
Here are 10 topics that a few bartenders have shared on what's going to trend in 2023. (Via barandrestaurant.com)
Bartenders have their say too on what's going to trend in 2023
Aperitiki trend
Low-ABV cocktails
The Dirty Martini
Shochu is going to have its time
Delicate Asian flavors being big—szechuan and sansho pepper, pandan, green tea, etc.
Simple, low-effort cocktails—things like highballs, sours, etc.
Fewer cocktails on beverage menus next year
Biggest challenges in the on-premise next year? Staffing, Demand is only going to go up
Spirits: tequila, mezcal, bourbon, premium rum, baijiu
Explore less well-known spirits like feni, baijiu, bacanora, raicilla, singani
Enjoying the top cocktail trends? Stay tuned by welcoming yourself to our Spirits Hunters Weekly Newsletter.
Don't drink and drive. Enjoy responsibly.
Join the community on Reddit
Spirits Hunters is a community dedicated to spirits and the world of mixology. Feel free to talk about the world of mixology and bartending here!
Join