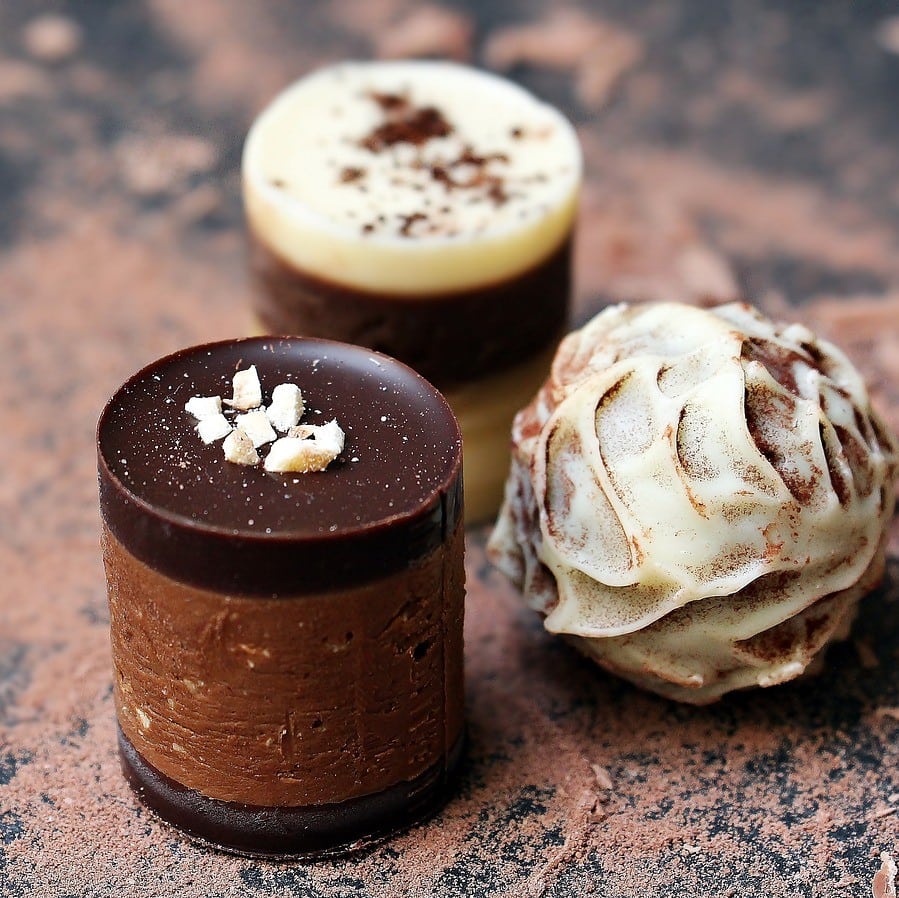 8 Ways To Add Chocolates To Your Spirits
Image by NoName_13 from Pixabay 
Love chocolates and spirits? These 8 decadent and different ways to add chocolates to spirits will make every mouthful even more delicious.
There are few flavor combinations as universally adored as chocolate and booze.
The dense cocoa creaminess of chocolate with the sharpness and bite of a high-quality spirit have been famously paired together for their complementary flavors. But today, we're going to find out how to make them one.
Eating a piece of rich, sweet chocolate alongside a cocktail or glass of wine is a classic combination. However, merging the two into one is where things get really interesting.
Fortunately, there are many ways to combine chocolate with spirits to produce an enchanting result. Delicious all year round, you can enjoy a sweet, decadent, boozy treat anytime you need to curb your chocolate and cocktail craving at the same time.
Use A Chocolate Liqueur
If you're looking for a simple yet sublime way to curb your craving for chocolate and spirits, a chocolate liqueur is a great place to start. Easily accessible and requiring no direct effort, chocolate liqueurs can be used in a number of well-loved cocktails, such as:
Chocolate martini
Brandy Alexander
Chocolate mint julep
Golden Cadillac
Chocolate old fashioned
There are three different types of chocolate liqueur:
Standard chocolate liqueur
Chocolate cream liqueur
Crème de cacao
You can use any one of these liqueurs in the above cocktails.
If you're looking for something less complex, drizzling some chocolate liqueur over ice cream or in a mug of hot chocolate also works.
Make A Chocolate Infusion
Got some time on your hands this season? Why not make your own chocolate-infused spirits at home? It's an extremely satisfying process that you have more flavor control over that store-bought liqueur.
All you need to make a chocolate infusion is high-quality chocolate (dark, milk, or white), and a high-quality, neutral-tasting spirit such as vodka. Simply chop up your chocolate into small chunks and add it to a large, sterile glass jar. Then pour your spirit in and close the jar with an airtight seal.
Store in a cool, dry place for 2 to 4 days, shaking or stirring thoroughly at the beginning of each day. Strain before drinking. You'll soon have a creamy, chocolatey vodka that can be used for any occasion!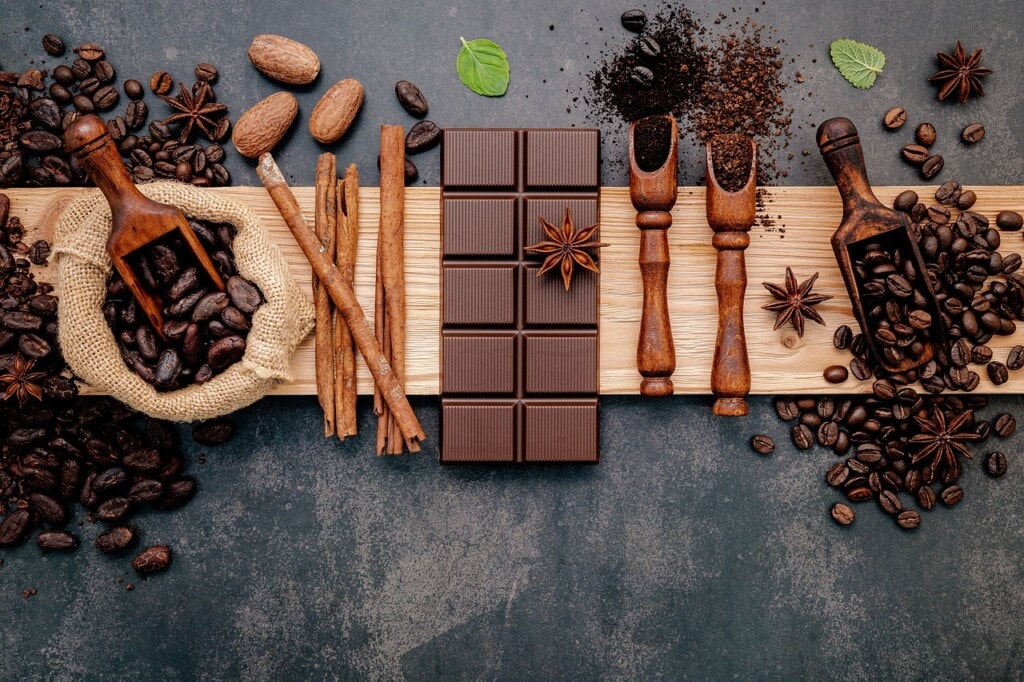 Image by Seksak Kerdkanno from Pixabay 
Create A Melted Chocolate-Rimmed Glass
If you're just looking for a decadent yet not too overpowering way to incorporate chocolate into your cocktails, adding a chocolate rim to the edges of your glasses works a treat. Just melt some high-quality chocolate and press the outer rim of your glasses into it on a flat surface.
You'll be left with an inviting but elegant cocktail glass rim that can be further adorned with a dusting of dark cocoa powder or crushed, toasted nuts. Perfect for any occasion.
Infuse Chocolate And Coffee Into Spirits
There's only one flavor that could elevate the already delicious combination of booze and chocolate. Deep, roasted, nutty coffee.
By adding chocolate and coffee to your spirits, you can not only experience a true holy trinity of flavor, but also get a substantial kick of energy too.
You can easily combine a shot of espresso or coffee liqueur with a chocolate drink, mousse, or cocktail for a balanced flavor profile that ranges from smoky and sweet to nutty and rich.
You can also make a coffee and chocolate spirit infusion by following the above instructions for chocolate-infused vodka. All that's needed is to add some crushed-up, roasted coffee beans or high-quality espresso powder for that extra caffeine kick. Just don't forget to strain it well!
Make A Toasted Cacao Nib Infusion
Another way to merge chocolate with spirits is to opt for a toasted cacao nib infusion. Cacao is a fermented, dried cocoa bean product that gets blended and made into a fine chocolate paste. But using the cacao at its crunchy nib phase gives spirit infusions a toastier, nuttier flavor.
Instead of chopping chocolate chunks, smash about ½ cup of cacao nibs into small bits and add to a large, sterile glass jar. Pour in a liter of vodka (or another neutral spirit) and give it a good stir before letting it infuse for 2–4 days. The result will be a rich, semi-translucent spirit with bags of chocolate flavor.
Melt Chocolate Into Spirits
If you don't have the time or patience to make your own chocolate-booze infusions, you can always opt for this quick alternative that delivers a similar tasting result. You can melt the chocolate of your choice into almost any of your favorite spirits, including whisky, gin, vodka, tequila, and more.
This option is perfect for parties or quick fixes where you still want that rich chocolate flavor without the effort. This recipe also works great as a dessert shot or on top of ice cream!
Dark Chocolate And Bourbon
Dark, deeply flavored chocolate and sweet, smoky bourbon are another exquisite pairing. Both rich and sweet enough to handle the other, these two flavors are a complementary dream.
The perfect winter warmer, add a shot of bourbon to your hot chocolate drink for a satisfying (and slightly soporific) treat.
Garnish Your Cocktails With Chocolate
Last but not least, the easiest way to add chocolate to your spirits—as a beautiful and edible garnish. There are endless chocolate garnish options to choose from, but some of the best include:
Finely grated
Curls
Lace shards
Shavings
If you have a selection of handcrafted chocolates that look as good as they taste, you can also use them to decorate the rim. Simply make a small slit on the side of the chocolate or truffle and slide them on. With every sip, you can have a nibble of sweetness.
Or, if you want something less sweet, a fine dusting of quality dark cocoa powder also makes a pretty garnish that suits just about any chocolate-themed cocktail. After all, if there's one thing chocolate is known for, it's its incredible crowd-pleasing abilities.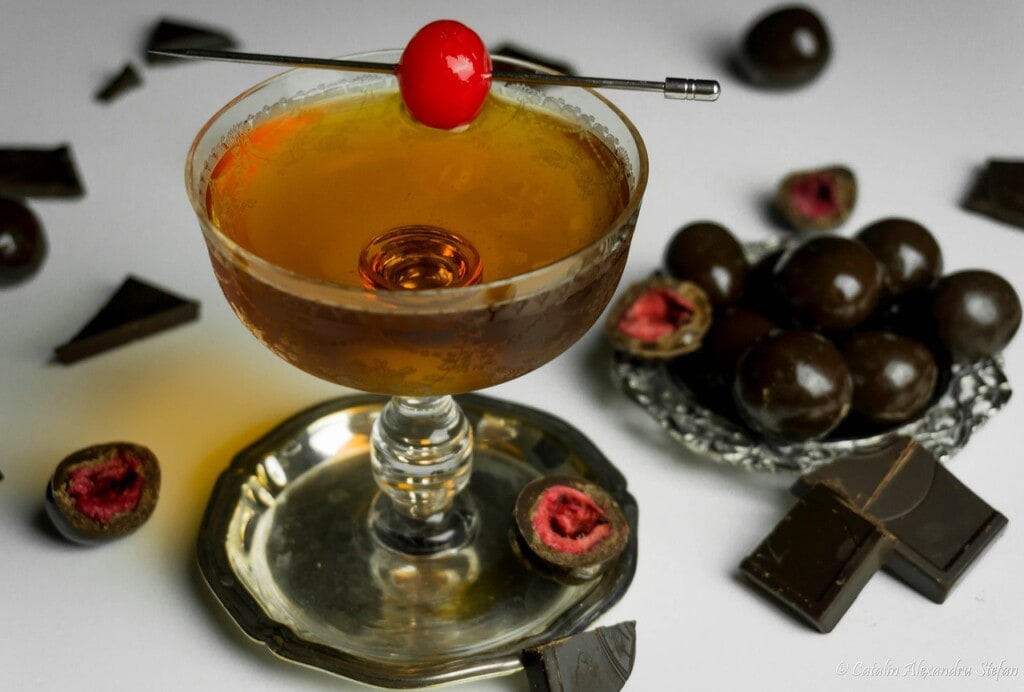 Image by Catalin Stefan from Pixabay 
Add Chocolates to Spirits: A Sweet Conclusion
Chocolate and alcohol are a match made in heaven.
From gorgeous garnishes to enticing infusions, there are so many ways to combine these two ingredients in a way that's equally and endlessly delicious.
If you're looking for a fun way to spice up your next dinner party dessert or just a random Saturday afternoon, try out one of these creative methods for an elegant but indulgent treat.
Join our newsletter for more news
Don't drink and drive. Enjoy responsibly.
Join the community on Reddit
Spirits Hunters is a community dedicated to spirits and the world of mixology. Feel free to talk about the world of mixology and bartending here!
Join