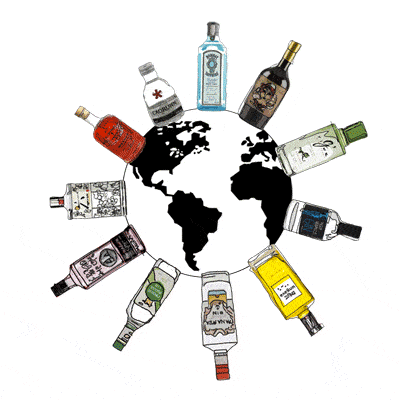 Eight women who represent the history of gin
The relationship between women and gin is much more than we imagine. Meet eight women who represent this drink.
In the mid-1700s, gin, already in fashion, was represented by women. Mother Gin, Madame Genever, were some of its nicknames. Explains Dr. Nicola Nice, founder of the gin liqueur Pomp & Whimsy. Other nicknames however were not so "pretty", as Mother Ruin.
The fact is that the gin was sold and consumed in places frequented by women, such as markets and back-stores for household items. "But above all, women didn't just drink gin, they sold it too," says Nice.
Eight influential women in gin
Here are some of the women who helped build the gin empire we have today.
1. Mary of Orange
Known as Mary Stuart, she was the eldest daughter of King Charles I of England. Part of her legacy was to popularize the genever, known as the ancestor of gin, in England. This is how Keli Rivers, Sipsmith Gin's ambassador, explains it. The start of real gin production began after his death in 1960, when The Distilling Act was passed, enabling anyone to distill by paying a tax to the government.
2. Queen Anne
Queen Anne was a big fan of gin. She encouraged the consumption of gin among the English and the government. The production of gin increased when she cancelled the charter contract that had been imposed by Charles I. This enabled distillation rights in and out of Westminster and London, which led to powerful and cheap gin production by small, unlicensed distilleries.
3. Ada Coleman
We know her as one of the most famous bartenders of the time. Ada Coleman, was the first and only chief bartender at the American Bar at the London Savoy from 1903 to 1926. Today we remember her as the creator of the Hanky Panky cocktail, prepared with gin, mild vermouth, and a few strips of Fernet Branca.
4. Dorothy Parker
American writer, critic and satirist best known as a founding member of the Algonquin Round Table. There is a gin with her name created by the New York Distilling Company, called Dorothy Parker American Gin, released in 2011.
5. Lesley Gracie
She's the master distiller of Hendrick's famous brand of gin. Herbalist and chemist, Lesley Gracie created the original Hendrick's gin recipe with John Ross in 1999. Thanks to her contribution with cucumber and rose essences, she reinvigorated the gin category in the 2000's.
6. Dr. Anne Brock
Another master distiller, this time for Bombay and Oxley gins. She has a PhD in organic chemistry from Oxford University. In 2013 she took over project management for Bermondsey Distillery, where Jensen's gins are created.
7. Sonja Kassembaum
Kassembaum succeeded in encouraging the artisanal distillery movement. In 2004 she and her husband Derek opened the first North Shore Handcrafted Distillery in Lake Bluff, Illinois. The first to open since the prohibition era. With the opening of North Shore, other distilleries were able to open. Today there are 20 according to the Illinois Craft Distillers Association.
8. Natasha Barhami
Natasha has managed to promote the culture of gin and education about this drink. She started in her family's restaurant Cafe Natasha. Half of the space in the restaurant became The gin Room, a space where gin stands out. Then in 2015 he founded Ginworld, an online platform that is now the largest gin gathering in the United States.
Don't drink and drive. Enjoy responsibly.