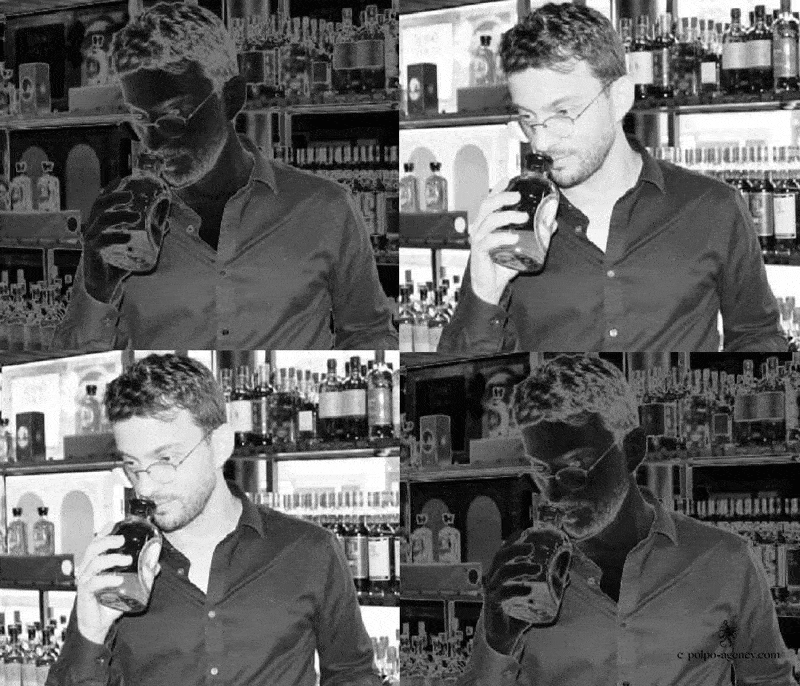 Not without my tailor-made gin: will gin replace whisky?
Will gin replace whisky? Or rum? "What are you saying? It's not the same thing…" It certainly isn't. Meeting with Matthieu Acar (&FineSpirits – LMDW).
Time, such an important factor… We know that gin production is faster, there is no doubt about that. More than whisky, for instance, and the Japanese are well aware of this. Some distilleries were able to replace whisky during the great shortage. They are successful in producing it. And gin in general, strong of its success, has conquered the palate of everyone with its great variety of flavors. In fact, to date, 4.5 million litres of gin were sold since 2018. Importantly, this figure is part of mass distribution. For France, gin has become increasingly popular in recent years. The latest 2019 report from the Fédération Française des Spiritueux (FFS)* indicates a growth in volume of +5.4%.
As a matter of fact, we now have more flavored gins. And the other night we were able to make our own custom-made gin. And what could be more fun than making your own flavored gin for your own palate? That's what we did the other night at La Maison du Whisky. We can make our own gin with pepper, herbs and hibiscus. And then we walk out with our own custom-made gin. You don't have to make a cocktail, because the alcohol is already flavored.
OK, gin is not "the new whisky", or Cognac, or Armagnac, or rum… But it is very present thanks to its mobility and ease of creation. A gin is produced very quickly, knowing that the maceration time goes from 24 to 48 hours. Unlike whisky, gin is rarely aged. This, once again, allows for very fast production times. Lastly, the main ingredients of gin, corn, wheat or distiller's malt, as well as juniper berries, are just as easy to grow.
Now it is up to us which taste we want to bring to it. Herbs, spices, fruits, nuts, a whole world of possibilities. As part of this custom gin creation, we met Matthieu Acar, manager of &FineSpirits at La Maison du Whisky boutique, for our recurring "Three Questions To" section.
Three Questions to Matthieu Acar
1. You have created a gin. But how did you make it?
Traditionally, gin is a neutral alcohol flavored with juniper berries to which spices, herbs and possibly fruits are added. For our gin, we first selected rare ingredients, which we could not find in the two hundred references available in the shop and which nevertheless seemed relevant to us.
Then we called upon the Ergaster Distillery with whom we made hundreds of maceration tests.
Finally we isolated seven so-called classical ingredients, then four more unexpected ones. All these elements were grouped together in six jars that are available to our customers. We then work with them to assemble all these components in order to create a unique gin, in tune with their taste!
2. I had the opportunity to create my own gin, to my own taste! What varieties of ingredients are available to us in order to flavour the gin do you recommend? And more generally?
It is important for us to keep the juniper in the core of the blend, that is why we always recommend using 40 to 70% of the first jar that contains a juniper distillate. Then, the gin enthusiast is provided with the fruity jar, composed of buddha and combava hands, a herbaceous jar with Thai basil and coriander, and then a spicy jar with turmeric and ginger. He is free to use some or all of these ingredients and to choose the proportions.
What is certain is that these aromas work very well together, and that if we were to use a third of each, for example, we would already have a nice gin.
Finally, there are two jars left, one containing Timur berries and Sechuan pepper, the other containing hibiscus and rose. Although they don't really work together, they do bring a real originality to the gin! You can imagine endless recipes, Tatiana, our Gin expert, is there to guide the amateurs, make them try the jars separately but also different recipes that we have created in the shop.
Finally, in about twenty minutes you can create and name your own gin.
3. You have created in the same range of &FineSpirits, a French whisky, a rum and a gin. Could you tell us a little about it?
With pleasure! The range reflects the expertise of La Maison du Whisky second boutique, the one at 6 Carrefour de l'Odéon, which opened almost ten years ago. Whisky is still a big part of our business, but we also have many other spirits, which is why our range includes four very different products.
A rum: for which we have selected an origin that is hardly represented in France. It is an Australian rum from the Beenleigh Rum distillery, which has been producing molasses rum since 1884. We have selected a particularly exotic and fruity cask.
A pastis: we wanted to propose a recipe that celebrates the illustrious ancestor of pastis, namely Absinthe. So we called upon the excellent Larusée distillery in the canton of Neufchâtel to compose a pastis that would incorporate a hint of Artemisia Absinthium. It works wonderfully, it is astonishing that this has never been done before.
A French whisky: we opted for an Alsatian whisky from the Hepp distillery. The idea was to select a round, fruity and accessible product to share French know-how with as many people as possible, so we chose to age it in an ex-Banyuls cask. And the success is there! To this day, this French whisky is at the top of our sales!
For more information, visit https://www.whisky.fr
*French Federation of Spirits
Don't drink and drive. Enjoy responsibly.

Join the community on Reddit
Spirits Hunters is a community dedicated to spirits and the world of mixology. Feel free to talk about the world of mixology and bartending here!
Join