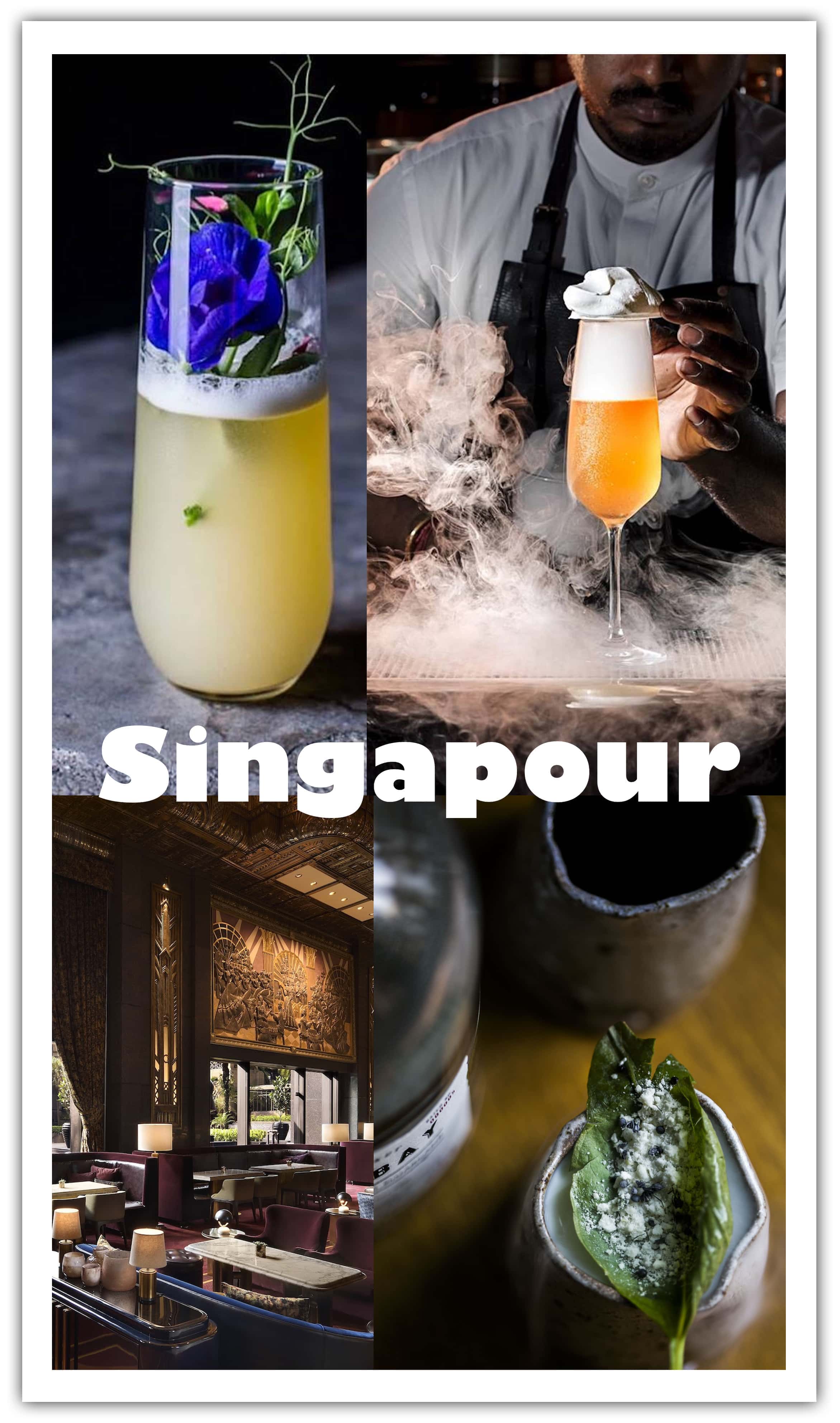 10 cocktail bars in Singapore among the best in Asia and the world
1. Manhattan (n°3 on the list of the best bars in the world in 2018)
As its name suggests, the bar is a tribute to 19th century New York City and is inspired by the golden age of cocktails. The Manhattan cocktail mixes Michter's US1 Straight Rye whisky, which comes straight from the bar – and the world's first rickhouse – which houses aging alcohols, bitter and cocktails.
2. Jigger & Pony
A 2-storey bar and emerald velvet armchairs, the menu is written in the form of a magazine, with columns and guest articles: 27 cocktails are available, with new Asian classics such as the new Java Cooler, which combines Tan Ginay Dry Gin infused with sesame.
3. Native (n°13 on the list of the best bars in the world in 2018)
The founder, Vijay Mudaliar, is an active hunter dedicated to the search for wild ingredients. The drinks contain bold ingredients that are fermented, distilled and processed on site, and range from Malaysian hibiscus flowers to dehydrated leaves from Laksa and Gondhoraj Lebu: a kaffir lime found only in Bengal.
4. Operation Dagger (n°23 on the list of the best bars in the world in 2018)
Hidden in the basement of Ann Siang Hill, when you enter this bar, it's a bit like running into a mysterious apothecary. Decorated with raw concrete and wooden furniture, it features industrial-style light bulbs and laboratory-style bottles. The Moscow mullet is made of fermented rye, blackberries, honey and coriander.
5. Atlas (n°8 on the World's Best Bar List of 2018)
Furnished in a gilded Art Deco style with a baroque ceiling, it features a three-storey wine cabinet and an ambitious range of gins, some of which date back even a thousand years.
6. 28 Hong Kong Street (n°34 on the list of the best bars in the world in 2018)
In a secret underground, you can enjoy quality cocktails!
7. Surf Club
The bar offers a Dreams and Desires menu: a range of 12 cocktails with contrasting aromatic formulas.
8. Smoke and mirrors
Panoramic views, sip high-end spirits with quality bartending techniques.
9. Employees only
Employees Only offers delicious cocktails and good food, in an Art Deco style.
10. Nutmeg and cloves
The bar shapes the menu of its cocktails according to the ordinary herbs, fruits, spices and flora.
Another favourite in the region is Galangal beer, which mixes infused root with vodka, spicy pear syrup, fresh lime and homemade Galanga ginger beer.
Don't drink and drive. Enjoy responsibly.