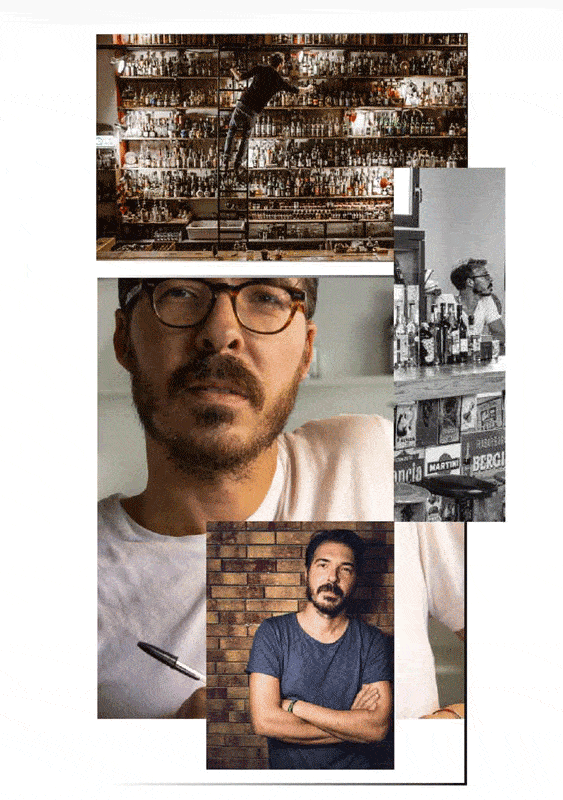 Barstool Therapy: Focus on Giacomo Diamante, a bartender-psychologist
Photography by: Enjoy! (TM)
In this interview between Sharla Ault and Giacomo Diamante, we reveal the world of an actual bartender and psychologist: this is Barstool Thereapy.
It's a classic: you pull up to the bar, take a seat, and start to spill all your problems to the barkeep. It is said that a great bartender has to be part psychologist, but what if this one is all psychologist?
We sit down (virtually) with Giacomo Diamante, a bartender who is also a registered psychologist, although he has never had a practice in the traditional sense.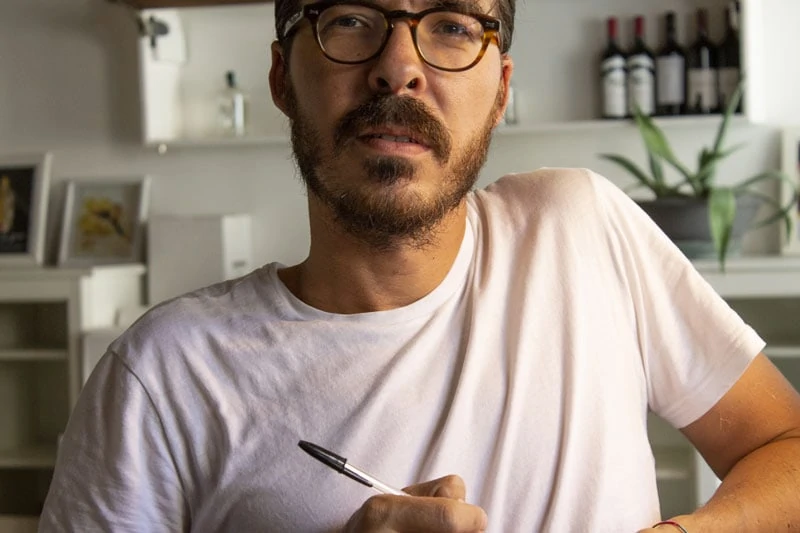 S.A: Giacomo, what propelled you to study psychology?
G.D: I was working in hospitality (while I was studying in high school) and I was also working in the afternoons and weekends with people with disabilities and self-harm issues. At the end of my studies I thought of dedicating myself to medicine with the idea of ​​pursuing surgery or neurology. At the time, the entrance tests were very restrictive, but I made the grade in psychology at the University of Bologna as well as in medicine. The first response I got was for clinical psychology, so I decided to start in that course of study, thinking about moving to medicine after a year. Instead… I fell in love with that approach to study thanks to a pool of top-level professors.
What type of psychology did you study and what was your aspiration?
Continuing to deepen my knowledge on the topics of psychophysiology, I thought of specializing in clinical psychology with the idea of positioning myself in a role in psychiatry over time, while continuing my exams from the medical faculty.
Where did you study and when did you graduate?
I studied at the University of Bologna, the oldest university in the world known for their excellence in psychology. I graduated in clinical psychology in 2003.
What happened to change your plans?
While studying, I continued to work behind the bar, acquiring skills and moving up the ladder coinciding the revival of mixology, while in the field of psychology, work dynamics changed considerably. That was when  I decided to abandon that path to dedicate myself completely to flavor and historical research, which then became my trademark in the bar industry.
How long have you been in the drinks industry?
This year marks 25 years of experience, considering my early days in catering and restaurants.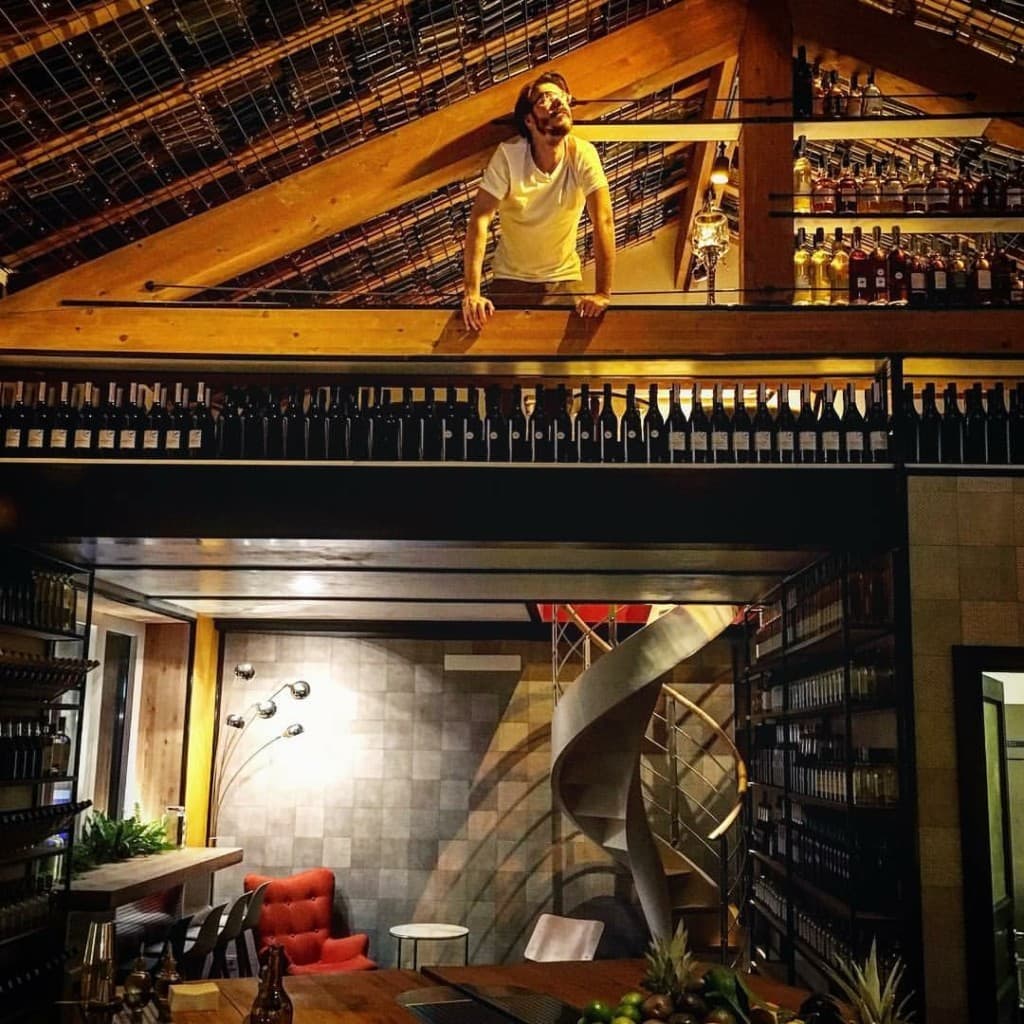 How has your background in psychology been helpful to you in your job?
First as a bartender, then as a bar manager, it has helped me in rapid problem solving and in the management of the most sensitive issues, but also in career advancement. As an owner, it is essential to manage the accountability of staff, interact with suppliers and above all generate new concepts for activities or proposals in general. In addition, study and research have helped me a lot.  The study habits I learned in university have served me well.
Managing complaints and compliment better, in a more structured way, helped me to anticipate the needs of customers, understanding their social context, habits and desires. This is essential in entrepreneurship and, dare I say, a "secret superpower" if used with ethics and sensitivity.
Empowerment is the byword with my collaborators. Giving orders and placing blame don't exist: they are replaced by responsibility and objectives. For several years I have conducted master classes that focus precisely on utilizing certain psychological concepts within work groups, applicable in any sector.
Do you make it known that you are trained in psychology?
Usually no; I prefer to talk about other topics or rather to listen carefully to what I am told, relying on the key points that I sense from the person in front of me.  I also often follow my intuition, a fundamental characteristic both in psychology and at the bar! However, it depends on the type of conversation and the person. It is not a problem for me to reveal my qualifications, in fact they help people know more about my personality.
Do you think that all bartenders should go through some kind of psychological training to help them in their job?
I think it would be great and very useful, even if taking a path in the psychological or psychoanalytic field is remarkably complicated and very intense, whether you want to participate to learn some concepts or want to know yourself better. Knowledge and self-esteem are often somewhat overlooked values ​​in the operators in this field, so there is a risk of trivializing the therapeutic or enhancement path.
How has your training helped you in your own stress management?
Very often being the owner of many different activities, both day and night, and being the father of two beautiful children, keeping concentration and focus on one's principles is complicated; also because sleeping very little and working a lot leads to inevitable organic breakdowns that are always at the basis of psychological problems. Let's say that thanks to a more medical understanding of these situations I am very clear as to what my balance is, or rather how to balance myself within the situation in which I find myself, precisely to have a tangible  and vital awareness of myself.
Have you "diagnosed" a client or co-worker and referred them to a professional?
No never, even if it often happens that customers or collaborators confide in each other, if I think there is a dark thought (not of a passing nature), I might try within my means and responsibilities to recommend a therapeutic course.
What are the psychological pitfalls in this business?
As I said, most of the psychological problems derive from disruptions in the sleep/wake cycle and alcohol and substance abuse. This generates an imbalance of the serotonin/dopamine levels often generating obsessiveness, hypersensitivity, and depression. If we combine this with the practice of creating a different, more appealing persona (mask) to win over customers, and add routine and frustration to the equation – this can create a situation which can be a detriment to certain personality types.
This is not to say that it is unhealthy for everyone, many thrive on it!
How do you use your training to keep a work/life balance?
Self-analysis is certainly a very important aspect of my life and this allows me to be able to be hyper aware, that is, to let go of some problems that are not mine, as well as to face commitments with a positive thrust. At least that is the intent but clearly it is not always a winning recipe, "blue" days can happen to psychologists, too!
Do you work with your life partner?
Yes, even if she mainly deals with marketing and communication of my activities: bars, schools, consultancy, and events.
How does that play out?
Well, in life you also need luck, and you bring it upon yourself with your attitude: in this sense we often understand each other at a glance, and when there is a difference of opinion we always try to solve the problem with intelligence, so negative situations do not become chronic and therefore are not so hard to solve.
What do you think the psychological fallout from COVID will be as it applies to bars both for client and bartender?
I believe that scholars and intellectuals before me have already identified the rules for running a company (like Noam Chomsky). Fear and distraction can be manipulated in a dangerous way. Without minimizing the severity of the pandemic, I believe that feelings of fear and distrust will be the most widespread. There will be emotional instabilities and communication difficulties post-lockdown. Awareness and sensitivity will be fundamental to create positive reinforcement and avoid falling into negative mindsets.
Have people been overindulging at home in your opinion?
Obviously yes, not everyone has managed to maintain strong personal discipline but I don't think it is too serious. Those who have personal discipline are often less sensitive to external stimuli; in fact, those who have not been very active or have let themselves go are probably much more sensitive.
Will people overindulge as soon as they are free to go to bars, in your opinion?
It is very individual; today's habits change much faster than in the past.
What do you think gives you the edge in hospitality, having had your psychological training?
I like to think that it is not only the knowledge of psychology that gives me a plus, but certainly the knowledge in non-verbal language and some awareness related to mental and physical well-being give a very interesting boost. Of course, predisposition and perseverance in integrating this into my lifestyle also play a part.
How do you see the bar industry scene six months from now?
Unfortunately, I believe there will be fewer operators but certainly more carefully chosen, it will be more reflective and hopefully more focused on mental well-being, on good habits. I also believe it will be even more successful to break the "fourth wall" and to speak more candidly with customers. I believe that, gradually, the "wow effect" that is pursued today in the creation of cocktails will be replaced by words and pampering and by a much deeper concept of hospitality than there is now.
One year from now?
A new scene, even more loyal clients, the search for seasonal products, low alcohol or alcohol free drinks and a focus on other elements of well-being. I see an expansion towards the awareness of the importance of our sector and therefore a more in-depth study on other subjects that we have always personally counted on: psychology, art, music etc. Finally the content will be worth more than the container, which is our philosophy at Enjoy club Milan.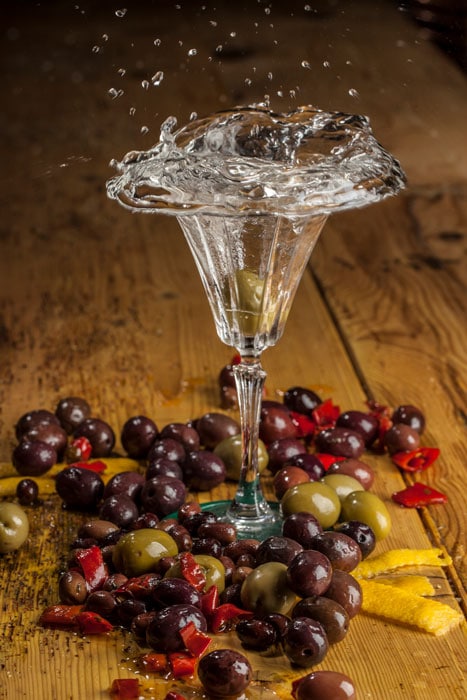 Our idea was to collaborate with many historic Italian and international producers to create bespoke formulas. The whole bar carries Enjoy brand products without a front label in elegant but simple bottles so the customer is not swayed or influenced in their choice. They are guided solely by their senses. We want the product to speak for itself. Our concept is unique and we are privileged to work with such a prestigious network of producers.
Marketing will probably suffer a slight pause; as we operators have become more aware, the customer will have, too.
Do you feel more or less stable after the lockdown?
More or less as before, that is… stable! Fortunately my bars are going to ride out the storm, and I have actually gained time for my passions and for my home that I did not have time for before. This was a period that updated some priorities and increased the focus, setting aside the less important things. Less is more!
What is the first thing you will do when you reopen your bar?
Turn on the lights, put a song that reflects me, my partner and my staff and open the doors to our clients, waiting to share with them again.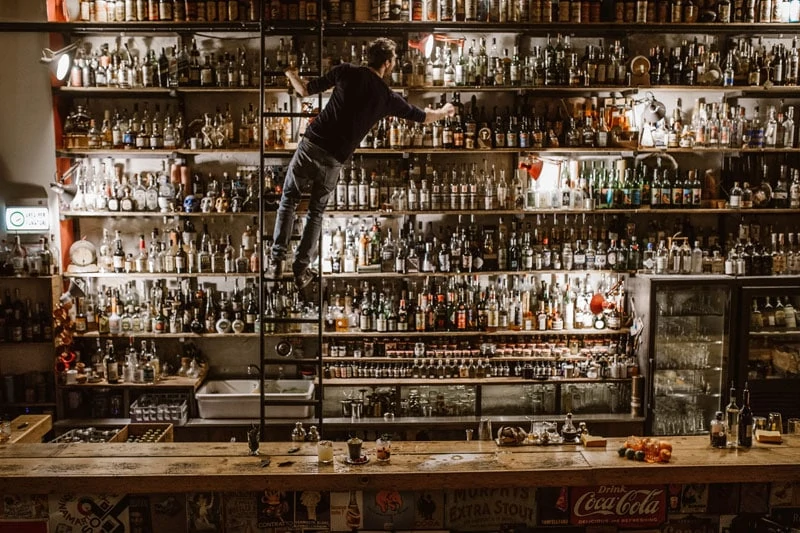 Thank you Giacomo, it's comforting to know that sometimes a drink and a heart-to-heart can help solve the little problems of life.
GIACOMO DIAMANTE is the creator and owner of:
*ENJOY! ARTIGIANI DEL BERE (ARTISANS OF DRINKS)
Where? Via Carlo Cattaneo 19 36100 Vicenza
*TRAINING AND CONSULTANCY SCHOOL open every day from 9 am
*SECRET CLUB
Where? Via Carlo Cattaneo 19 36100 Vicenza COCKTAIL BAR open every day from 9pm
*ENJOY! CLUB
Where? via Pietro Colletta 17 20135 Milan COCKTAIL BAR Thursday, Friday and Saturday from 9pm
Enjoy! Brand products:
Red Vermouth No Name
Vermouth Chinato
Aged vermouth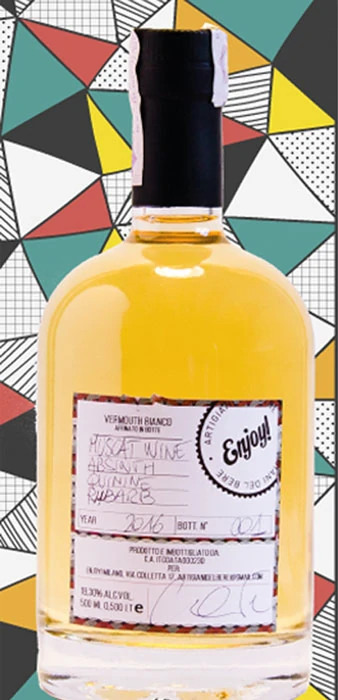 Overproof chamomile Gin
Old Tom gin
Bitter Gagliardo (best bitter in the world 2019 by Schiavo distillerie)
Fernet Gagliardo (gold medal 2019 by Schiavo Distillerie)
Gin +5
Gin Fiume
Contacts IG:
Sharla Ault
Sharla Ault was born in the USA and has lived in Italy for over half her life. She has been involved in hospitality her entire career. From hotels to restaurants, to commercial airlines and private jets. Sharla has been in charge of PR for Nardini for the past 15 years. Furthermore, she also writes travel and hospitality related articles and has been published in Condé Nast Traveler, Cadogan Guides and as a reviewer for Barchick. She is also a local expert for Condé Nast Johansens luxury hotel guides. Finally, when she is not traveling or writing she is sailing the Med in her sailboat with her family.
Don't drink and drive. Enjoy responsibly.
Join the community on Reddit
Spirits Hunters is a community dedicated to spirits and the world of mixology. Feel free to talk about the world of mixology and bartending here!
Join