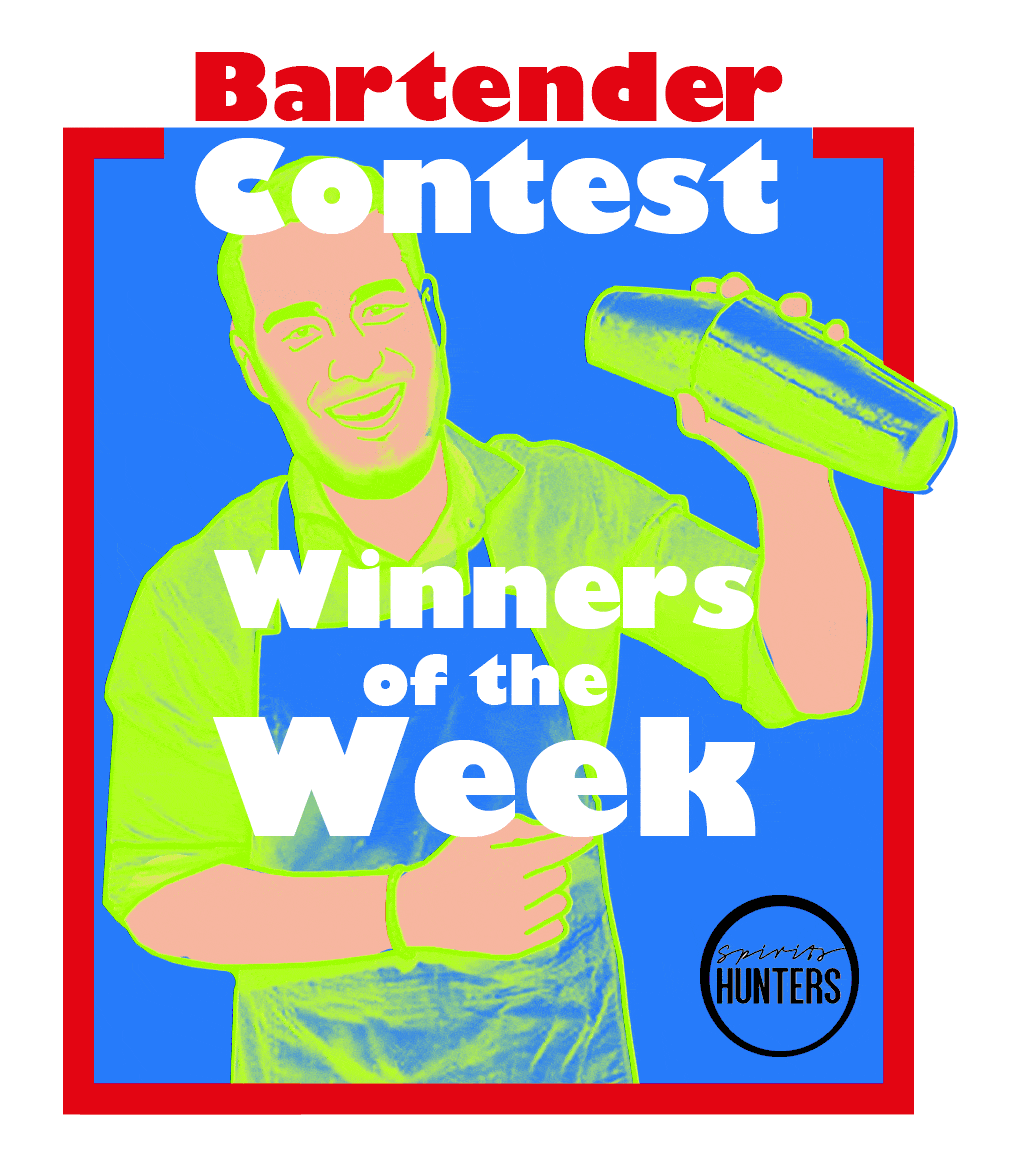 Winners of the fifth week of Confinement Bartender Contest
We want to start this post by thanking all the amazing bartenders that have joined us in this ride! One month already of our Confinement Bartender Contest to help bartenders around the world.
As we approach the end of the Confinement Bartender Contest phase, we would like to thank again the IBA International Bartender Association for their support. We have received over 200 videos from all over the world! You can check the winners of the first week here, the winners of the second week here, winners of the third week here and fourth week here.
We want to thank and congratulate all bartenders for their effort and dedication. Stay tuned as we will have a new contest during the summer!
And finally, between June 8th and July 8th we will select a grand winner for a grand prize of 2.000 euros!
Winners of week #5 Confinement Bartender Contest
Today we start to introduce the winners of the fifth week of the Confinement Bartender Contest.
Each week we choose 10 winners, and we will present 2 per day on our website and our social networks, Instagram (@spiritshunters_mag), and Facebook. Contest ends May 30th and final announcements of winners of the sixth and last week of contest (25-30 may) will take place between Monday 1st and Friday 5th. And the GRAND FINAL will take place from June 8th until July 8th. Details soon!!!
Week 5 – Day 5
For our last day of the fifth week we are happy to congratulate Florencia Aguilar from Spain and Murzin Artiom from Russia!
Florencia Aguilar – Spain – ABAR
Cocktail: El regreso
60 ml rum
30 ml vermouth Rosso
15 ml Amaro Fernet
Lemon twist
Murzin Artiom – Russia – Tambov
Cocktail: Humble
Tiki Lovers Pineapple 15 ml
1883 Dulce de Lethe flavoured syrup 10 ml
Strong coffee 100 ml
Frangelico liqueur 15 ml
Double cream 50 ml
Week 5 – Day 4
Today we are happy to congratulate from Bolivia, Marco Andrew Cuellar Pariente and Gioacchino Sorrentino all the way from Australia! Congratulations for your confinement cocktails!
Marco Andrew Cuellar Pariente – Bolivia – Oasis de Dali
Cocktail: Singani Green & Sour
Singani 1 1/2 Oz.
Apple Liqueur 1 Oz.
Lemon Juice 1/2 Oz.
Simple Syrup 1 Oz.
Egg White 1 Oz.
Garnish: Apple Slice and Peppermint
Gioacchino Sorrentino – Australia – Iceberg Dining Room & Bar (Australia)
Cocktail: The Golden Punch
Ingredients
White rum 75 ml.
Rose Black Tea 100 ml.
Homemade Strawberry Liqueur 25 ml.
Lemon juice 25 ml.
Pineapple juice 30 ml.
Coconut Milk 120 ml.
Sugar 20 g.
Technique: Clarified milk punch.
Method:
Add coconut milk in a jar and set aside.
Mix remaining ingredients into another jar.
Slowly pour tea mixture into the milk and Gently stir until it curdles.
Strain through a coffee filter to collect the curds.
Strain a second time until it gets as clear as possible.
Pour 135 ml of the clarified Punch.
Garnish:
Pineapple leather fruit homemade.
Week 5 – Day 3
Congratulations to Pedro Duarte from Portugal and Paul Costea from Romania for their cocktail creations! Bravo!
Pedro Duarte – PORTUGAL
Cocktail:  Té italiano Cocktail
50 ml bianco /blanc vermouth
30 ml English breakfast tea infusion
15 ml fresh lemon juice
15 ml honey syrup
Paul Costea – Romania – Amphora Beach Bar
Cocktail: Almost Zanzibar
50 ml Vodka green apple
50 ml kiwi/banana puree (homemade)
25 ml Pisang liqueur
25 ml lemon fresh
50 ml green apple juice
Method: Build, Stir
Garnish: Green apple fan/ kiwi peel
Week 5 – Day 2
Today our winning bartenders are Oleg Sviridov from Russia and Andrés Damerval from Ecuador! Congratulations both for your original confinement cocktails!
Andrés Damerval – Ecuador – Coctelería en Español
Cocktail: El Valle (The Valley)
50ml Aguardiente Cristal (it's a dry distilled sugar cane product)
45ml cold Brew coffee
25ml lime juice
25ml ginger syrup
2drops Angostura bitters
Top Tonic Water
Shake and strain
Garnish: lemon wheel
Enjoy! 🥃🙌🥳
"The Valley cocktail it's called so because where they produce the sugar cane and distilled the Aguardiente it's surrounded by valleys, so it's my tribute to them!"
Oleg Sviridov – Russia – MaiTaiBar
Cocktail: BBM – BeefBaconMaria
Shake
-infused bacon vodka – 50ml
-tomato juice -250ml
-salt and pepper
-slice of tomato and beef bacon for garnish
For a bacon infusion: grill the bacon strips until they change color. Then place it in a jar with vodka and place in the fridge for a few days. Different bacon gives a different taste.
Week 5 – Day 1
We are happy to congratulate Samarth Gangthade from India and Jonathan Stubbs from North Wales! Congratulations for your confinement cocktails!
Samarth Gangthade – India – The Ritz – Carlton Pune
Cocktail: Mango-Mint Julep
Ingredients
Whisky– 60 ml/2 oz
Alfonso Mango – 8-10 dices
Canned Mango Juice- – 60 ML/2oz
Lime wedges – 5-6 wedges
Mint leaves- 3 to 4 sprigs
Grain/Demerara Sugar- a teaspon
Simple Syrup- 15ml/ 0.5 oz
Lemon Juice – 15 ml/ 0.5 oz
Lemonlime Soda – to top up
Method: Muddle and Build in a Highball Glass
Jonathan Stubbs – North Wales – The Kinmel hotel and spa
Cocktail: Berry Gin Sour
25 g of blueberries muddled
50 ml of strawberry pink Gin
12.5 ml of sugar syrup
20 ml of bramble Gin
1 egg white
Garnish: Frozen berries as ice and fresh blueberries
---
CONGRATULATIONS again and thank you for participating! For any specific questions please contact marie@spiritshunters.com. For sponsors: nathalie@spiritshunters.com
We encourage all bartenders around the world to participate in our contest and to spread the word to their known bartenders. To read the contest rules and learn how to participate click here.
For any questions you can also contact us via Instagram Direct @spiritshunters_mag.
Good luck!
---
With the support of the International Bartenders Association
The international bartender Association (IBA) is the world largest bartender association and the host of the official World Championship in Classic cocktails and Flair. The International Bartenders Association was founded on 24 February 1951 in the saloon of the Grand Hotel in Torquay, England, is an international organisation established in order to represent the best bartenders in the world.
Don't drink and drive. Enjoy responsibly.
Join the community on Reddit
Spirits Hunters is a community dedicated to spirits and the world of mixology. Feel free to talk about the world of mixology and bartending here!
Join